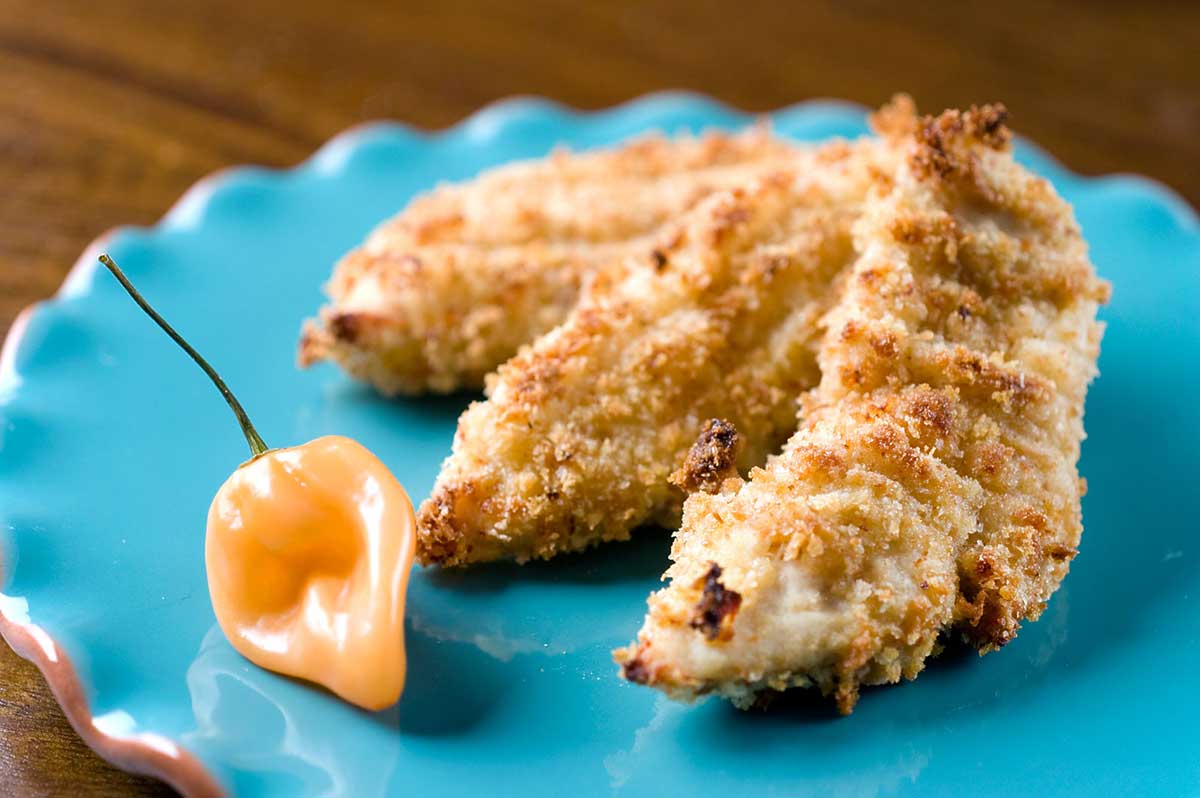 Habanero Chicken Tenders
As I enter the third trimester of this pregnancy, things are starting to get a wee bit uncomfortable. Sleeping is difficult. Jeans tight. And although I have an appetite like a horse, I can't seem to eat as much as I once did. Everything just feels a bit, let's just say, squished. However, one thing I am thankful for is the lack of heartburn. It hasn't really set in yet. I've had a couple of episodes but not the constant version that some of my friends have had. This is good because I can still enjoy spicy food. Spicy food like these habanero chicken tenders.
Habanero is an interesting pepper, yes it is very very spicy but it also has a bit of a sweetness to it, I like to think that it balances out a bit. However, with that said, it doesn't take much habanero to make any dish spicy. So while I did have two in my refrigerator, I decided to only use one. It was plenty hot for my taste. If you want to keep the habanero flavor but lose a bit of the spiciness remove the seeds. And remember, do not, I repeat, do not, touch your eyes after handling the pepper until you've washed your hands. Or better yet use gloves when handling. Habanero in the eye is not such a pleasant feeling…trust me.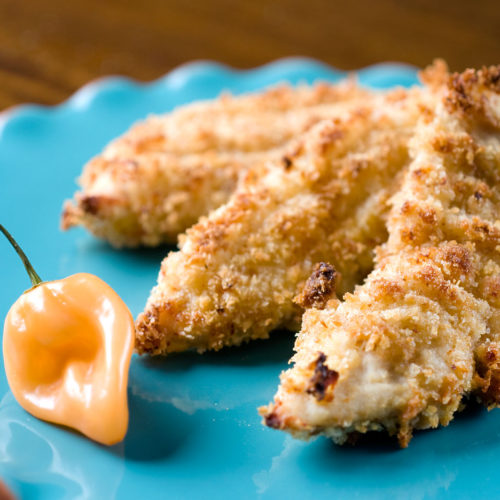 Habanero Chicken Tenders
Chicken tenders marinated with habanero peppers then baked until crispy.
Ingredients:
1.5

pound

chicken tenderloins

rinsed and pat dry

1

habanero

1/4

cup

olive oil

2

tablespoons

distilled white vinegar

2

cloves

garlic

1/2

teaspoon

onion powder

2

teaspoons

kosher salt

divided

1/2 - 3/4

cup

panko bread crumbs

1/2 - 3/4

cup

plain bread crumbs

1/2

cup

all purpose flour

1

egg

1 - 2

tablespoons

canola oil
Place chicken tenders in a bowl.

In a food processor combine habanero, olive oil, vinegar, garlic, onion powder and 1 teaspoon kosher salt. Pulse until emulsified, about 30 seconds. Pour marinade over the top. Cover and marinate for 2 hours.

Preheat oven to 425 degrees. Line a baking sheet with aluminum foil. Place a cookie sheet on top of the baking sheet. Spray with non-stick spray.

Mix the remaining teaspoon of salt with panko and plain bread crumbs.

Set up an assembly line with flour, egg and bread crumbs. Dip each chicken tender into the flour, then the egg, and then press into the bread crumbs until coated completely.

Place breaded chicken tenders on prepared baking sheet. Drizzle with canola oil and bake for 15 minutes. Remove from oven, turn chicken tenders and cook for an additional 15 minutes. Turn on broiler and cook until chicken is golden brown, about 3 minutes. Serve hot.
Keywords:
baked chicken tenders, chicken, chicken fingers, chicken tenders, entree, Food, habanero, Recipe, spicy