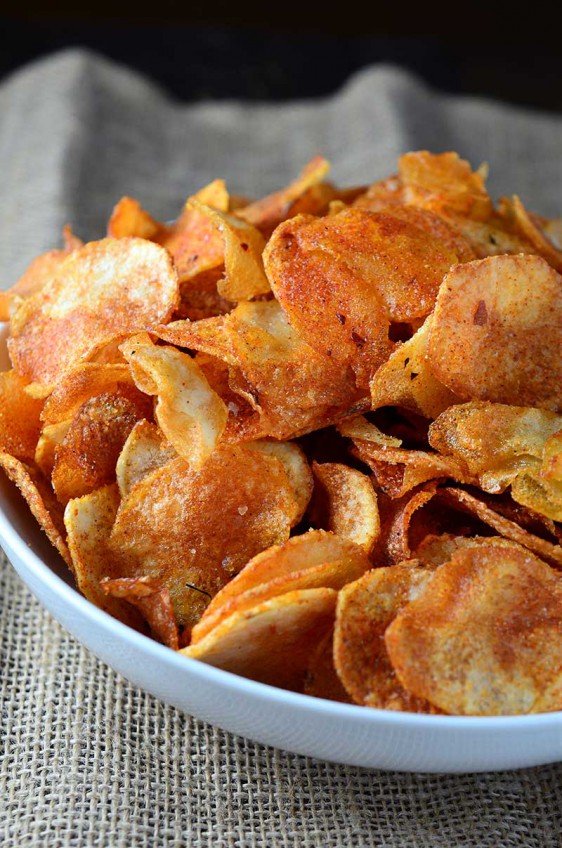 Harissa Potato Chips
When it comes to snacking, my top choice, hands down are potato chips. I know, I know. I should probably pick other things like nuts or raw carrots or something. But when I'm craving something salty, I want nothing more then a crispy crunchy potato chip. It's not like I eat the whole bag, but one or two perfectly fried potato chips can totally hit the spot. Today, I'm sharing with you a recipe so you can make some for yourself. But not just any run o' the mill salted potato chip. Today, I'm sharing Harissa Potato Chips.
But first, confession time: I am totally having a love affair with harissa.
Don't tell sriracha.
Harissa is inching its way closer to the prime spot in my hot sauce loving heart. Sriracha still holds the title but harissa in all its spicy, garlicky goodness is making a case for itself.
You may have seen harissa paste before. In fact, I just used it recently in this post for Harissa Chicken Wings. This recipe however, calls for harissa seasoning blend. It is a blend of chili peppers, garlic, cumin and corriander. It's basically the paste, but without the olive oil.
And guys, it's fantastic.
I found the Harissa spice blend that I use at Market Spice in Pike Place Market a while back and have since been putting it on everything. It is amazing on popcorn. I even added it to a slaw (recipe coming soon!) And it is all kinds of fabulous on these Harissa Potato Chips.
When it comes to making homemade potato chips, I've made a list of some of the most important things to remember:
One: make sure that the potato chips are nice and thin. Use a mandolin. It will make your life much easier.
Two: Make sure your oil is hot enough before you start frying. Get yourself a thermometer to make sure. I like to fry mine at 350 degrees. It takes a little longer but I find if the temperature is higher they tend to brown too quickly.
Three: Fry your potato chips in batches. Don't over crowd the pot and remember each time you add chips the oil cools down. So make sure that between each batch you let the oil rise back up to 350 degrees before frying the next batch.
Four: Season the chips right away when you remove them from the fryer. That is when the seasoning sticks to them the best. And believe me, since these are in fact Harissa Potato Chips, you're gonna want all that harissa deliciousness to stick to these babies.
And finally,
Five: It's totally OK to snack on a few while frying them. There is such thing as quality control ;-)
Now…let's make some crispy, crunchy, salty and spicy Harissa Potato Chips.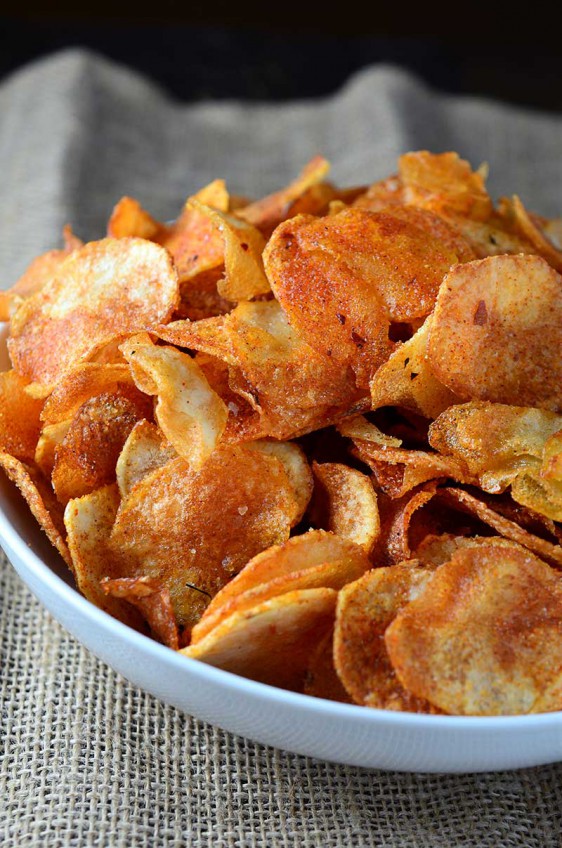 Harissa Potato Chips
Crispy fried homemade Harissa Potato Chips. A salty, spicy snack that is downright addictive.
Ingredients:
4

medium russet potatoes

peeled

bowl of water

2

teaspoons

Harissa seasoning blend

1

teaspoon

salt

oil for frying
Use a mandolin to slice potatoes to 1/16 thickness. As you are slicing them place them in bowl of cold water to keep them from turning brown and remove excess starch.

Mix together Harissa and salt.

Heat 1 1/2 - 2 inches oil in a dutch oven (or large pot) over medium heat until it reaches 350 degrees.

Remove potatoes from water. Pat dry with paper towel.

You will need to fry the chips in several batches. Use a slotted spoon to place a couple handfuls of chips into the oil. Stir so they don't stick together and fry 4 - 5 minutes or until golden brown, stirring occasionally. Use a slotted spoon to transfer to a paper towel lined plate. Sprinkle with Harissa/Salt mixture.

Allow oil to heat to 350 degrees again before frying next batch. Repeat until all potatoes are fried and seasoned. Serve. Keep any leftovers in a resealable plastic bag.
Keywords:
harissa, potato chips, snack