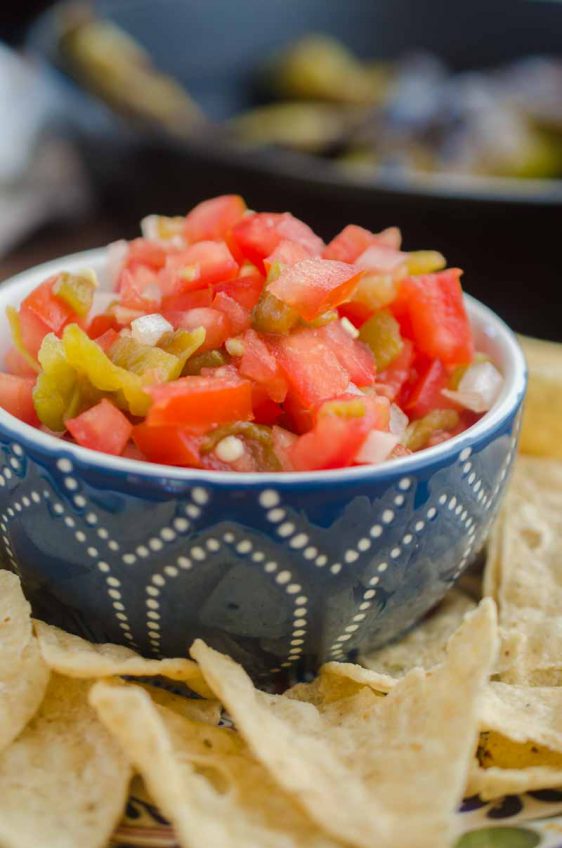 Hatch Chile Salsa Fresca
Hatch Chile Salsa Fresca is made with roasted hatch chilies, fresh tomatoes, onions, garlic and lime. It's a fun twist on fresh salsa!
One of my favorite things every August is when hatch chilies hit the supermarket shelves. I use them in mac n' cheese, pimento cheese, guacamole, pull-apart bread and a few more. Basically, I adore them.
Today I am sharing this recipe for Hatch Chile Salsa Fresca. It is the perfect, fresh way to enjoy my favorite part of August.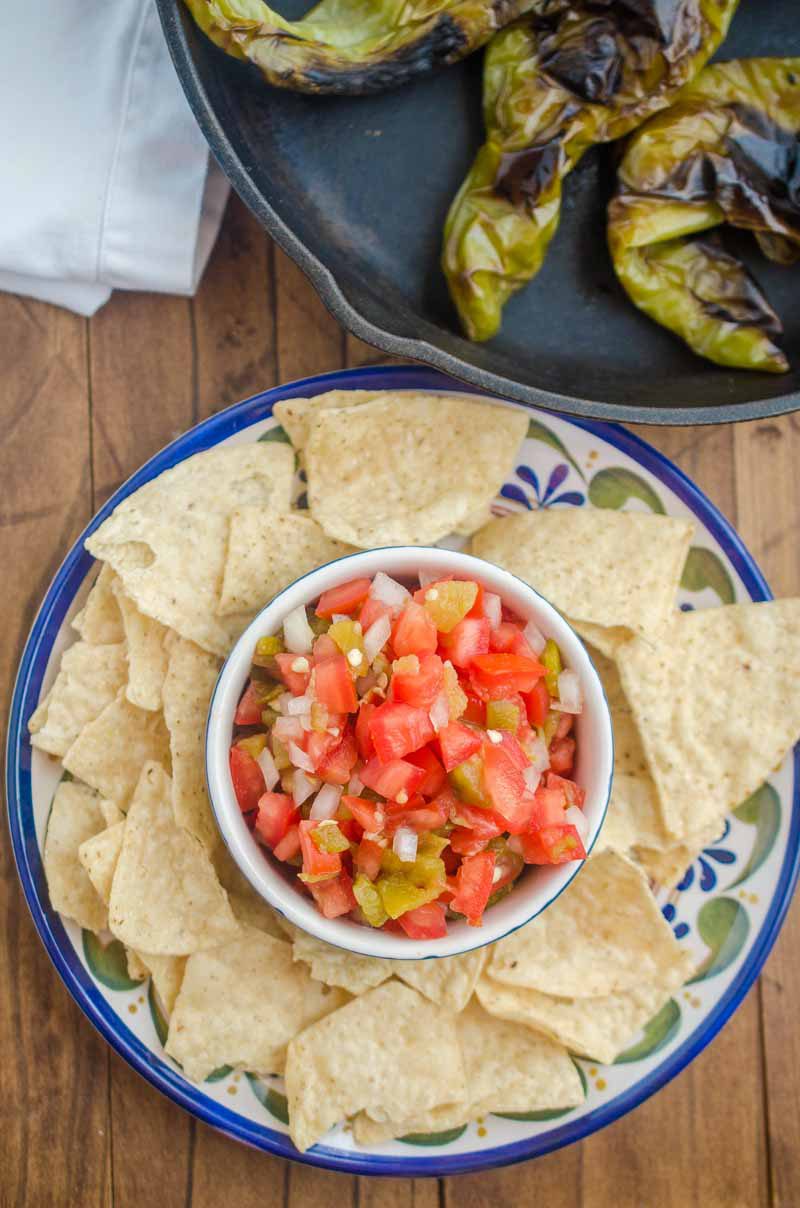 During hatch chile season, my local grocery store and Whole Foods, usually have a weekend where they roast the chilies outside the store. It's a smell that makes my mouth water!  However, I don't usually buy them pre-roasted. I grab some of the fresh chilies and roast them myself. It's really easy and if you need a tutorial the Kitchn put together a great one.
After you've roasted the chilies, this hatch chile salsa comes together easily. You will need fresh roma tomatoes (even better if they are from your garden!), yellow onion, garlic, lime juice and salt.
And just a little bit of patience.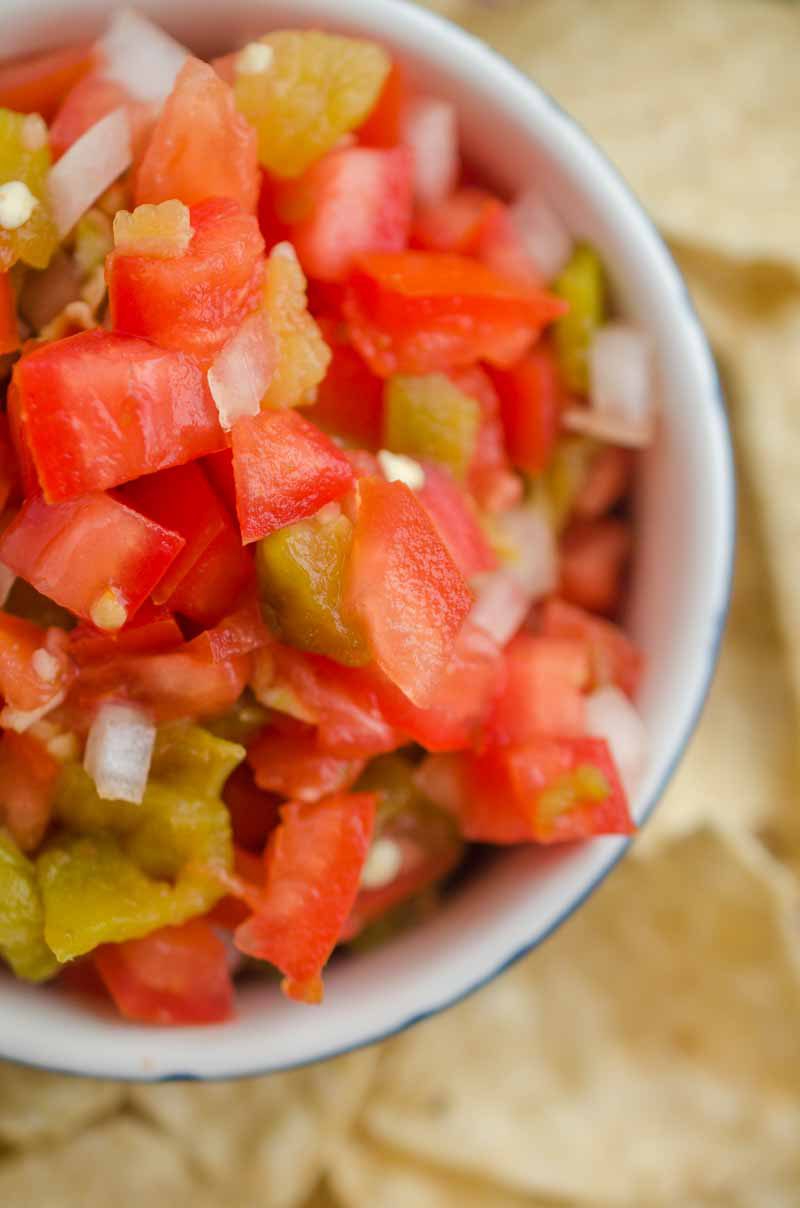 I say a little bit of patience because in order to get the best flavor, it is best to let this Hatch Chile Salsa Fresca chill at least 30 minutes so the flavors can mingle.
After that though, get to dippin'!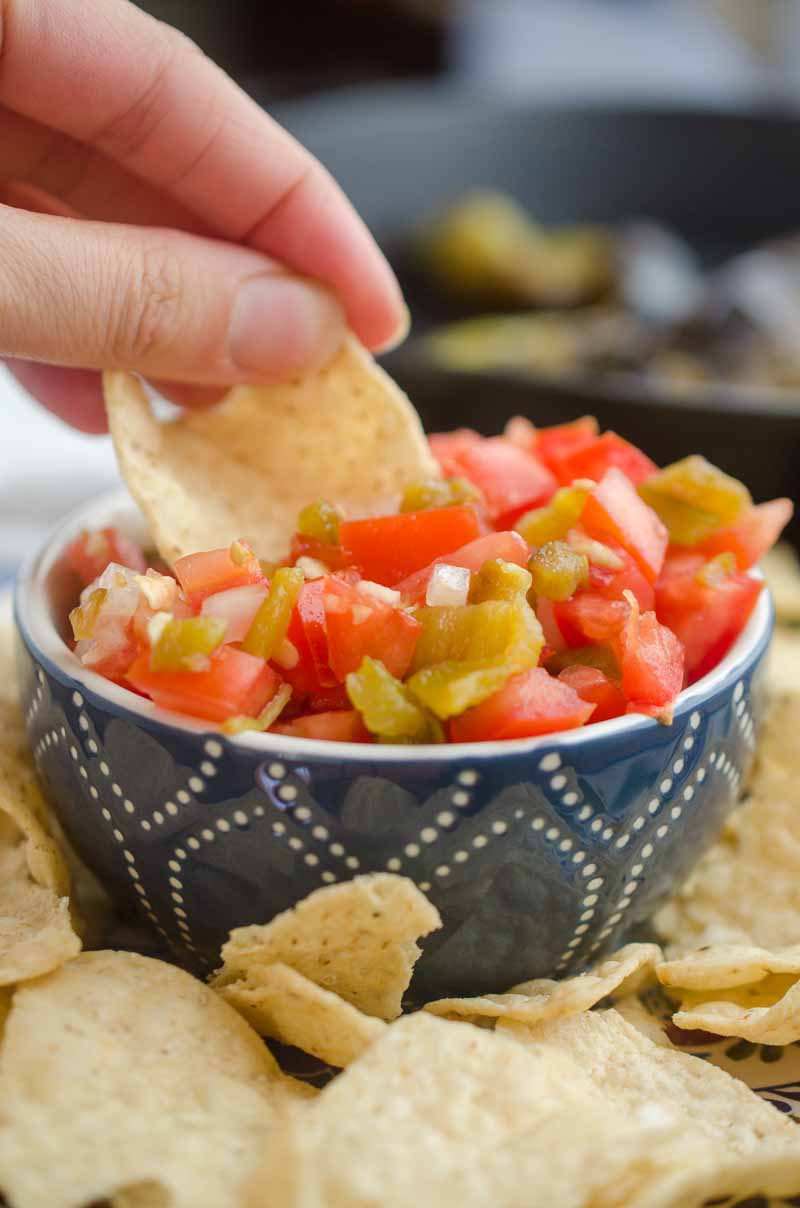 Chips and salsa is one of my go-to snack on hot summer days so obviously I recommend serving this Hatch Chile Salsa Fresca with tortilla chips (and a Corona with lime!). In addition to a delectable snack, I recommend adding this salsa to tacos, salads, and grilled meats.
One last note: Hatch chilies can be spicy or not spicy. I've had some as mild as bell pepper and some a little hotter than a jalapeno. If you're concerned about spice, start with one.
Hatch Chile Salsa Fresca Recipe
Ingredients:
2 roasted hatch chilies
2 cups diced roma tomatoes (about 4 tomatoes)
1/2 cup diced yellow onion
1 teaspoon lime juice
salt to taste
Instructions
1
Combine all ingredients together in a bowl. Cover and refrigerate for 30 minutes. Adjust seasoning with salt if needed. Serve with chips or on top of tacos or grilled meats.