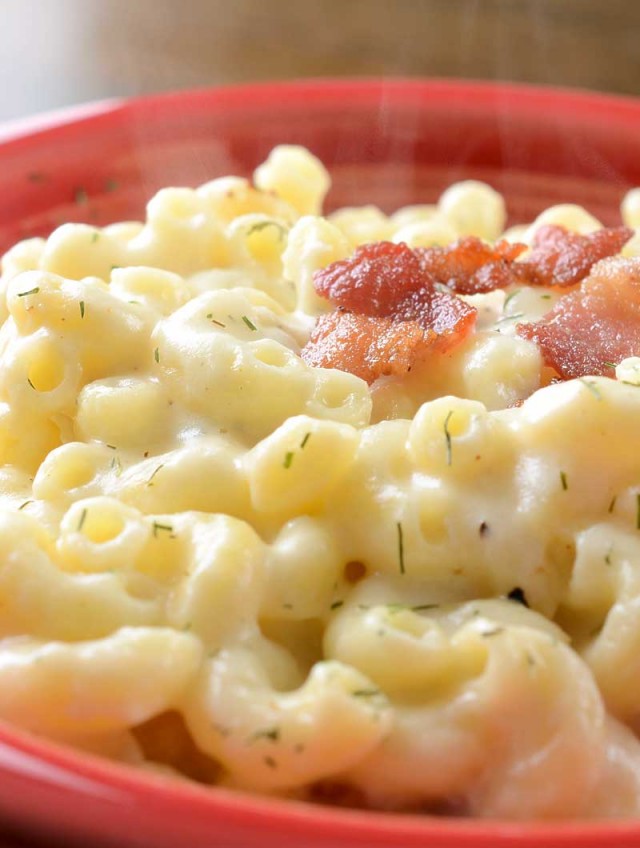 Havarti Dill and Bacon Mac N' Cheese
I had intended to share a dessert with you today, just in time for Easter but alas, I haven't had that much luck in the baking department in the last week or so. For that reason, I thought I would share with you the next best thing to dessert: Mac n' cheese. But not just any mac n' cheese. This mac n' cheese has bacon. And if you ask me, that makes it better than dessert.
I have been making mac n' cheese a lot lately. Besides the fact that I love mac n' cheese, I think the reason I've been making it so much is because Kellan does too. Honestly though, what toddler doesn't like mac n' cheese?
It must be the noodles and the cheesiness that gets them. I know for Kellan, it doesn't matter if it's a simple mac n' cheese, a little spicy with roasted poblano peppers, sophisticated with roasted garlic and thyme or, in this case, a slightly tangy with dill, he will gobble it all up.
Well most of it. Some of it will still end up in his seat. Or on the floor.
Or on the wall.
But that is another thing common with toddlers. Right?
Havarti Dill and Bacon Mac N' Cheese Recipe
Ingredients:
6 slices bacon, diced
2 cups dried elbow macaroni
2 tablespoons butter
4 tablespoons flour
2 cups whole milk
3 cups shredded dill Havarti cheese
1 egg
salt and pepper to taste
Instructions
1
Cook bacon in a skillet over medium heat. Transfer to a paper towel lined plate. Set aside.

2
Bring a large pot of water to a boil and cook macaroni according to package directions. Drain and set aside.

3
Melt butter in a large pot over medium heat. Once the butter has melted, whisk in flour. Cook one minute.

4
Stir in milk. Whisk until smooth. Stir in cheese. Continue stirring until cheese has melted.

5
Take one tablespoon of the warm milk mixture and whisk it into the egg to temper it, add to cheese sauce.

6
Fold in macaroni and bacon. Mix well. Season to taste with salt and pepper. Allow to set for 5 minutes. Serve.