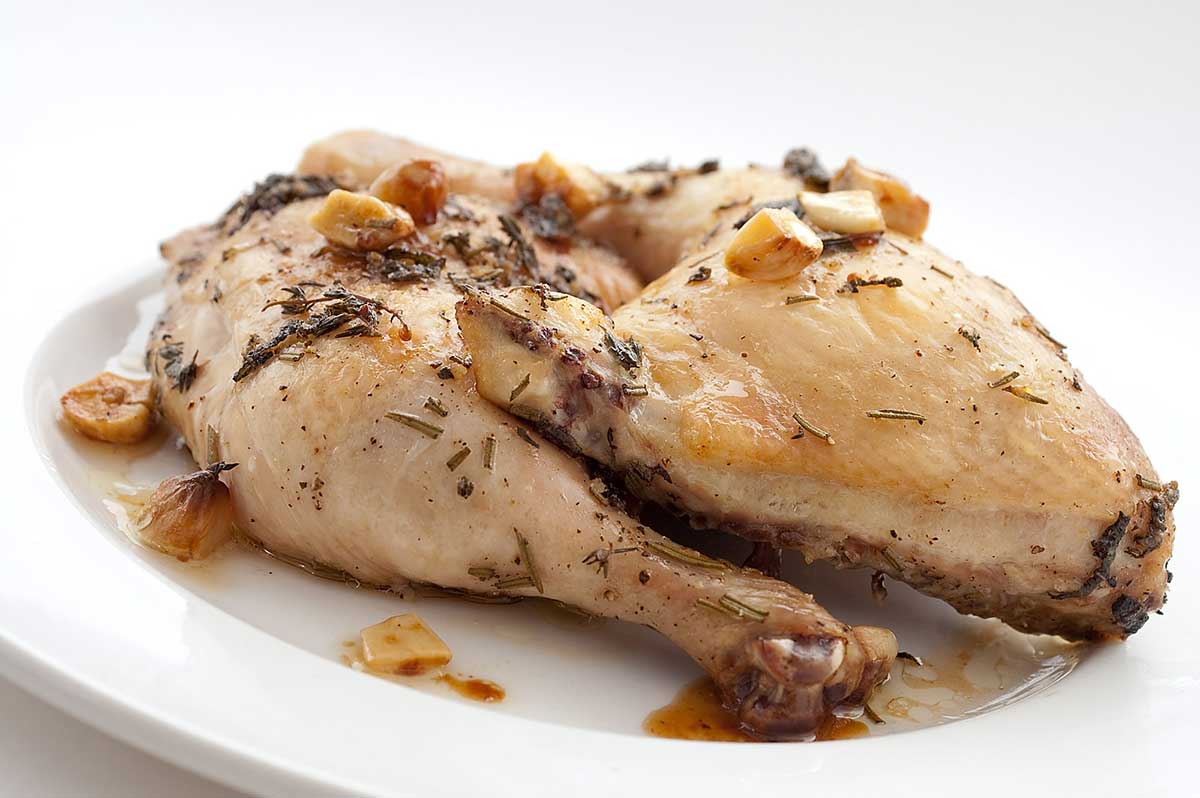 Herb and Garlic Roasted Chicken
This past Sunday Ryan and I were pretty busy so I couldn't make it to the super market to do my weekly grocery shopping. Instead, I had to go to the small local grocery store a few blocks away. They didn't have much but they did have some fresh herbs and some chicken leg quarters. Thus this Sunday dinner was born. Simple and perfect.
I don't often roast whole chickens, there is simply too much left overs for just Ryan and I. So when I am craving roasted chicken, chicken leg quarters are always a great option. For this recipe, the recommended cooking time is about 40 minutes, however, I have seen some pretty large chicken leg quarters which would take a little bit longer to cook. If the skin darkens too much, loosely cover with aluminum foil.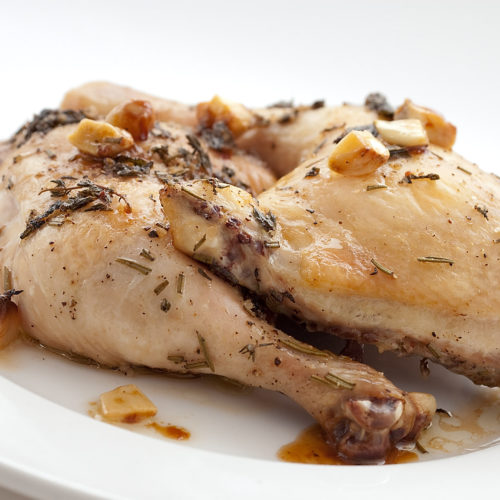 Herb and Garlic Roasted Chicken
A simple, flavorful chicken with fresh herbs and roasted garlic. A perfect Sunday supper.
Ingredients:
3

sage leaves

chopped

1

sprig fresh thyme chopped

1

sprig fresh rosemary

chopped

1

teaspoon

kosher salt

1/2

teaspoon

fresh cracked pepper

1

teaspoon

olive oil

2

chicken leg quarters rinsed and pat dry

5

large garlic cloves

coarsely chopped

1/2

cup

low sodium chicken broth
Preheat oven to 375 degrees.

In a bowl combine sage, thyme, rosemary, salt, pepper and olive oil. Stir to combine.

Rub mixture all over chicken pieces.

Place chicken in a cast iron skillet or other oven proof baking dish. Sprinkle garlic around chicken, pour chicken broth over the top. Place in oven and bake for 30 -45 minutes or until internal temperature is 170 degrees.

Transfer chicken to a serving platter, spoon roasted garlic cloves over the top. Serve.
Keywords:
American, chicken, chicken broth, chicken quarters, Food, fresh herbs, garlic, Recipe, roasted garlic, rosemary, sage, sunday dinner, thyme