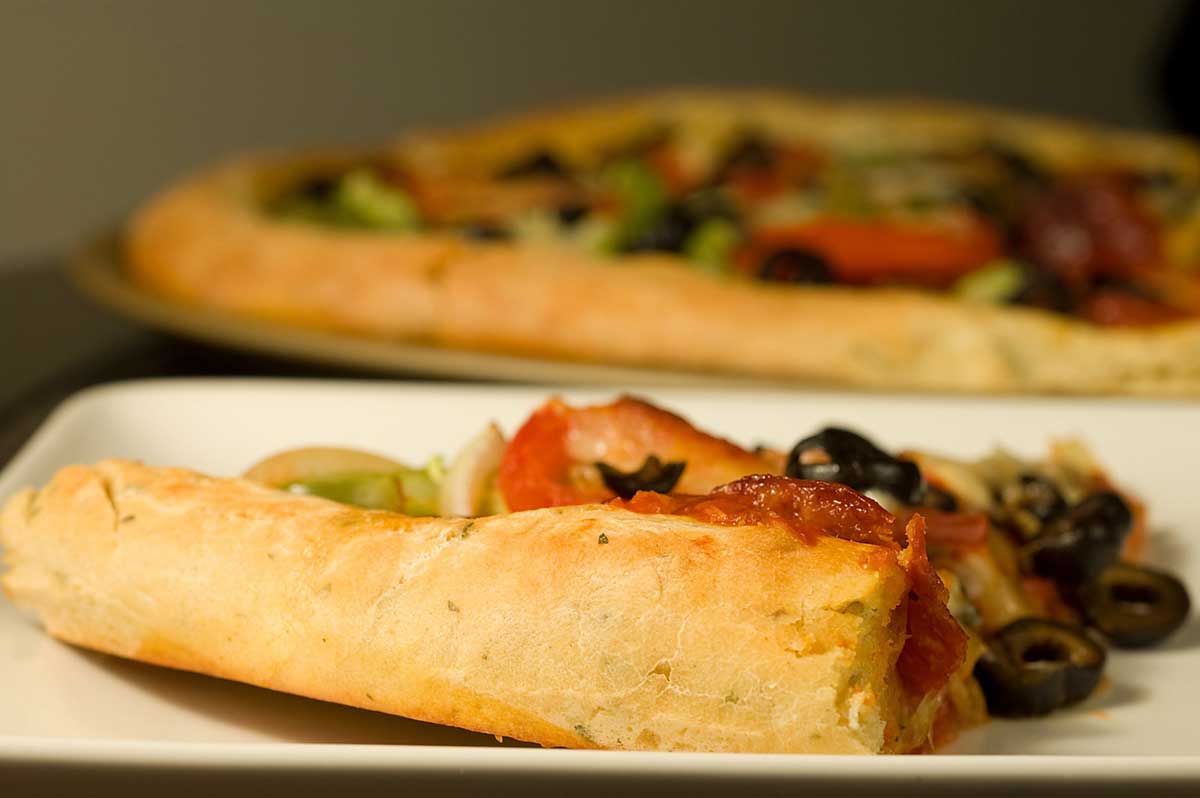 Herb and Sun Dried Tomato Pizza Crust
I don't often make homemade pizza crust, but I was craving some pizza the other day and happened to have some packets of yeast so I thought what heck, lets give it a try. I wanted to have a little change from the plain pizza dough so I thought about adding some different things. First I added some dried oregano, and garlic. I then decided to add some of the oil from a can of sun dried tomatoes that I had in the fridge, and let me tell you the result was delicious!
As far as the rest of the pizza goes, I topped it with all of my favorite toppings: a quick red sauce (see recipe below),  pepperoni, bell peppers, onions, sliced olives, fresh tomatoes and of course mozzarella. I then baked it until the crust was golden brown and the cheese was melted. It was like bringing the pizzeria home, except it was less expensive and I could do it all in my pajamas! :)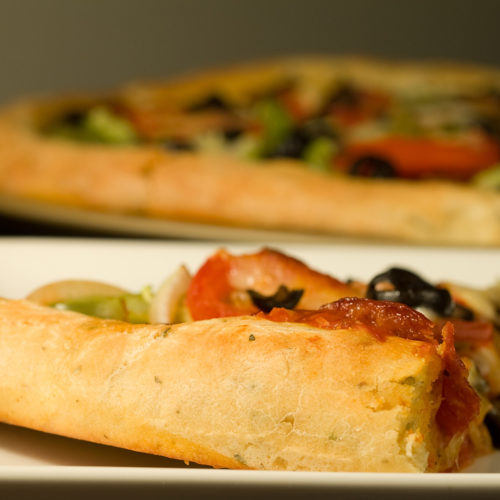 Herb and Sun Dried Tomato Pizza Crust
A homemade pizza dough with herbs and sun dried tomatoes.
Ingredients:
1

package active dry yeast

1

cup

warm water

2 1/4- 2 1/2

cups

flour

1

teaspoon

dried basil

1

teaspoon

dried oregano

2

teaspoons

granulated garlic

1 1/2

teaspoons

salt

1

tablespoon

of oil that sun dried tomatoes are packed in

1

tablespoon

plus 1 teaspoon of extra virgin olive oil
Dissolve yeast in warm water. About 10 minutes.

Sift together, flour, basil, oregano, granulated garlic and salt. Gradually add 2 cups of flour mixture to yeast mixture, mix to combine. Add sun dried tomato oil, mix to combine. Add in more flour slowly using your hands to gently mix the dough until it is no longer sticky.

On a flour coated surface, kneed dough until soft, about 5 minutes. Add more flour as needed so the dough doesn't stick to your hands or the board.

Grease a bowl with 1 teaspoon extra virgin olive oil. Place dough in the bowl, cover tightly with saran wrap. Let rise in a warm, dark place for 40 minutes - 1 hour or until it has doubled in size. I put mine in a kitchen cabinet.

Once it has doubled in size, punch the dough to release the air bubbles.

Preheat oven to 400 degrees.

On a lightly floured surface, roll out the dough and then using your hands shape into 15 inch pizza pan. Once shaped, brush the dough with 1 tablespoon of extra virgin olive oil.

Bake the plain pizza dough for 10 minutes. Remove from oven and top with your favorite toppings. Bake for 25-30 minutes or until the crust is golden brown.
Adding simple stuff that I have on hand to pizza crust has certainly opened my eyes. I am definitely excited to try some more. Any suggestions? Do you add anything to your homemade pizza crust? Enjoy!
Keywords:
basil, extra virgin olive oil, Food, garlic, herbs, oregano, pizza, pizza crust, Recipe, sun dried tomato, sun dried tomatoes