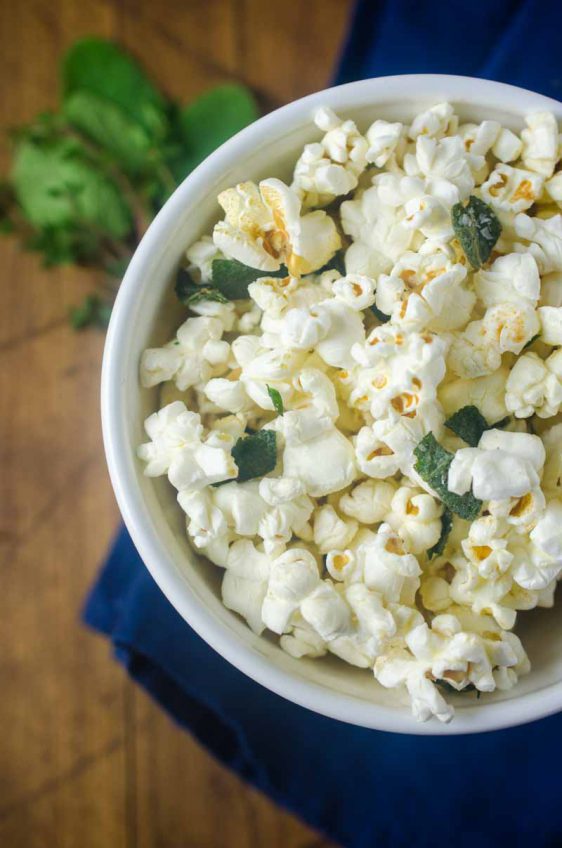 Herb Butter Popcorn
Want to jazz up everyone's favorite movie snack? Butter fried sage and thyme make this Herb Butter Popcorn perfect for movie night. 
I'm about to change your movie snack world with three words: Herb Butter Popcorn. And I'm not just talking about herbs tossed in butter right at the end and poured over the popcorn. No, I'm talking about frying the herbs in butter until they are crispy and then pouring it all over the popcorn. It's life changing I tell you.
Have you ever tried butter fried herbs before? Oh my gosh. You guys, they are heavenly! The first time that I tried butter fried sage was when I had Fish with Sage Butter in Italy. When you cook sage for just a minute or so in butter, it gets crispy and buttery.
Like I said, heavenly.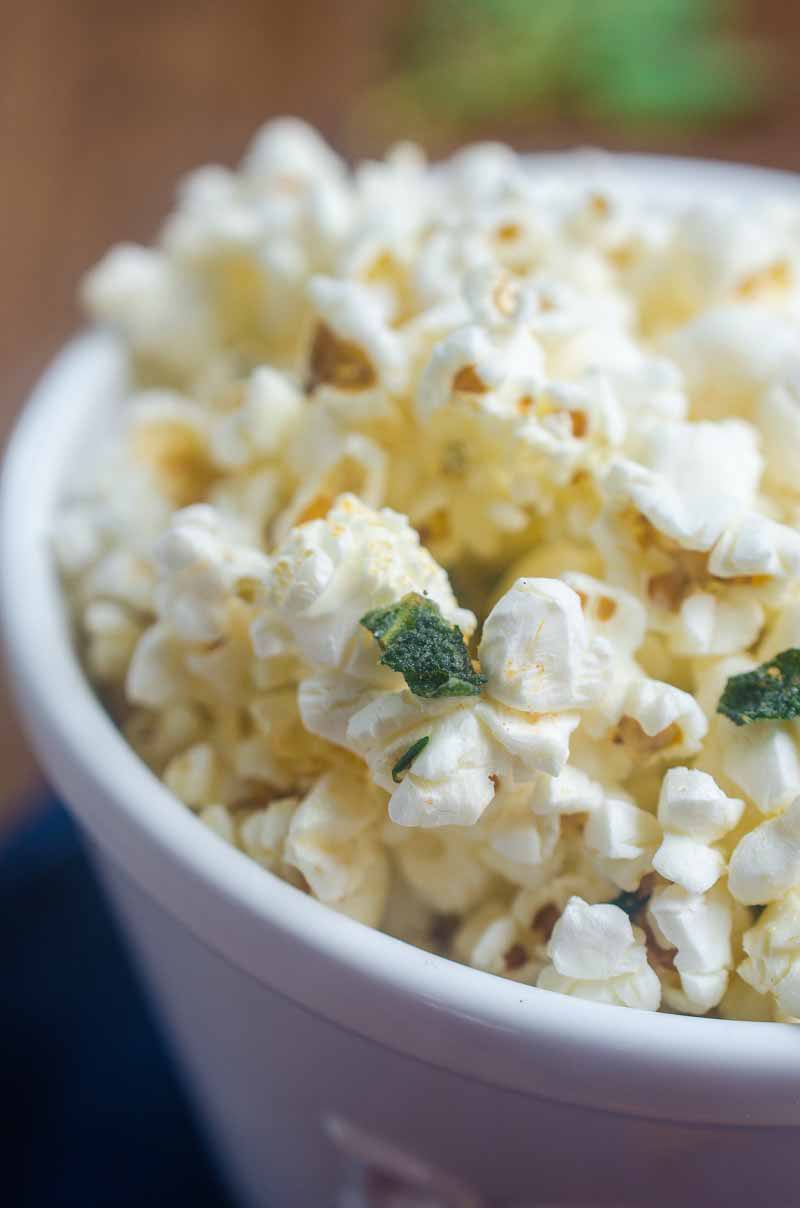 I am not quite sure why it took me so long to try my beloved sage butter on popcorn. But now that I have, it'll be a regular occurrence on our weekly movie nights.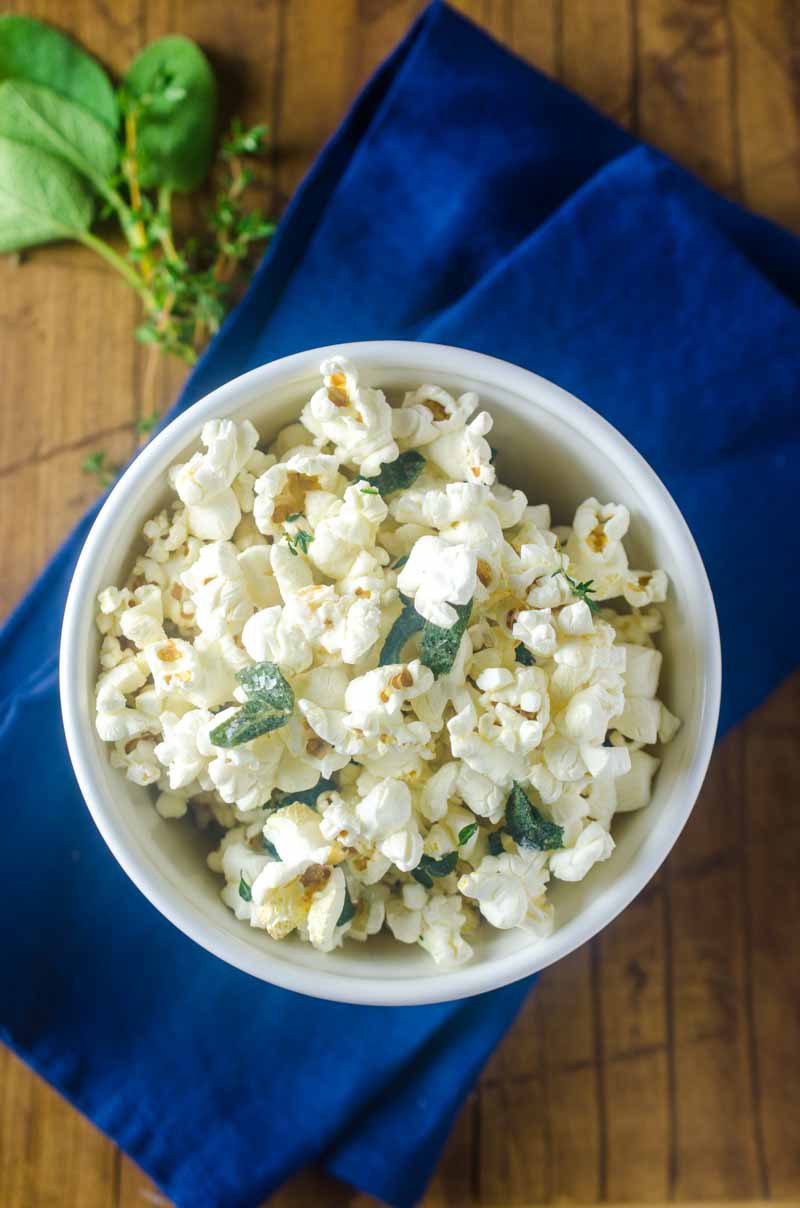 Who else has weekly movie nights? Ryan and I don't get out for date nights that often anymore so Saturday night after the kiddos are in bed, we search for a movie on iTunes or HBO. Ryan gets the TV all set up and I get the snacks. Which is usually licorice and popcorn. Ryan is not a huge fan of butter on popcorn but I am always trying to make him a fan. I think this Herb Butter Popcorn might just do it.
For this herb butter popcorn, I decided to add some fresh thyme too. Basically, any kind of herb that is fried in butter is going to be good. I love the peppery bite that thyme has so I thought that it would be the perfect addition to this Herb Butter Popcorn.
And it was.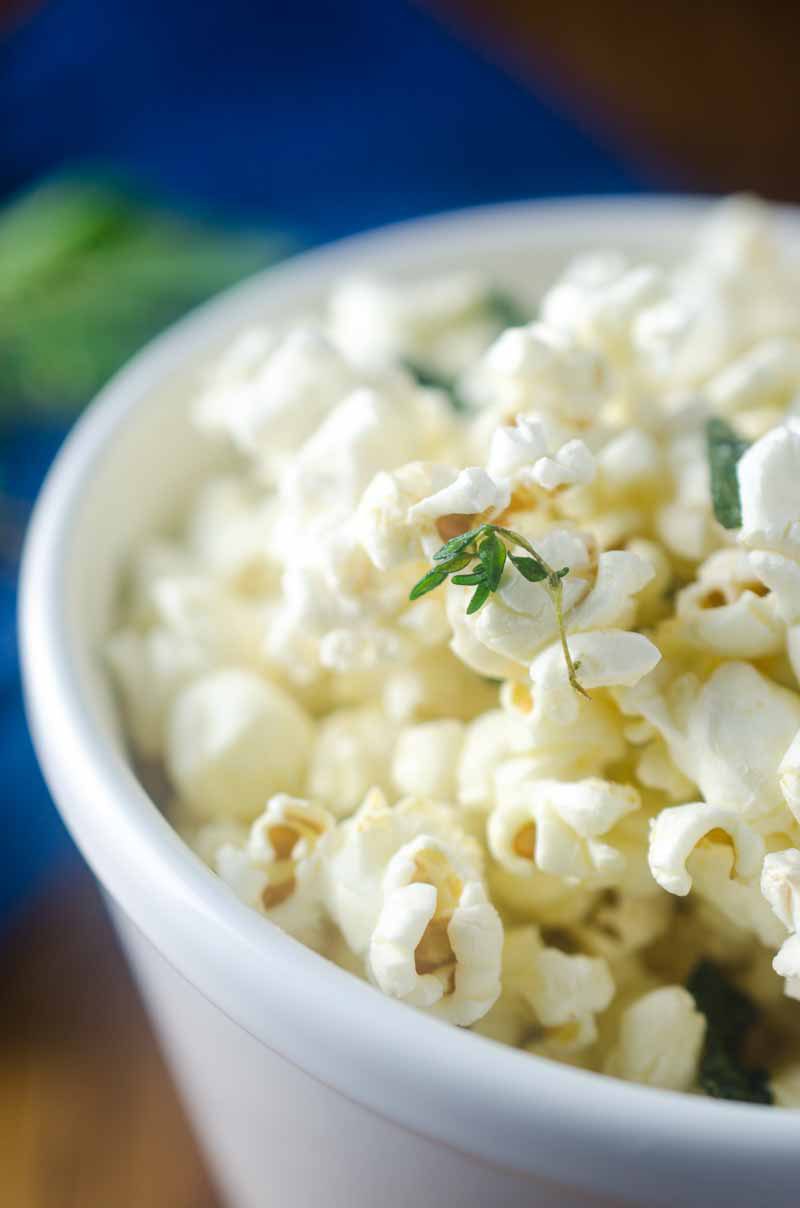 A sprinkle of sea salt and then you are good to go and on your way to movie snack perfection.

Herb Butter Popcorn Recipe
Ingredients:
1/2 cup popcorn kernels
2 tablespoons unsalted butter
5 - 6 sage leaves chopped
1 tablespoon fresh thyme leaves
coarse sea salt
Instructions
1
Cook popcorn in an air-popper.

2
Meanwhile, melt butter in a skillet over medium heat. Once melted add sage and thyme. Cook 30 seconds - 1 minute or until herbs are slightly crisp.

3
Pour herb butter over popcorn, season to taste with salt.