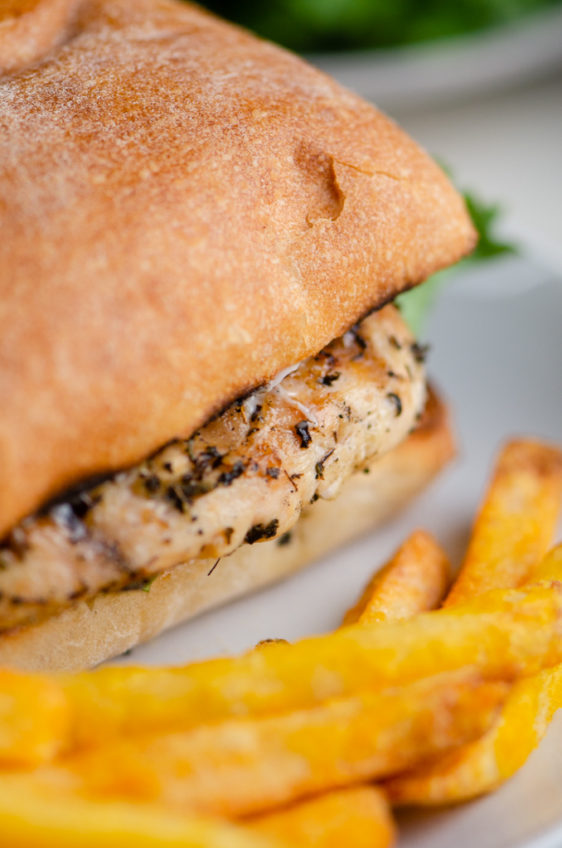 Herb Grilled Chicken Sandwich
This Herb Grilled Chicken Sandwich is going to be your new favorite summer meal. Tender marinated chicken, garlicky mayo piled on a chewy ciabatta roll. 
 If you are looking for a super easy lunch or dinner idea, you need look no further than these Herb Grilled Chicken Sandwiches. You only need a handful ingredients. They can be on the dinner table in under 30. And the best part? They rival any grilled chicken sandwich that you'd get at a restaurant thanks to the quick garlic mayonnaise and chewy ciabatta rolls. 
Guys, they are so freaking good.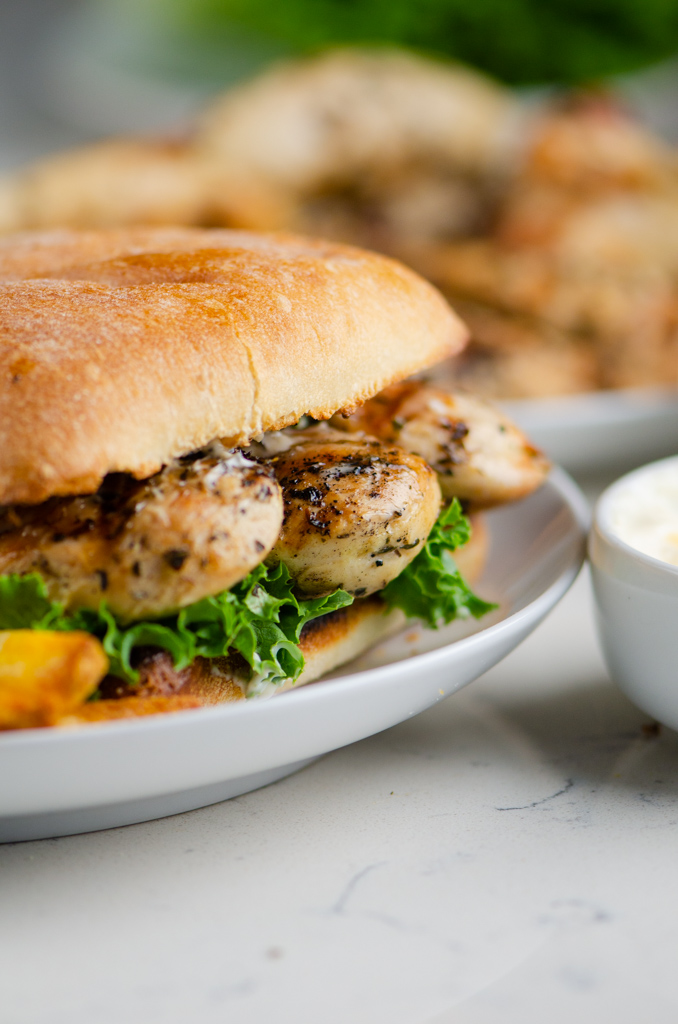 So let's talk about what you need to make THE BEST grilled chicken sandwich.
What ingredients do you need?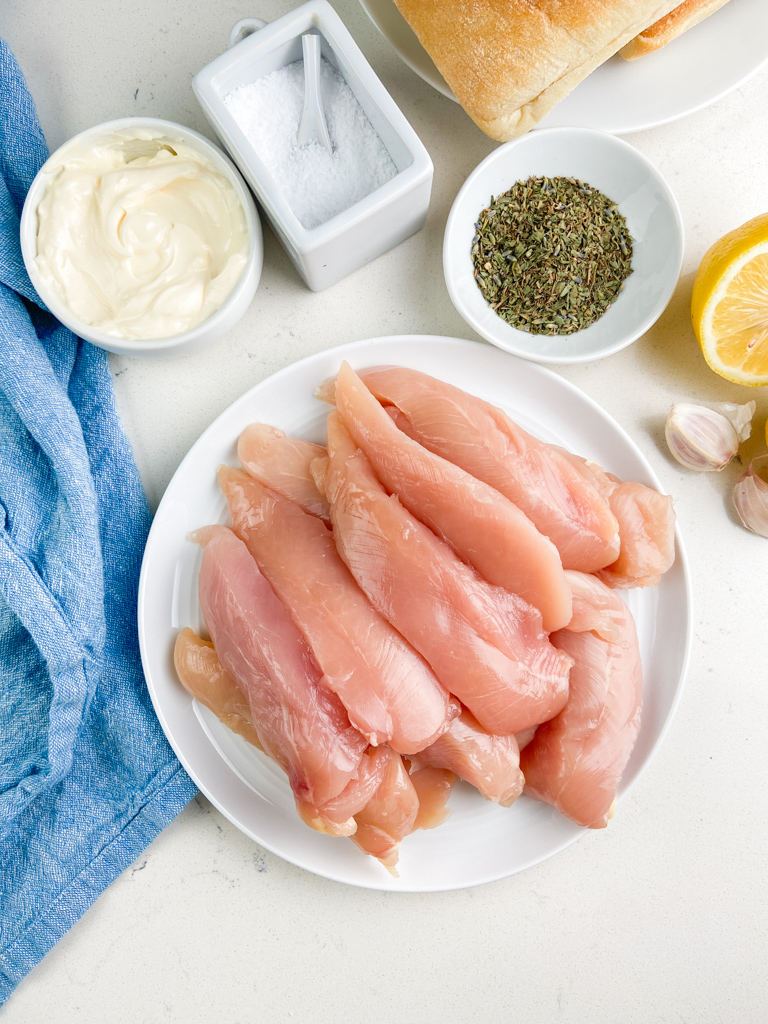 CHICKEN TENDERLOINS: This is one of the things that makes this sandwich so fast to make. Chicken tenders are smaller so they cook much faster than chicken breasts. You can use chicken breasts if you like, you'll just need to adjust the cooking time.
OLIVE OIL/VINEGAR/LEMON JUICE: The combination of these three ingredients make a quick citrusy marinade that is perfect for chicken.
HERBS DE PROVENCE: Where the "herb" comes from in these herb grilled chicken sandwiches. Herbs de Provence is a blend of dried herbs that are typically found in the Provence region of France. Most blends have a mixture of savory, marjoram, rosemary, thyme and oregano. Some blends also have culinary lavender!
MAYONNAISE/GARLIC: The garlic jazzes up the mayo just enough to make it the perfect spread for this sandwich.
LETTUCE: For crunch
CIABATTA ROLLS: Ciabatta rolls are an Italian bread. The rolls are soft, chewy and have little honeycomb holes throughout. This makes them perfect for sandwiches.
How do you make a grilled chicken sandwich?
It's easy peasy! When I first posted this recipe way back in 2010, I marinated the chicken for an hour. I remade these again recently on a night that I was really short on time and discovered you don't actually need to marinate it that long. I put them in the marinade as I waited for the grill to heat up and that was enough time, they were super flavorful.
STEP #1: In a bowl combine olive oil, lemon juice, white wine vinegar and Herbs de Provence. Add in chicken and toss to coat. Allow to marinate while the grill heats up. You can also do this in advance!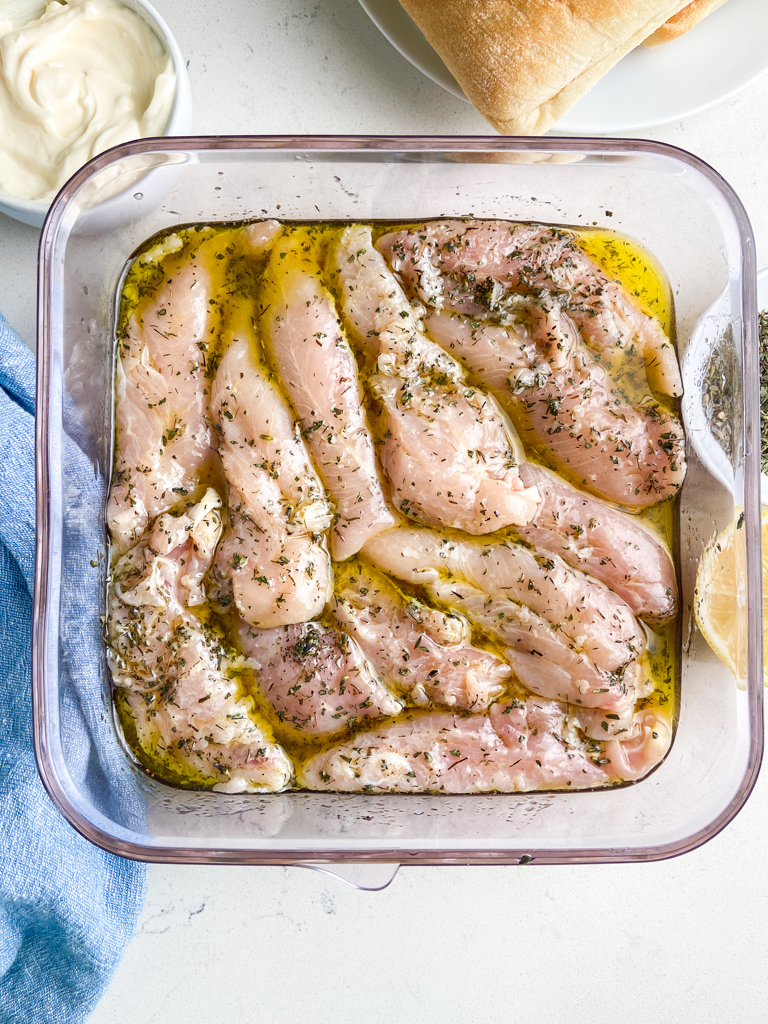 STEP #2: Whisk together mayonnaise and garlic. Chill until ready to use.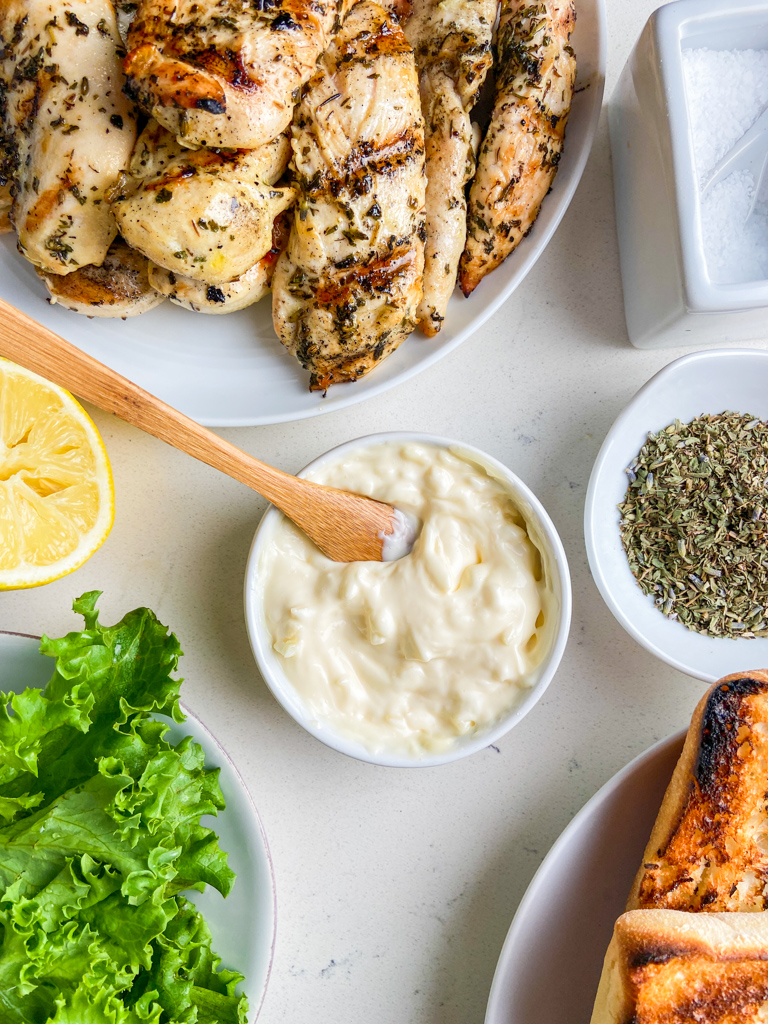 STEP #3: Grill the chicken over medium heat until a meat thermometer inserted registers 165 degrees F. You can also grill the bread if you want added crunch.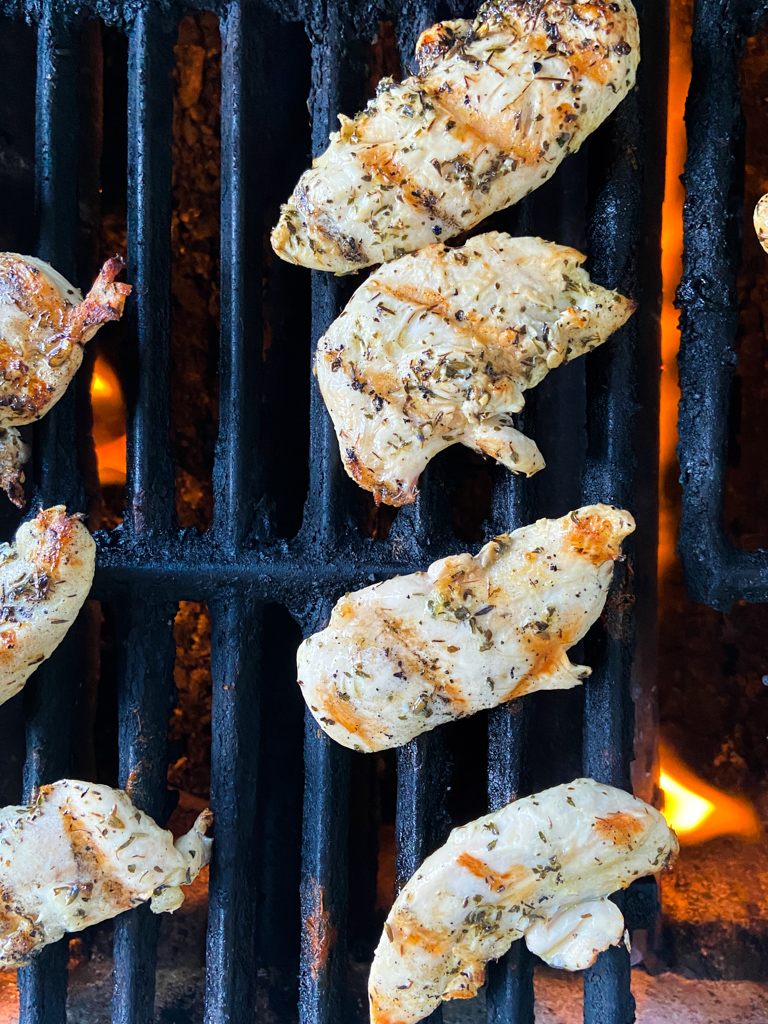 STEP #4. To assemble the sandwiches, spread garlic mayonnaise on the top and bottom of the rolls. Place lettuce on the bottom half of the roll followed by 3 – 4 chicken tenders. Top with top half of roll.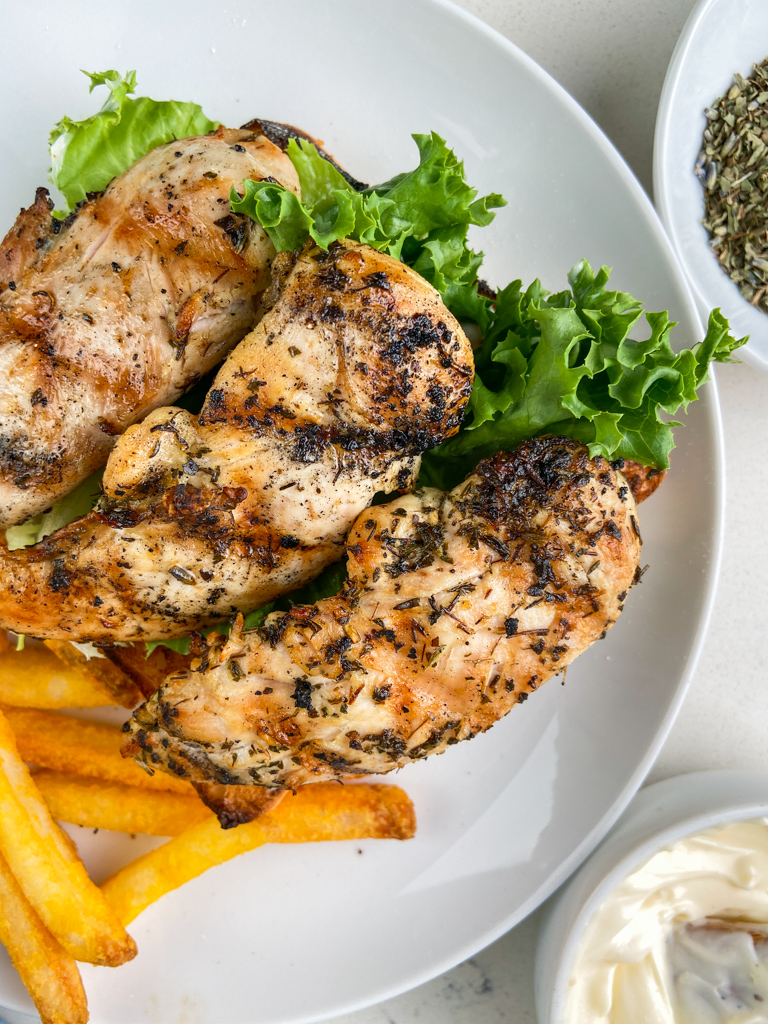 See! How easy is that?
I just know that this Herb Grilled Chicken Sandwich is going to be a favorite in your house just like it is in ours.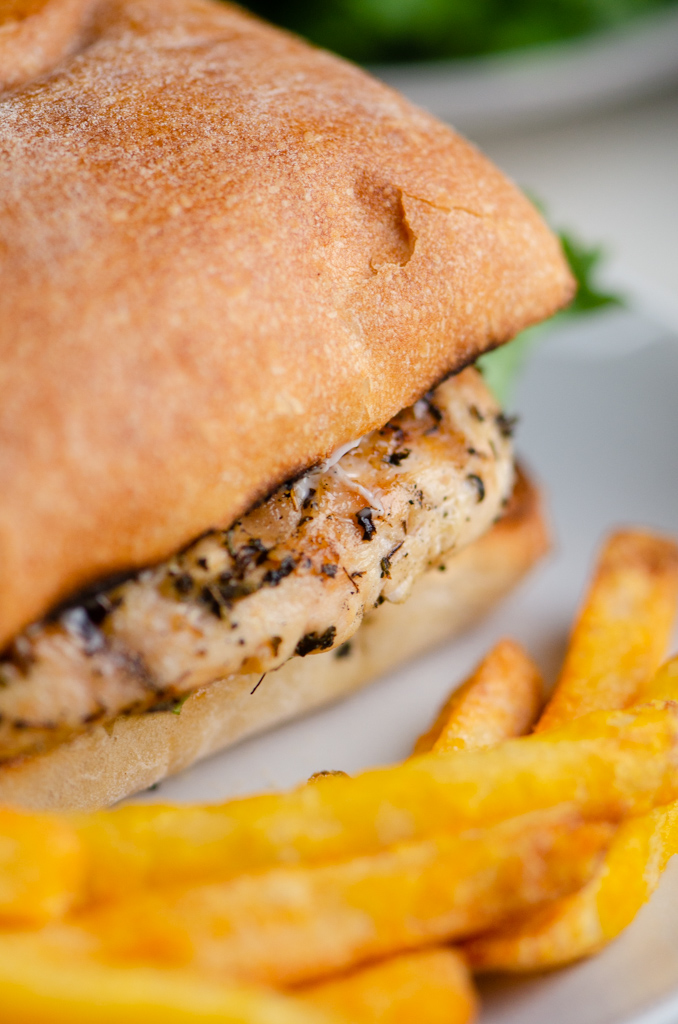 Looking for something to serve along side? Check out these easy side dishes.
Note: this recipe was originally posted in 2010. It was updated with nutrition information and step by step photos in 2021.
Herb Grilled Chicken Sandwich Recipe
Ingredients:
1/4 cup extra virgin olive oil
2 tablespoons wine vinegar
2 teaspoons lemon juice
1 teaspoon kosher salt
1 tablespoon Herbs de Provence
12 chicken tender pieces (or 4 small chicken breasts)
1/2 cup mayonnaise
2 cloves garlic, minced
lettuce
4 ciabatta rolls, sliced in half
Instructions
1
In a bowl combine olive oil, vinegar, lemon juice, kosher salt and Herbs de Provence. Place chicken in marinade.

2
In another bowl combine mayonnaise and garlic cloves. Refrigerate until ready to use.

3
When ready, preheat your grill to medium-high. Cook marinated chicken until cooked through, about 3 - 4 minutes per side depending on the thickness of the chicken.

4
To assemble the sandwiches: Place lettuce on the bottom half of the roll, place 3 chicken tenders per sandwich on top. Spread the garlic mayonnaise on the top half of the bun. Serve.
Notes
Nutrition facts for estimation purposes only.
Nutrition information
Amount per serving: 1 sandwich
Calories: 562 , Total Fat: 25.8g , Saturated Fat: 3.3g , Cholesterol: 128mg , Sodium: 1432mg , Carbohydrates: 32.3g , Fiber: 1.4g , Sugar: 2.6g , Protein: 60.6g