Oh cheese bread. You have a special place in my heart. With your ooey-gooey cheesiness you are just down right irresistible. I've made you with jalapeños, with smoked white cheddar and even with kale. Today, I'm adding mushrooms and herbs to the mix resulting in this Herb Mushroom Cheese Bread that would be perfect for Game Day or Girl's Night. 
Despite my love affair with cheese bread, it's not something that we eat a ton of. It's more of a special occasion kind of thing. Therefore, like all special occasion type of meals, we kind of like to go all out. That is exactly what I did with this Herb Mushroom Cheese Bread.
First, I knew I wanted to have mushrooms. I love mushrooms all year round, but there is just something about fall that screams mushrooms to me. I like to add them to just about everything this time of year: pastas, sandwiches, salads, soups and now cheese bread.
Next, I knew that we needed two different kinds of cheese. Because well…cheese.
Finally, I wanted to add some fresh herb flavor so I decided to go with another one of my favorite fall flavors: thyme. Mushrooms and thyme are just so perfect together so putting some on this bread was kind of a no brainer.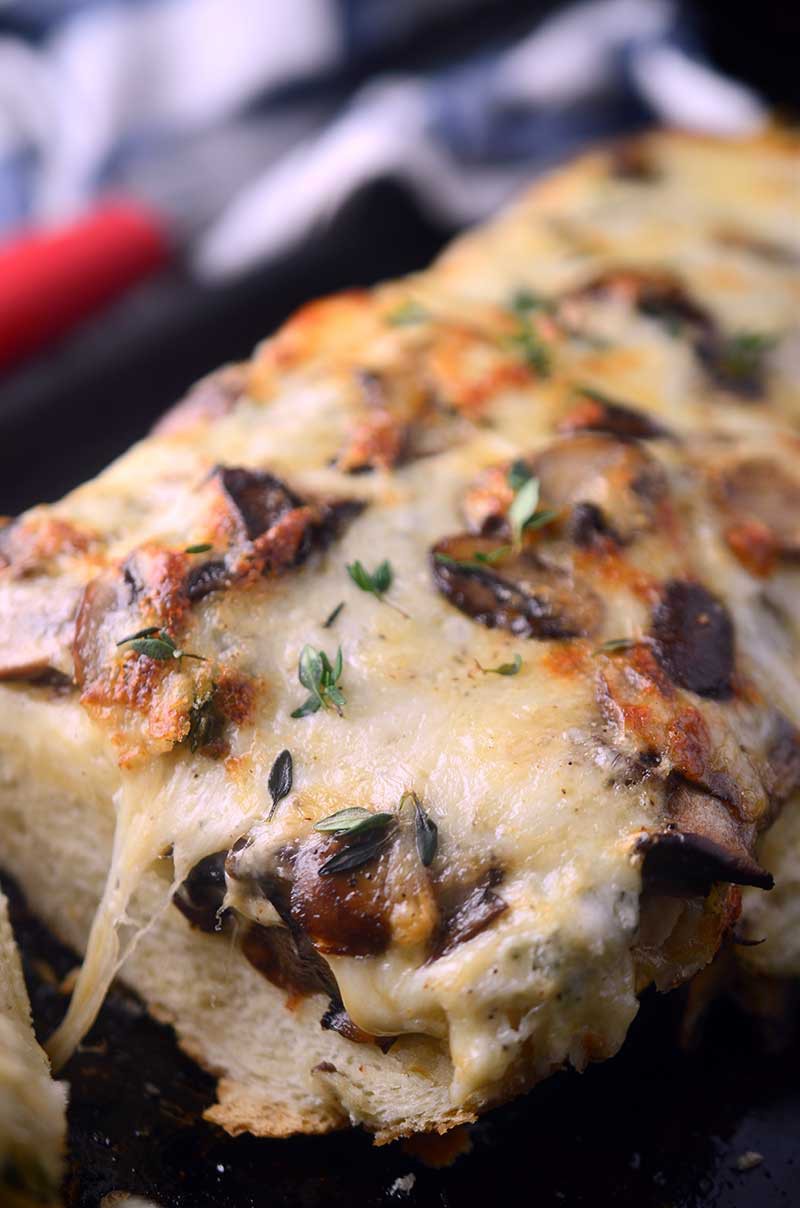 The result was a decadent cheese bread that would be at home in the middle of your game day spread while you sit back and root for your favorite team (Go Hawks!) or on the table during your girl's night. I mean wine, Under the Tuscan Sun and this bread? Talk about perfection. Am I right?!

Ingredients:
1 tablespoon unsalted butter
1 teaspoon olive oil
3 cups sliced crimini mushrooms
1 tablespoon fresh thyme leaves, plus more for garnish
2 cups shredded mozzarella
1 cup shredded swiss cheese
1/4 cup mayonnaise
1/2 teaspoon garlic
1/4 teaspoon black pepper
1/2 loaf french bread (1 whole loaf cut lengthwise)
Instructions
1
Preheat oven to 425 degrees.

2
Heat butter and olive oil in a skillet over medium heat until butter melts. Add in mushrooms and cook, stirring occasionally until the mushrooms start to brown, about 10 minutes. Remove from heat and allow to cool.

3
Combine cooled mushrooms, thyme, mozzarella, swiss, mayonnaise, garlic and black pepper in a bowl. Mix well.

4
Spoon and spread mixture on the bread. Cook in preheated oven for 15 - 20 minutes or until bread starts to brown and cheese is bubbly. Remove from oven, allow to cool several minutes, garnish with fresh thyme leaves, slice and serve.