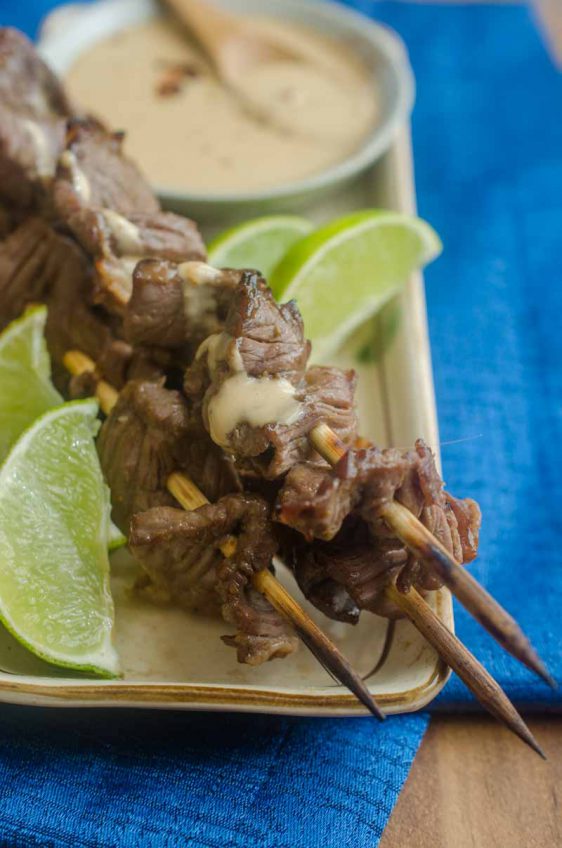 Hoisin Marinated Beef Skewers
Hoisin Marinated Beef Skewers with Peanut Sauce are a family favorite. Sweet hoisin, tender beef and a creamy peanut sauce make them a flavor bomb! 
This post is sponsored buy the Washington Beef Commission. We are grateful for our sponsors as they allow us to bring you delicious free content every week.
What is it about eating meat off a stick that makes dinner much more fun? Perhaps it brings back memories of summer nights strolling through the fair. Or backyard summer potlucks with a kebab loaded BBQ. Whatever it is, meat on a stick is always a family favorite around here.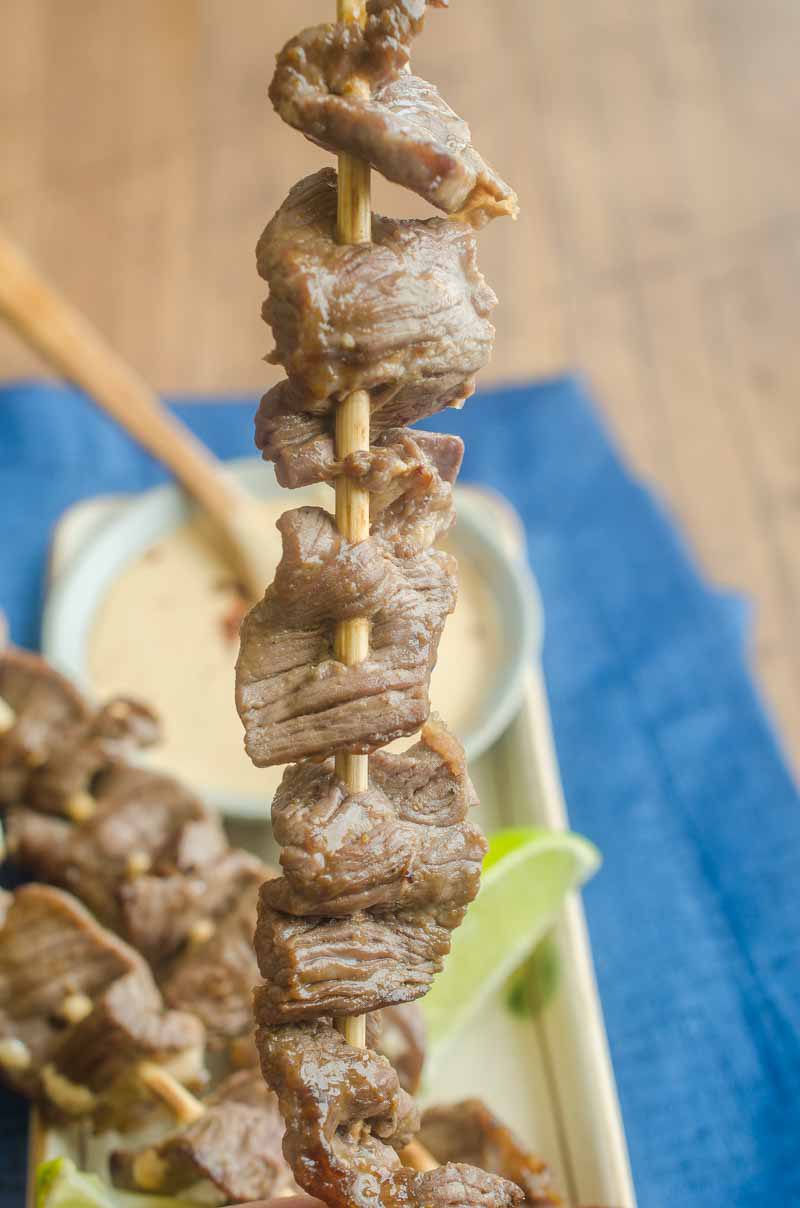 I've shared a couple of skewer recipes on the blog throughout the years: Chimichurri Salmon Skewers and Sriracha Beef Skewers. Today I am adding Hoisin Marinated Beef Skewers to the mix.
Hoisin Marinated Beef Skewers are really easy to make. For the beef skewers you need two ingredients. For the peanut sauce you'll need only four. It doesn't get much easier than that!  The toughest part about making these skewers is getting the meat cut into 1/4 inch strips before threading it onto the skewer. My favorite kitchen tip to help do this is to freeze the meat for a couple of hours. Slightly frozen beef is much easier to slice thin.
The beef skewers are good on their own, but every good beef skewer is even better when it has a dipping sauce to go with it. As good as these Hoisin Marinated Skewers are, the Creamy Peanut Sauce might just be my favorite part. It's nutty, sweet and has a little heat thanks to some crushed red pepper.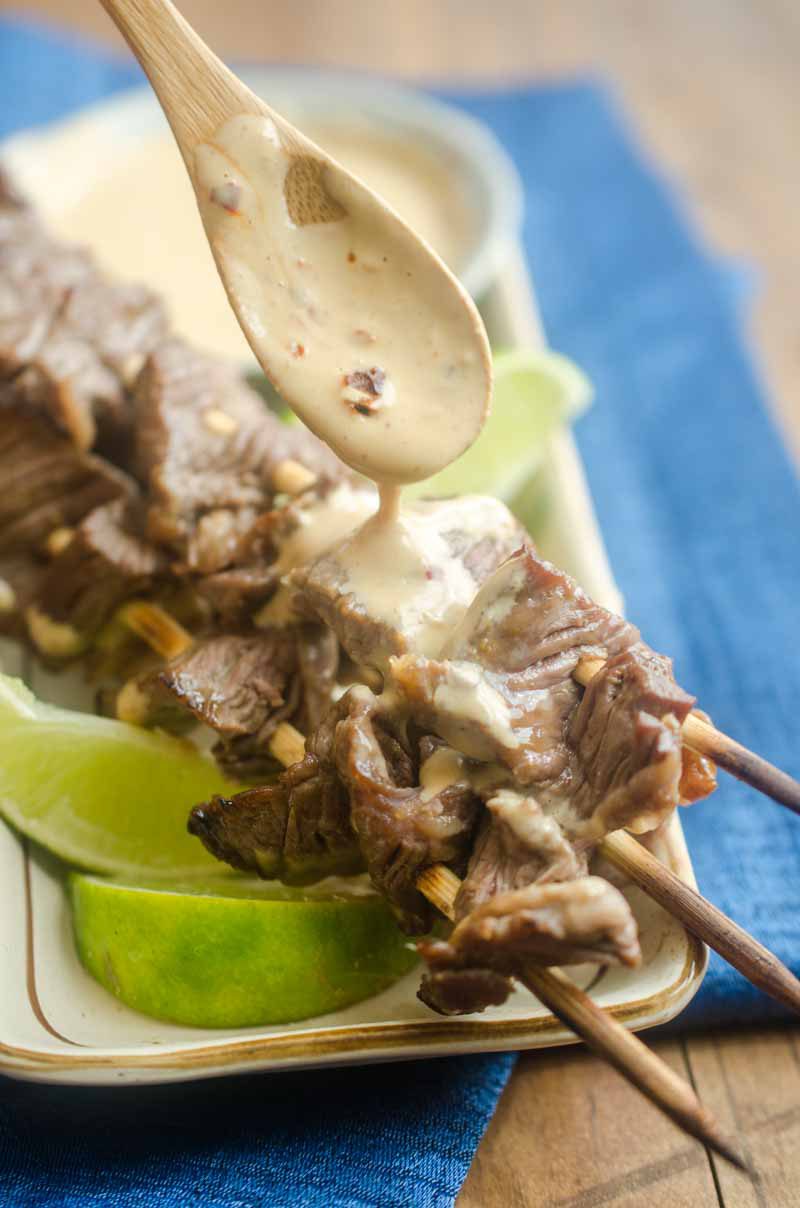 Unlike most skewers, you don't a grill for this recipe. Instead, these Hoisin Marinated Beef Skewers need just a few minutes under the broiler. This means that you can still enjoy this beefy goodness without having to break out the BBQ.

Hoisin Marinated Beef Skewers Recipe
Ingredients:
1 pound beef Top Sirloin Steak, cut 1 inch thick
4 tablespoons hoisin sauce, divided
1/4 cup creamy peanut butter
2 teaspoons fresh lime juice
1/8 teaspoon crushed red pepper
1/4 cup water
Instructions
1
Cut beef steak crosswise into 1/4-inch thick strips. Combine 2 tablespoons hoisin sauce and beef in medium bowl; toss to coat. Cover and refrigerate 30 minutes to 2 hours.

2
Meanwhile, combine remaining 2 tablespoons hoisin sauce, peanut butter, lime juice and crushed red pepper. Stir in water. Set aside.

3
Soak eight 10-inch bamboo skewers in water 10 minutes; drain. Thread beef, weaving back and forth, onto each skewer.

4
Place skewers on rack in broiler pan so surface of beef is 2 to 3 inches from heat. Broil 4 to 5 minutes for medium rare (145°F) to medium (160°F) doneness, turning once. Serve with peanut sauce.

Notes
Recipe courtesy of Washington Beef Commission.