Honey Cranberry Tartlets
This is a sponsored conversation written by me on behalf of Fred Meyer. The opinions and text are all mine.
Bite size and perfect for parties, these Honey Cranberry Tartlets should make an appearance at all of your holiday get togethers! 
When it comes to holiday party desserts, pumpkin seems to get all the love. Cranberries usually get relegated to a sauce that you serve alongside the turkey. That is, until now! These Honey Cranberry Tartlets are tart, yet sweet and perfect for Thanksgiving, Christmas and all of the holiday parties in between.
This recipe is really easy and only requires 6 ingredients (counting the water) and it can be made in about 20 minutes. You'll need fresh cranberries, sugar, water, whipped cream and two of my new favorite kitchen staples: Private Selection™ Shortbread Tartlet Shells and Private Selection™ Vanilla Nutmeg Infused Honey.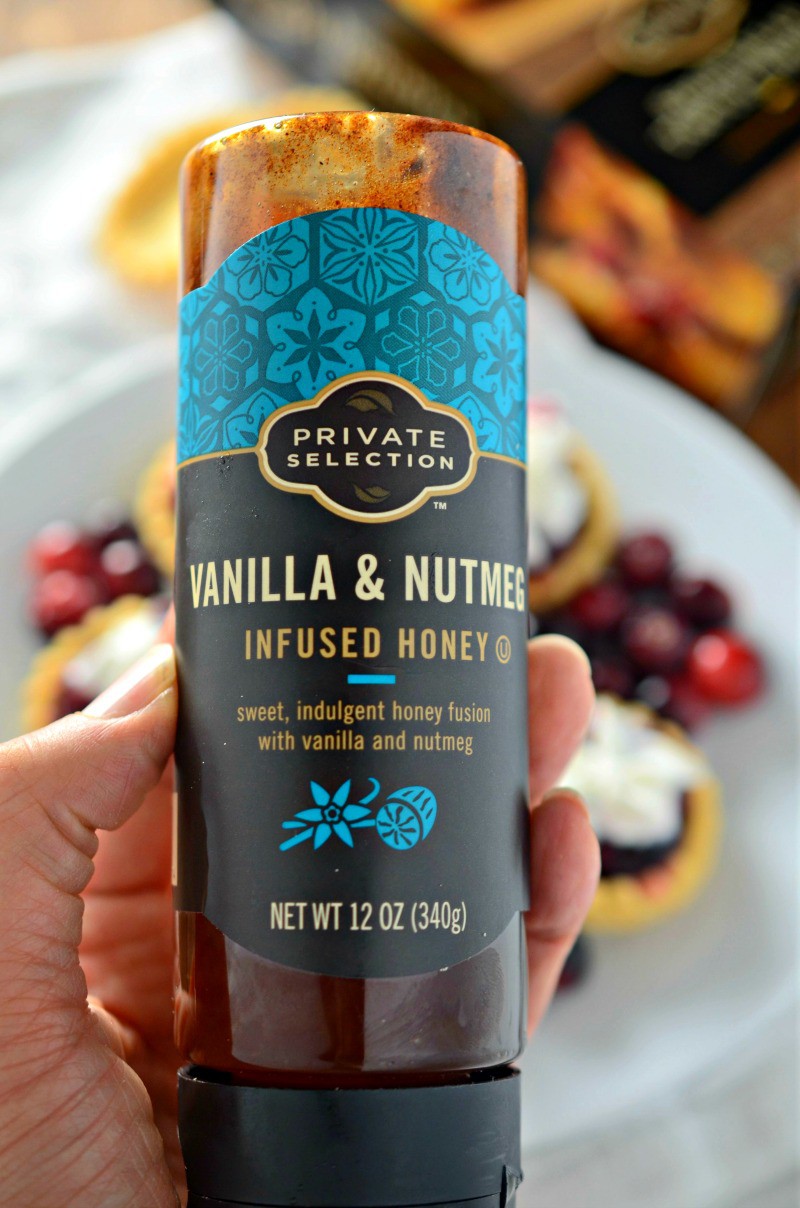 That's right, vanilla nutmeg infused honey! And guys, it's the bees knees. I have been putting it on all the things. I put it in my tea, drizzle it on my peanut butter toast and these Honey Cranberry Tartlets. It adds the perfect touch of sweetness to contrast with the tart cranberries. The nutmeg also adds that warm flavor that just screams fall.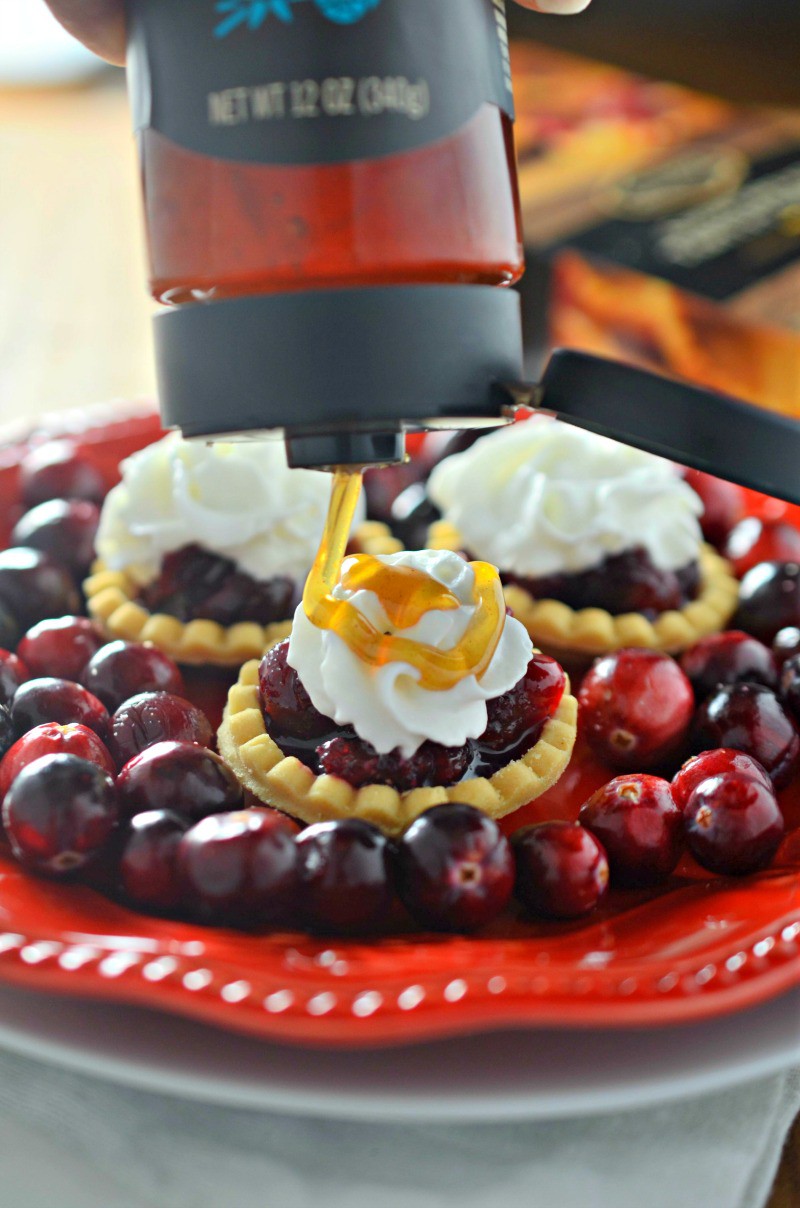 The Private Selection™ Shortbread Tartlet Shells are also a pretty awesome thing to have in the pantry. I don't know about you but I always loved those mini desserts that you see at parties but, honestly, I didn't want to take the time to make the little shells myself. Thanks to these shells, I don't have to. They make it so easy. They are perfectly buttery and crispy and I can't wait to try all kinds of fillings in them this holiday season.
Starting with these Honey Cranberry Tartlets. Obviously.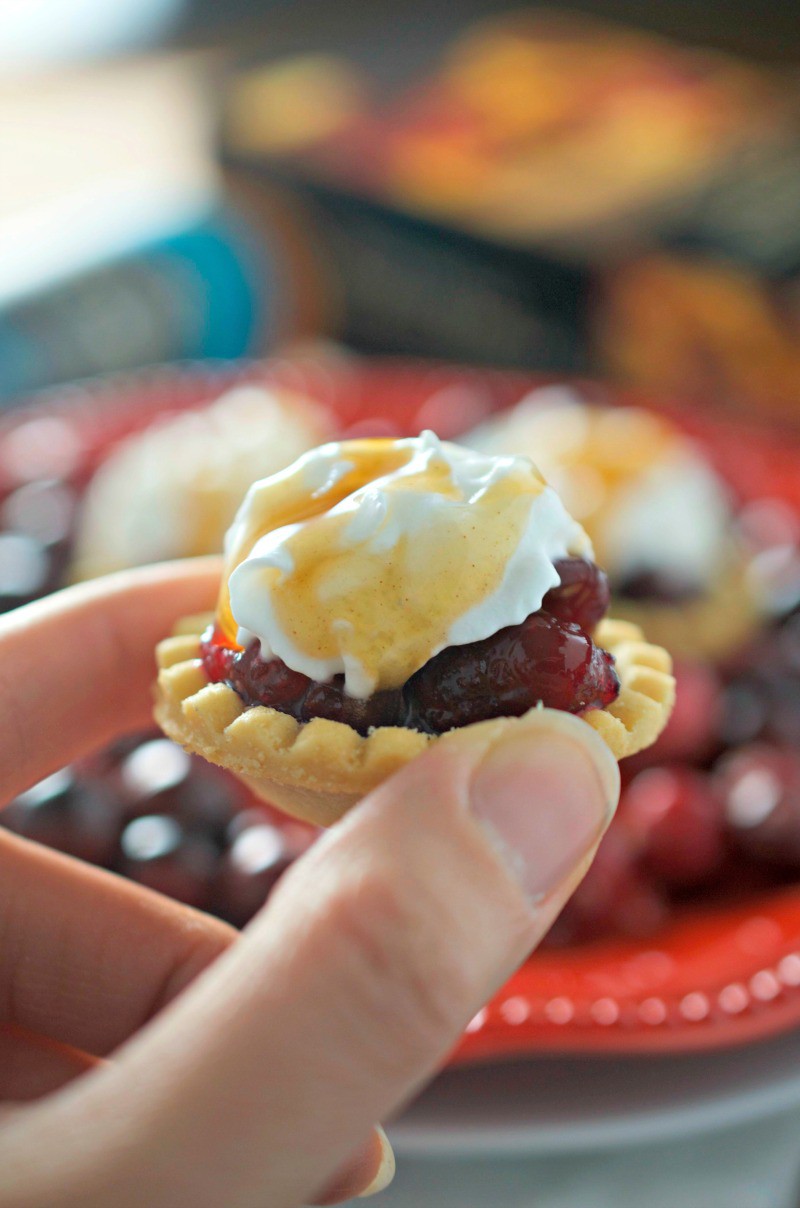 The filling could not be easier. Simply cook the cranberries with sugar and water until the cranberries pop and make a sauce. Finally, stir in some of the honey, place a dollop into the shells, top with whipped cream and drizzle with honey. They are bite size dessert perfection and I can't wait for you to try them!

Honey Cranberry Tartlets Recipe
Ingredients:
2 cups fresh cranberries
1/2 cup granulated sugar
1/4 cup water
2 teaspoons Private Selection™ Vanilla and Nutmeg Infused Honey (plus more for drizzling)
12 - 14 Private Selection™ Shortbread Tartlet Shells
whipped cream
Instructions
1
Combine cranberries, sugar and water together in a saucepan. Heat over medium heat for 15 minutes or until cranberries pop. Remove from heat and stir in 2 teaspoons Private Selection Vanilla Nutmeg Infused Honey. Allow sauce to cool.

2
Spoon a heaping teaspoon of sauce into each Private Selection Shortbread Tartlet shell. Top with a dollop of whipped cream and drizzle with more honey. Serve.