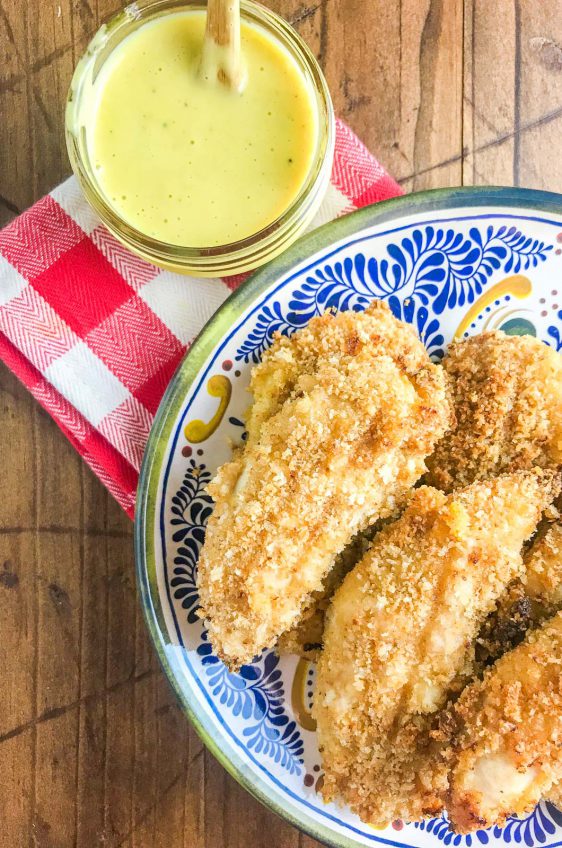 Baked Honey Mustard Chicken Tenders
Baked Honey Mustard Chicken Tenders are marinated in honey mustard dressing, dredged in panko and baked until golden. They are a family favorite and perfect for weeknights!
I originally posted this recipe in 2010. But after finally posting a recipe for homemade Honey Mustard Dressing on Monday, I decided it would be the perfect time to revisit this family favorite. I shot some new photos and changed the recipe just a bit.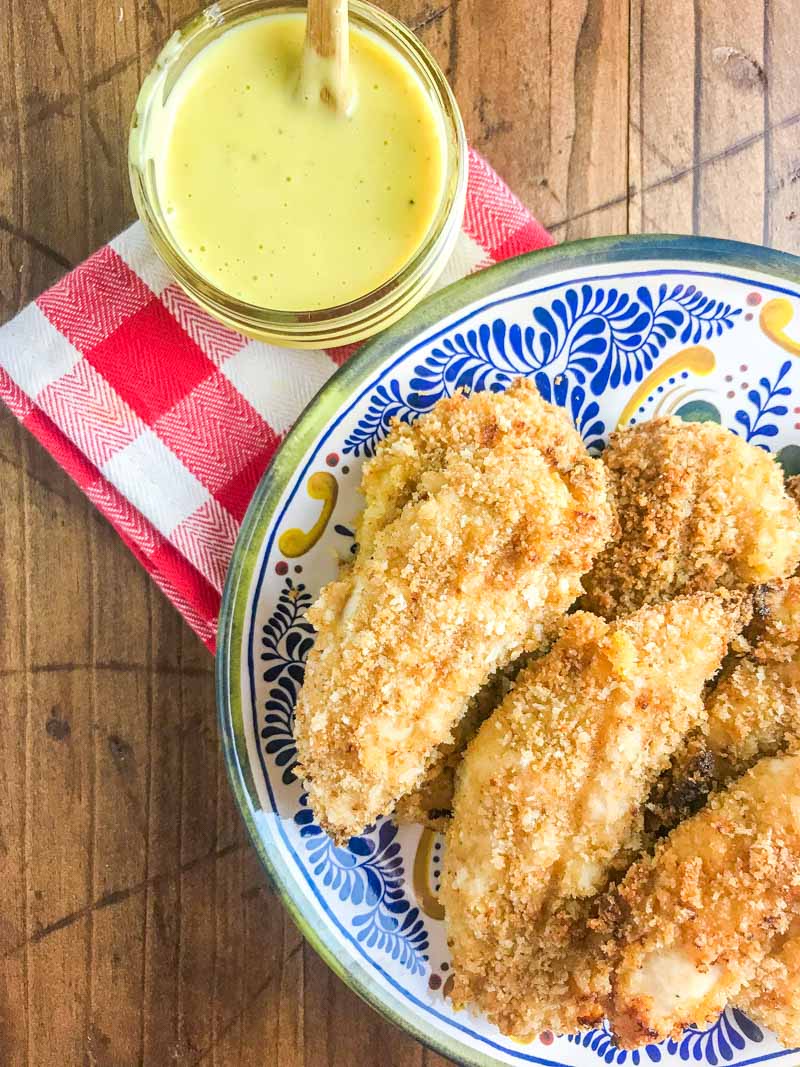 Since I originally wrote this recipe for Baked Honey Mustard Chicken Tenders, I have changed how I make oven fried chicken. Instead of coating the chicken in panko bread crumbs and drizzling oil over the top, I toss the bread crumbs in oil before coating the chicken. Doing this helps the bread crumbs brown and become even crispier.
Why bake chicken tenders?
I prefer to bake these honey mustard chicken tenders because it takes less time and also saves a mess in the kitchen. Two things that are very important when it's a busy weeknight. That being said, these can also be fried. Simply omit the oil that you add to the bread crumbs and fry them in oil instead.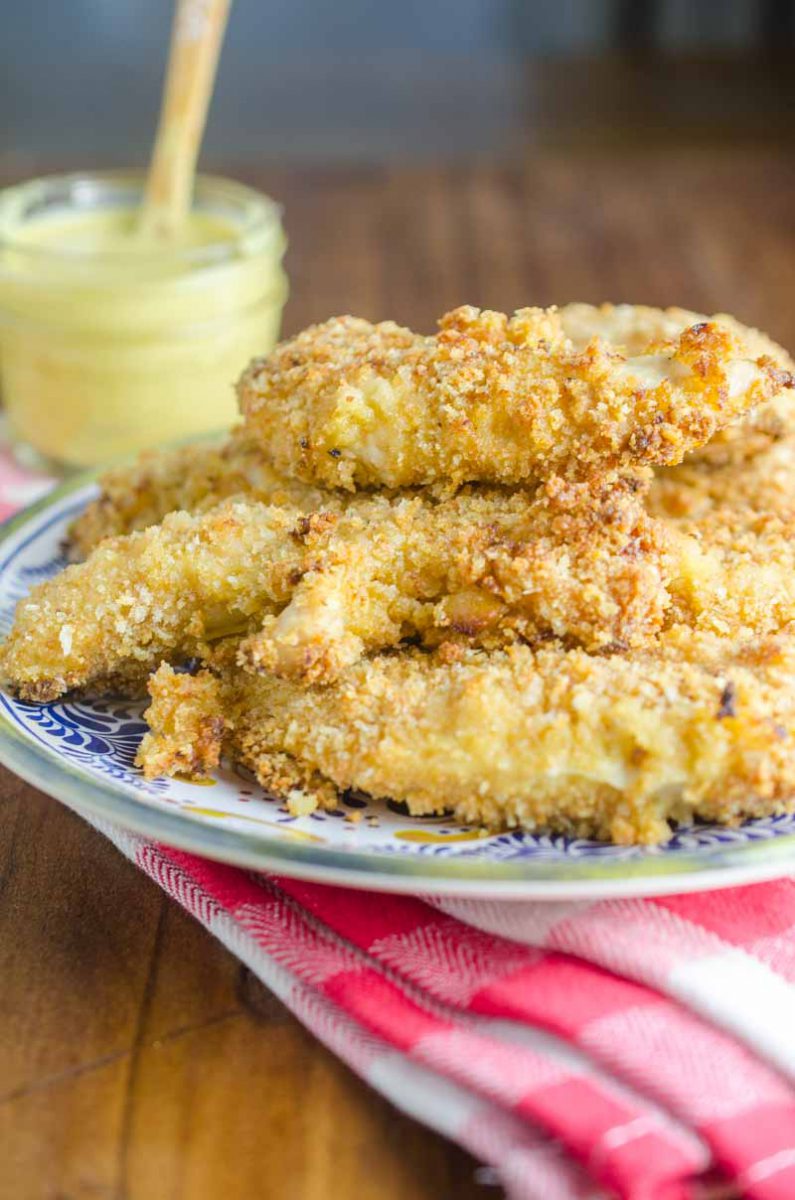 I happen to think that in addition to the marinade, the honey mustard makes an excellent dipping sauce for the baked chicken tenders. If you want to try, you can simply double the recipe for the dressing and use the excess for dipping.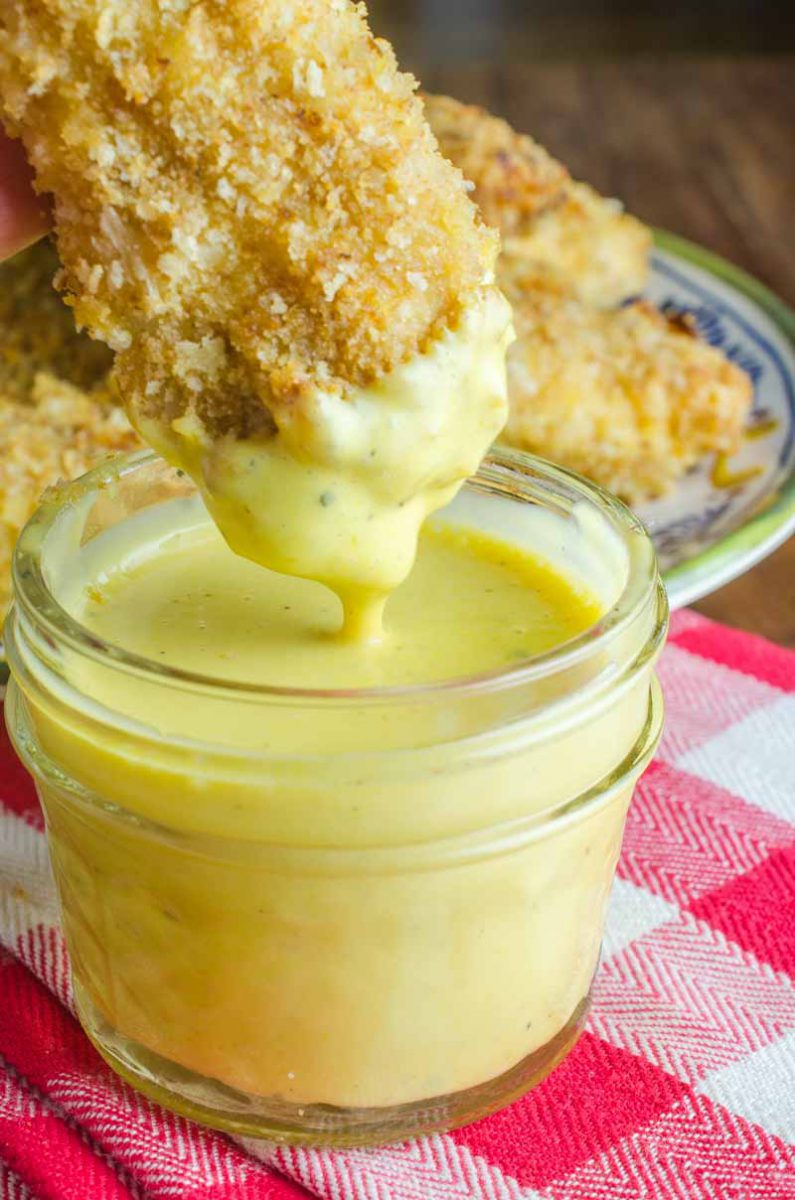 Also please note, a little bit of planning required. You need to marinate the chicken for least 2 hours.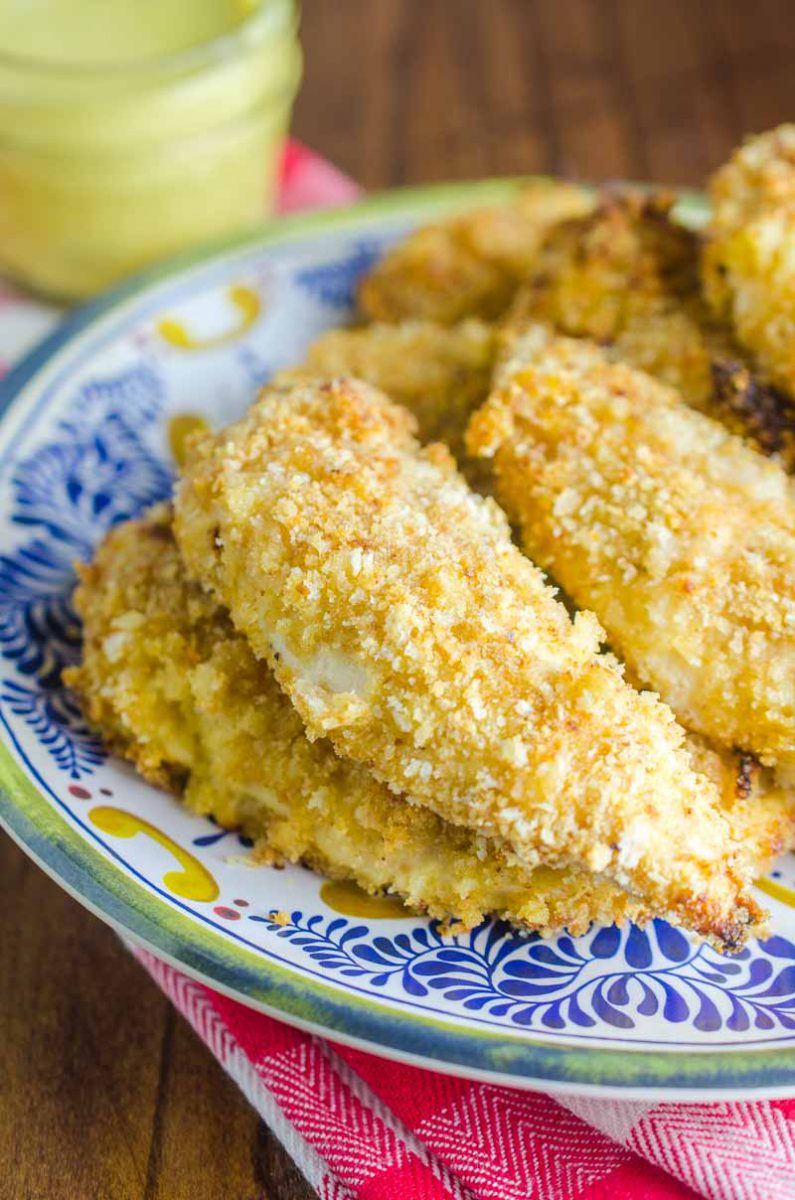 Below is the original post from 3/19/2010:
Honey mustard is always a must with chicken tenders in our house. For that reason, it is shocking to me that I never thought to combine the two before cooking. That's right, these crispy lovelies are marinated in honey mustard dressing for a couple of hours so that the tender chicken soaks up all the sweet tangy flavor of the dressing. Then, like my sriracha chicken nuggets, these little devils are coated in panko bread crumbs so that they crisp up very nicely in your oven, not your fryer.
I started making my own honey mustard dressing a little while ago. It is so simple and you probably have all of the ingredients on hand right now. All you need is: mayonnaise, mustard, vinegar, honey and salt and pepper. Simply whisk all of them together and viola! Honey Mustard dressing. Pretty easy huh? And since we can never get enough honey mustard flavor, I suggest making a little extra for dipping the chicken tenders in.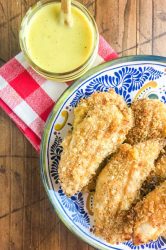 Baked Honey Mustard Chicken Tenders
Baked Honey Mustard Chicken Tenders are marinated in honey mustard dressing, dredged in panko and baked until golden. A family favorite!
Ingredients:
1/2

cup

mayonnaise

2

tablespoons

prepared yellow mustard

1/2

teaspoon

garlic powder

1

tablespoon

vinegar

2

tablespoons

honey

salt and pepper to taste

1 1/2

pounds

chicken tenders

rinsed and pat dry

1

cup

panko bread crumbs

1

cup

plain bread crumbs

3

tablespoons

olive oil
Whisk together mayonnaise, mustard, garlic, vinegar and honey. Season to taste with salt and pepper.

Place chicken tenders in a bowl and pour honey mustard over the top. Turn to coat. Cover and refrigerate for 2 hours.

After the chicken has marinated, preheat oven to 400 degrees and spray a cooling rack with non-stick spray. Place cooling rack on top of baking sheet and set aside.

Combine panko, plain bread crumbs and oil in bowl. Remove the chicken from the marinade and let excess drip off. Dredge in the bread crumb mixture to coat completely. Place on prepared baking sheet, bake for 15 minutes. Turn and bake for another 15 minutes. Turn on the broiler and broil for 3 minutes or until browned.

Serve.
Keywords:
American, american food, chicken, chicken tenders, Food, honey mustard, honey mustard chicken, honey mustard dressing, kid friendly food, Recipe