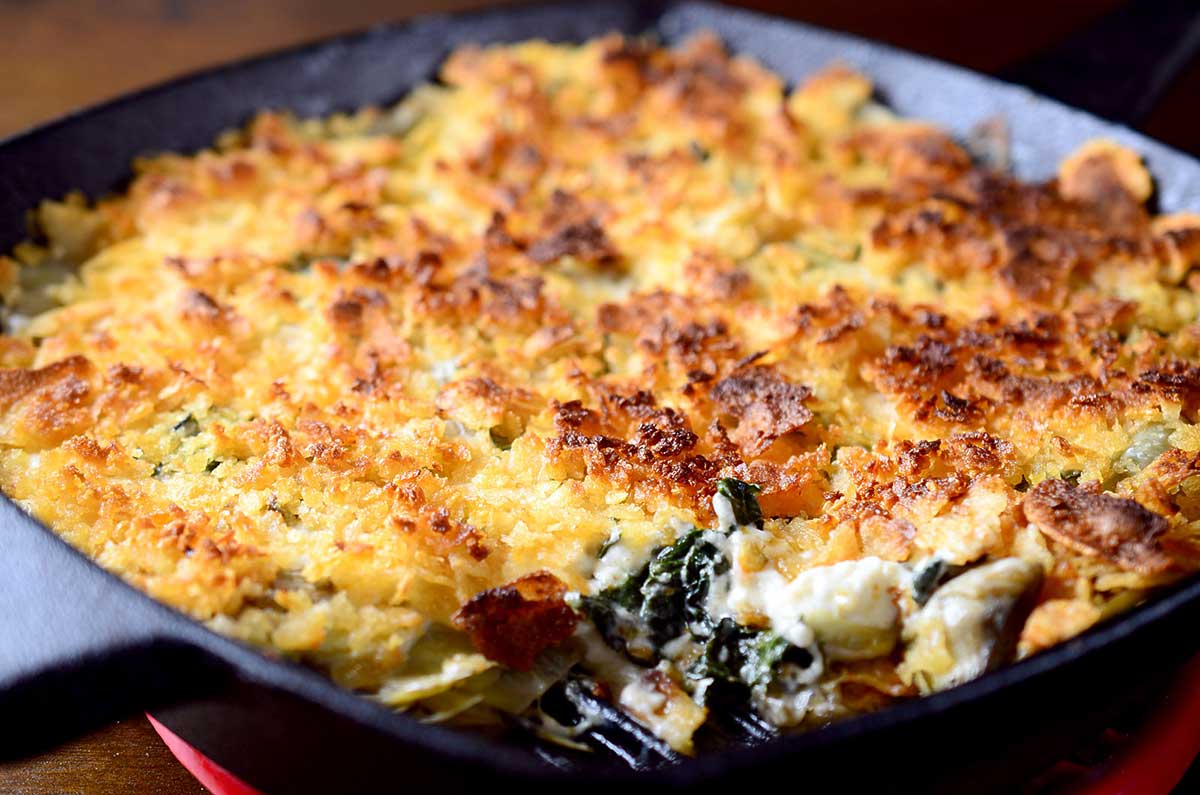 Hot Kale and Artichoke Dip
I like to think of Christmas as not only the season of carols, lights, sweets and Santa but also as the season of dips. Season of dips… has a nice ring to it doesn't it? I think the reason that I eat so many different dips at this time of year is because there are so many parties and special occasions to make them. Not to mention football games. And this dip is perfect for all of them. It's hot. It's creamy. It's crunchy. Each bite makes you want another. Really, it's everything a dip should be.
Most of us are used to the idea of spinach and artichoke dip, but for this dip I decided to try kale instead. The kale holds up a little better than the spinach, it's heartier. But perhaps, my favorite part of this dip is the crunchy potato chips that are crumbled on top. Just imagine, creamy cream cheese, melted pepper jack, tender artichokes and kale sauteed in a cast iron skillet, topped with crumbled chips and baked until bubbly and golden. You want it right now don't you? I know…me too.
Hot Kale and Artichoke Dip Recipe
Ingredients:
2 tablespoons olive oil
1/2 medium yellow onion, diced
2 cloves garlic, minced
1 bunch lacinato kale, stems removed, chopped
1 (8 oz) package frozen artichoke hearts, thawed
8 ounces cream cheese, softened
1/2 cup mayonnaise
1 cup pepper jack cheese
1/4 teaspoon salt
1/4 teaspoon black pepper
1 - 1 1/2 cups crushed potato chips
Bread for dipping
Instructions
1
Preheat oven to 375 degrees.

2
In an 8 inch cast iron skillet or other stove to oven pan, heat olive oil over medium heat cook onions and garlic just until fragrant, about 30 seconds. Stir in kale. Cook just until it starts to wilt. Stir in artichoke hearts. Continue cooking until kale is softened and artichokes are warmed through.

3
While kale and artichokes are cooking, mix cream cheese, mayonnaise, pepper jack cheese, salt, and pepper together in a bowl.

4
Stir cheese mixture into hot kale and artichoke hearts. Mix well and cook until cheese is melted and dip is creamy. Sprinkle potato chips over the top. Bake in preheated oven until cheese is bubbly and chips have browned. Approximately 15 minutes.

5
Allow to cool slightly. Serve hot.