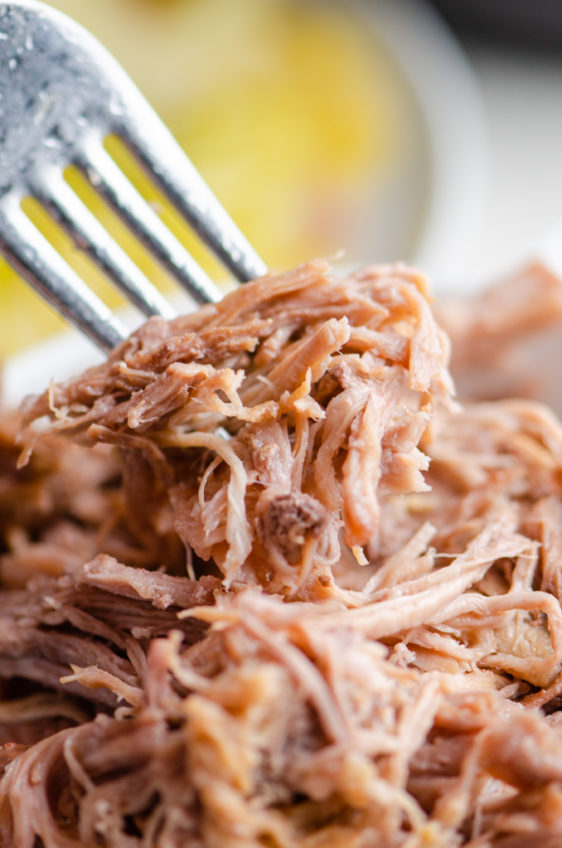 Instant Pot Kalua Pork
Kalua Pork has never been so fast and easy! This Instant Pot Kalua Pork is ready in under two hours and is pure pork heaven. Great on it's own or in a variety of dishes. 
A few years ago on our 10th wedding anniversary, we celebrated in Hawaii. Neither of us had ever been and I don't know why we waited so long! It was a blast. We were also sans kiddos so that made things super relaxing. We spent hours on the beach with mai tai's in hand. It was glorious.
You know what else was glorious? The Food. The sushi, the garlic prawns at the shrimp trucks on the North Shore, steak bites and of course the Kalua Pork. The first breakfast we had was at a little spot close to our hotel and I ordered the Kalua Pork Benedict. OH MY GAWD. You guys. It was amazing.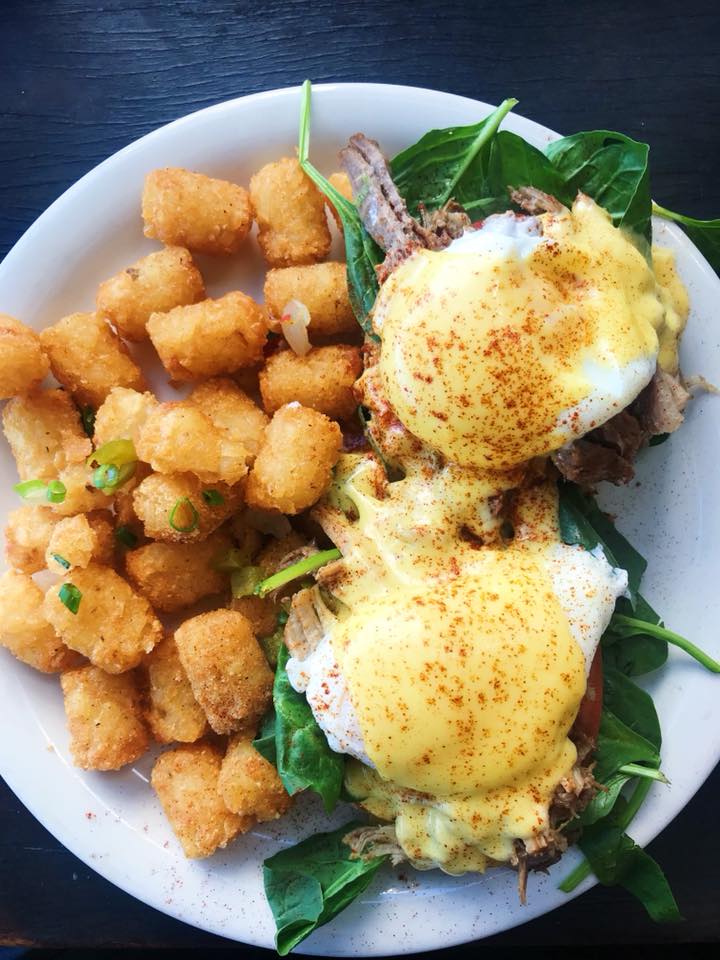 And the fact that it came with tots didn't hurt. Because tots.
When I got home, I knew that I had to try my hand making my own kalua pork. I started by doing some research: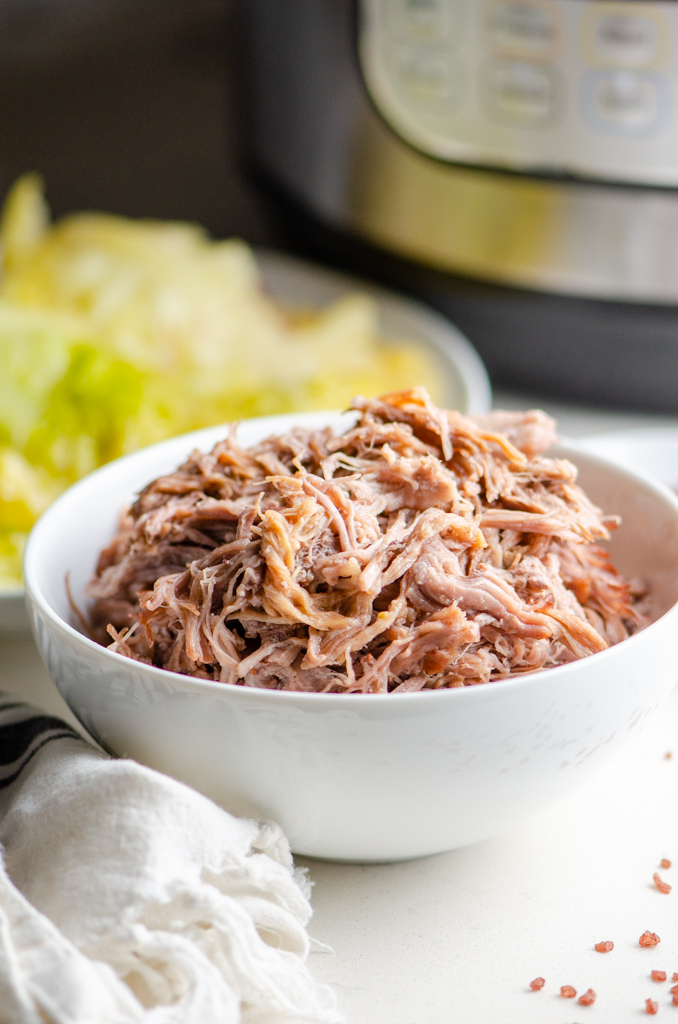 How is kalua pork made?
Traditionally kalua pork is seasoned with salt, wrapped in banana leaves, placed in a pit and allowed to slow cook for several hours.
Well, I don't know about you but I don't have a large underground pit that I can cook in. So that version was out.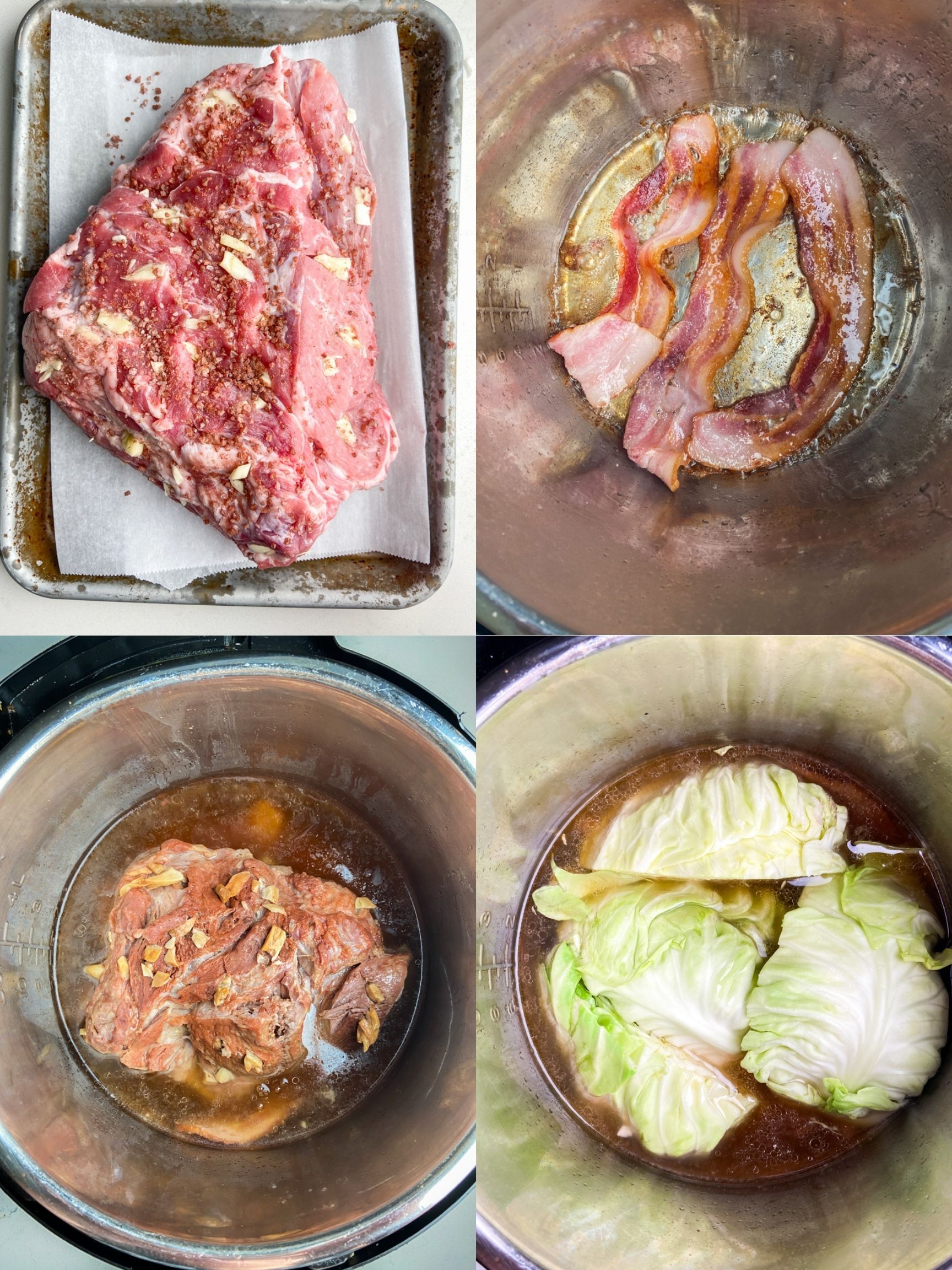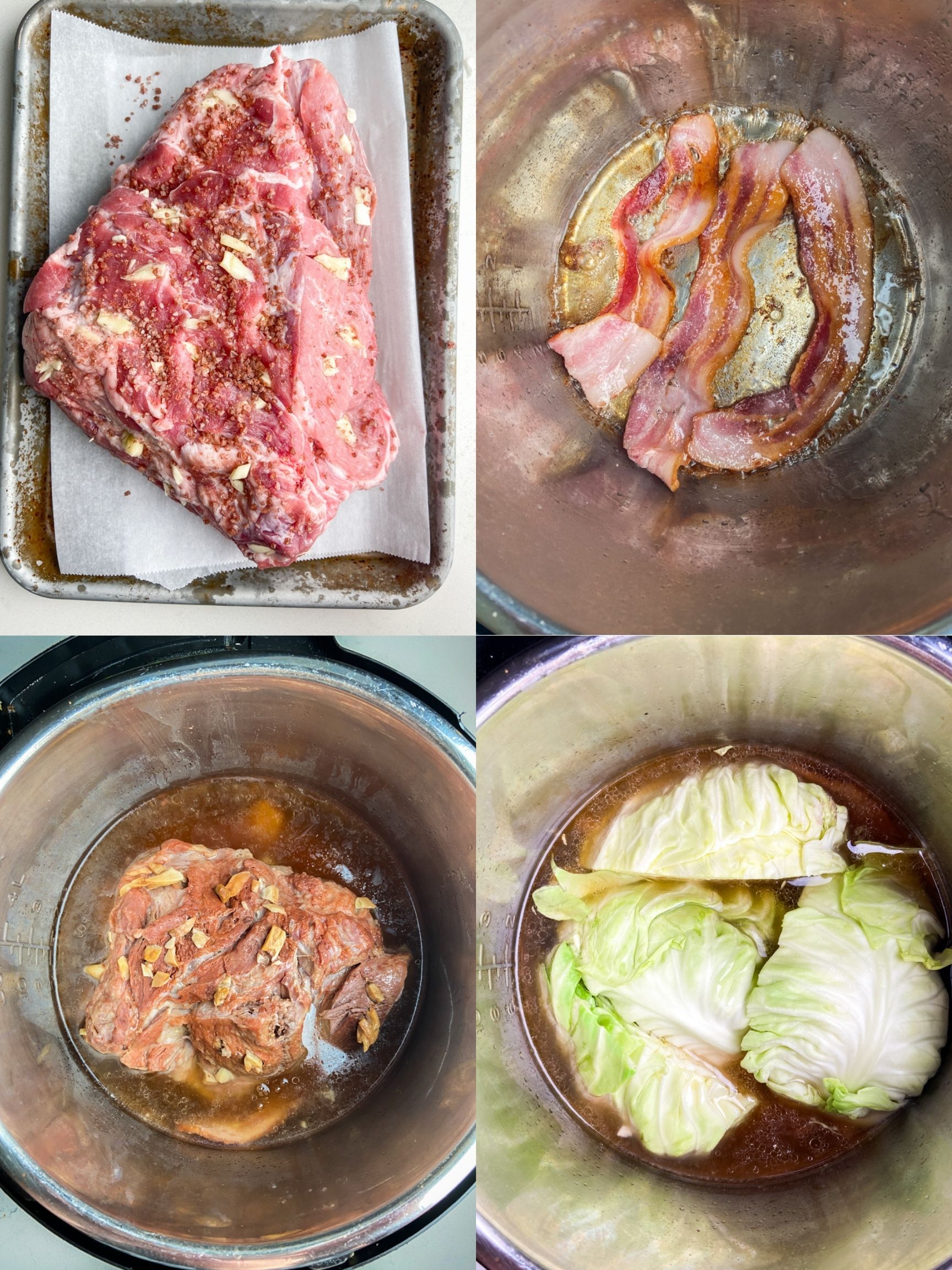 Many of the other recipes that I found were for slow cooker kalua pork. These recipes had a cook time of at least 10 hours, I even saw some that required a cooking time of 16 and 20 hours. I get it, it is a slow cooker. But sometimes, especially when my house is filling up with the scent of succulent pork, I get impatient. That is why I decided to make this Instant Pot Kalua Pork.
Guys, it's ready in 2 hours. BOO. YA.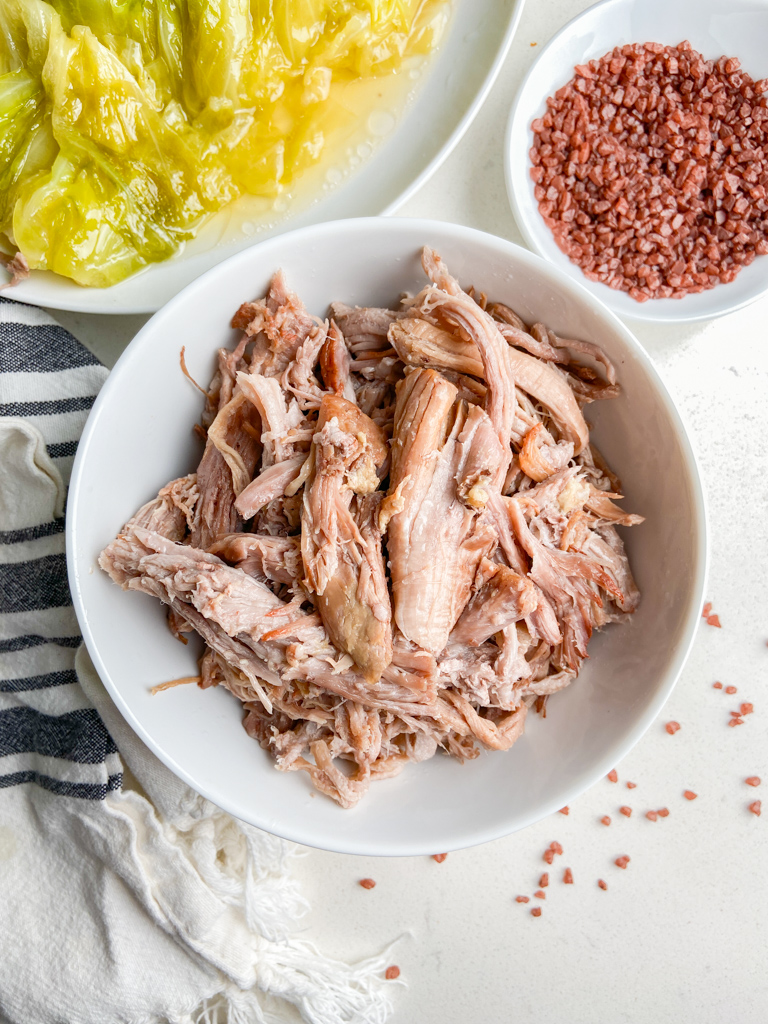 What ingredients do you need to make kalua pork?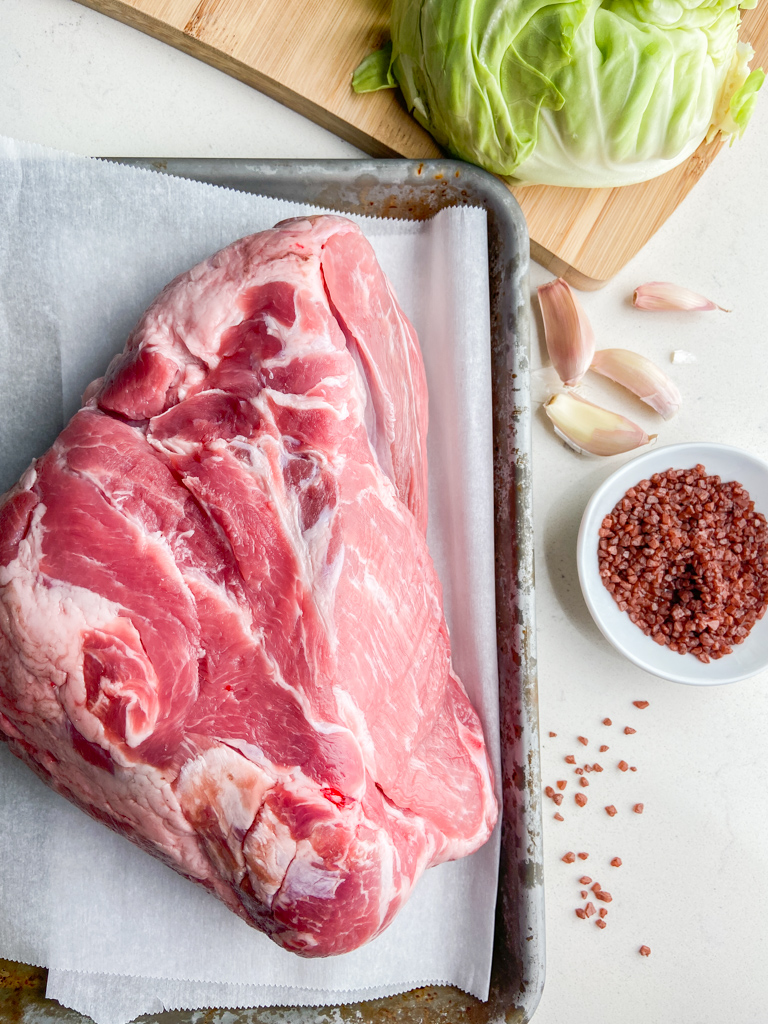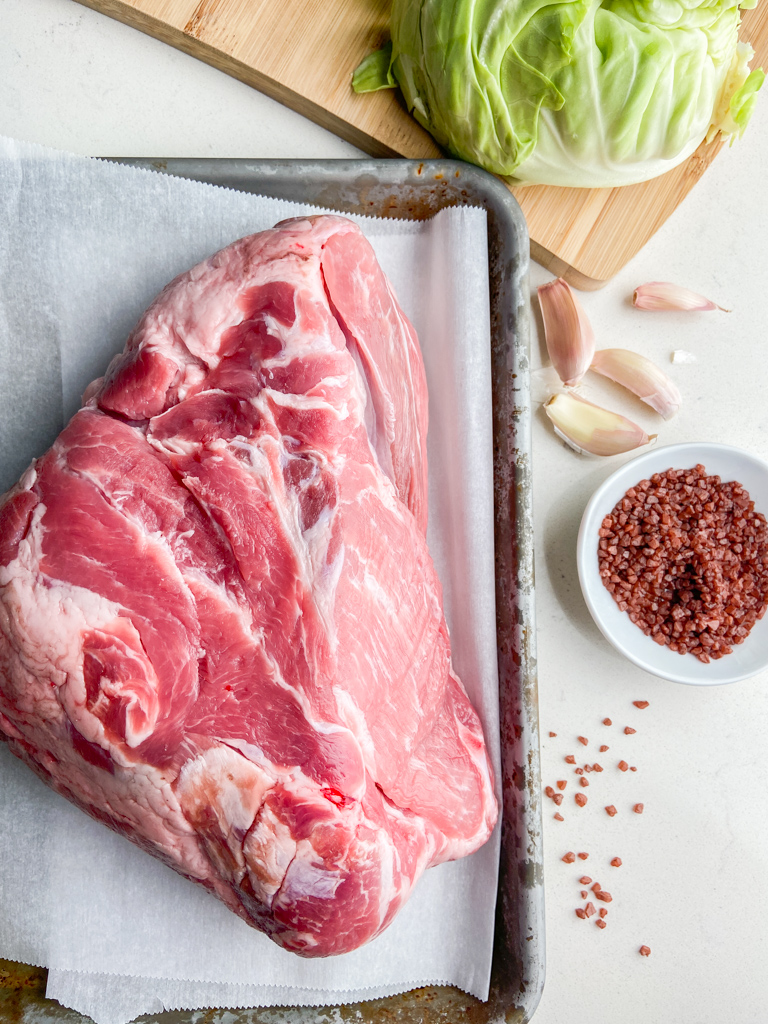 To make this recipe you'll need pork shoulder. You can use bone in or boneless. Whichever you can find will work just fine. I have used both.
Some, especially the slow cooker recipes, call for liquid smoke flavor. I find that because the Instant Pot concentrates the flavor, liquid smoke leaves too much of a smoky flavor. Instead, to get the smoky flavor, I add some bacon. The bacon gives the perfect amount of smokiness.
Finally, the salt. When making kalua pork, the salt is important. Traditionally, coarse red Alaea Red Hawaiian Sea Salt. I happened to bring some home with me from my trip but you can find it at well stocked grocery stores as well as Amazon. But if you can't get your hands on some, any sea salt will work.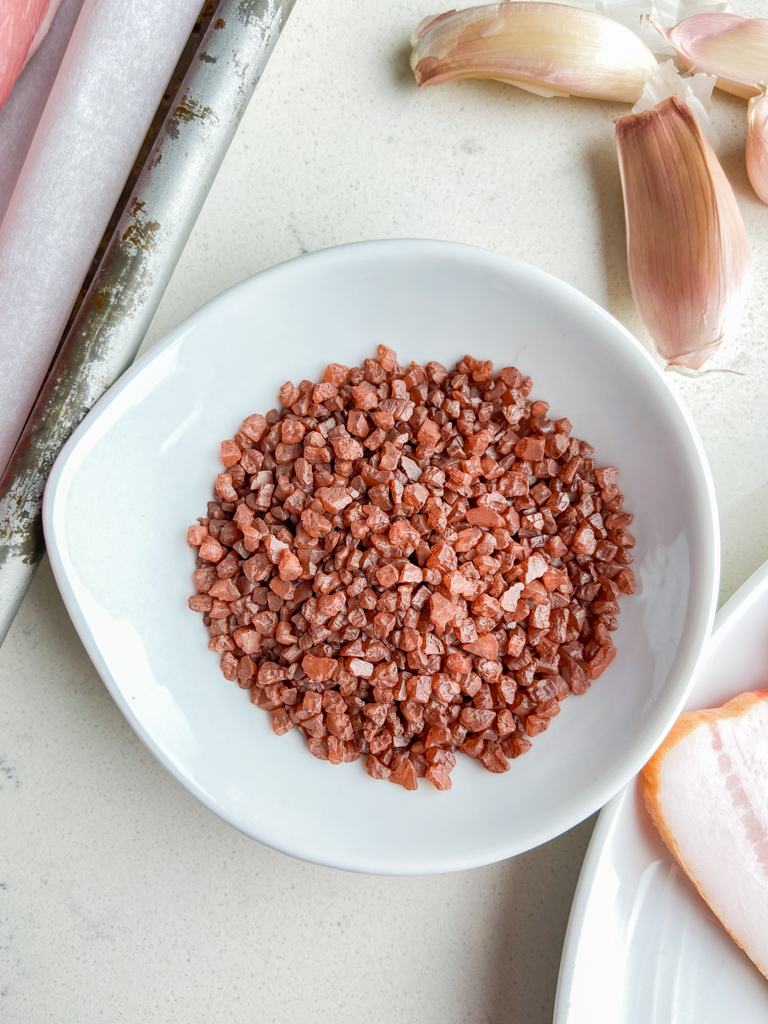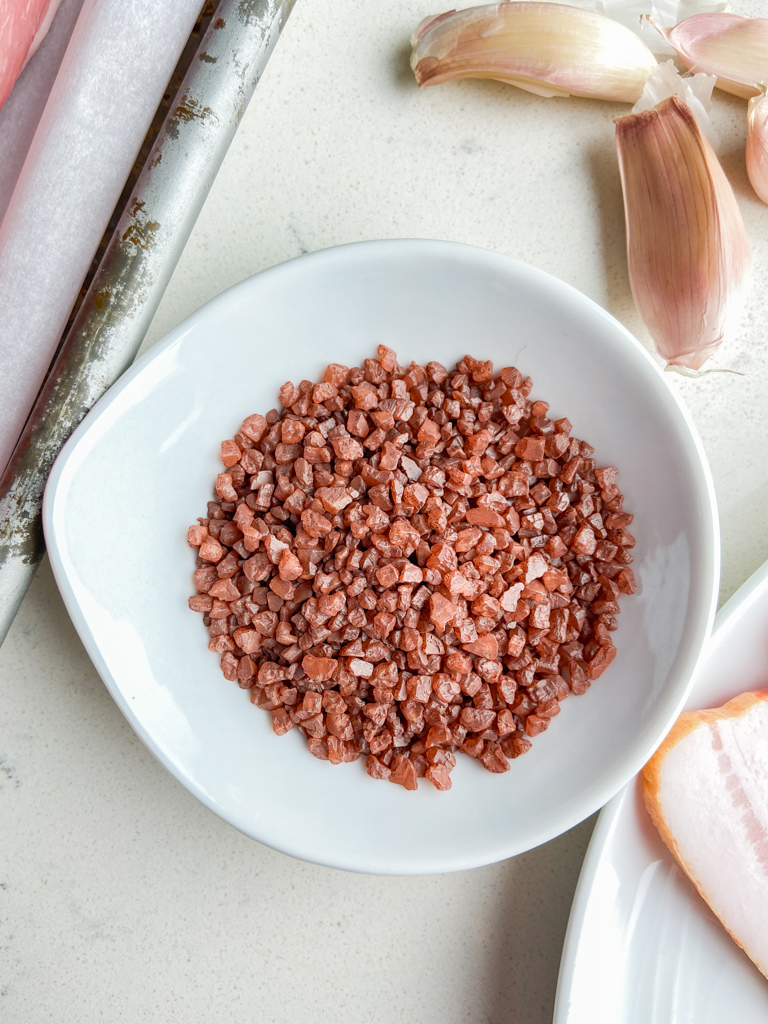 What do you serve with kalua pork?
For this recipe, I went the traditional route and used cabbage that is cooked in the liquid after the pork has finished. And served the whole thing over rice. My entire family loved it!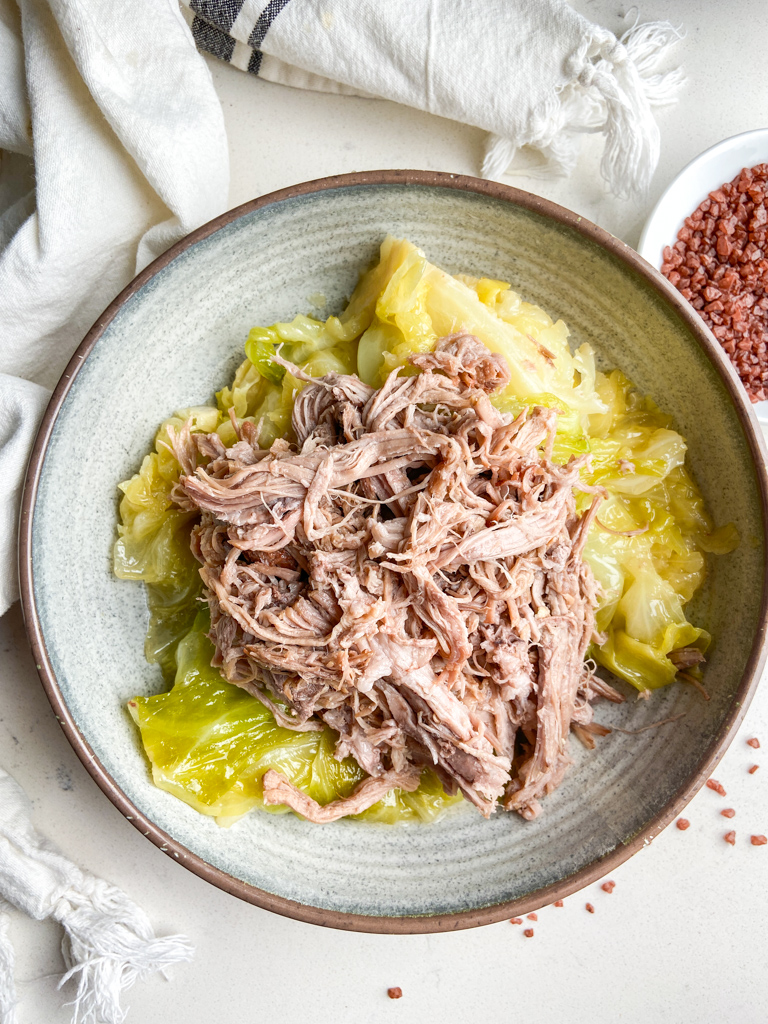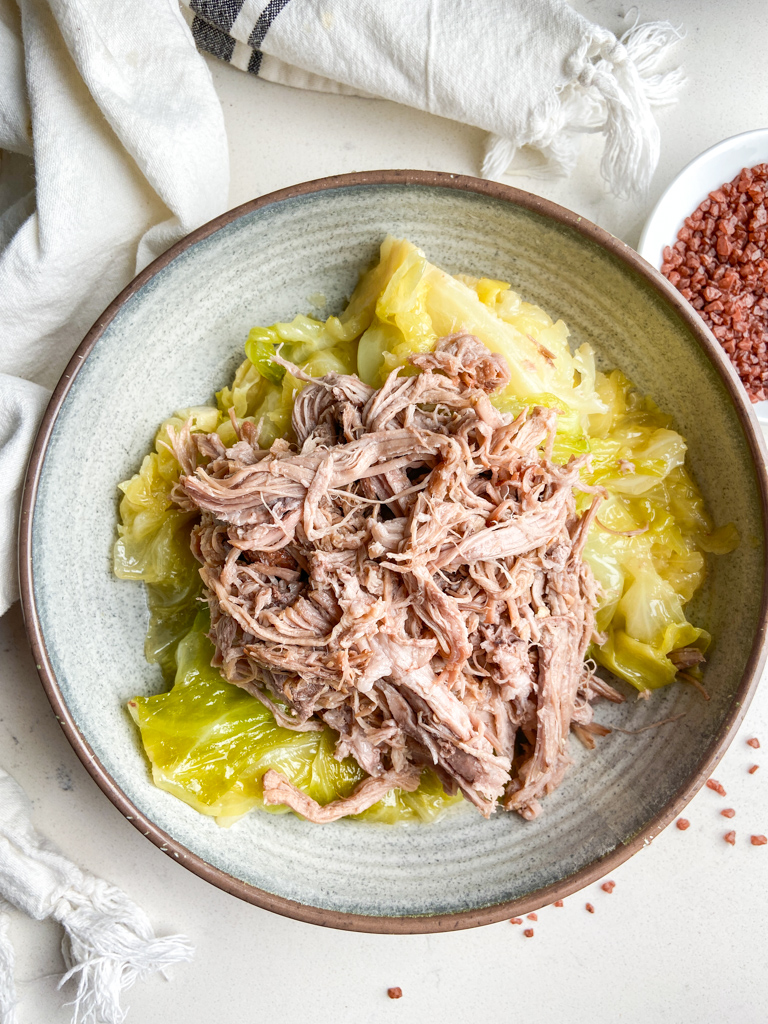 This recipe makes a lot of pork though so you will have plenty of leftovers. I used it just like I use my slow cooker pulled pork. I made tacos, enchiladas and pulled pork sandwiches. It goes a long way. I didn't have a chance to make that scrumptious eggs Benedict but, this instant pot kalua pork is going to be in our monthly rotation so expect that recipe to come soon!
Note: This post was originally written in 2018. It was updated with new photos in 2021.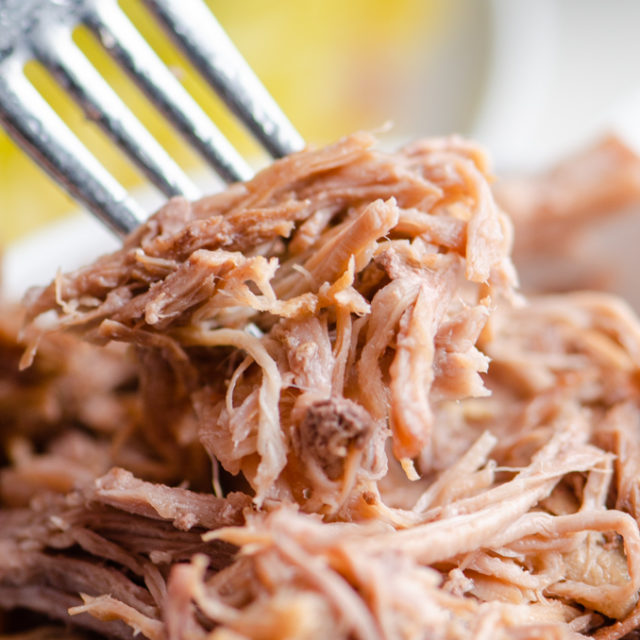 Instant Pot Kalua Pork
Kalua Pork has never been so fast and easy! This Instant Pot Kalua Pork is ready in 90 minutes and is pure pork goodness.
Cut several little slits in the pork shoulder. Stuff chopped garlic in the slits.

Rub salt all over pork.

Turn the Instant Pot to saute mode. Cook bacon until just starts to brown.

Switch to pressure mode. Place the prepared pork shoulder on top of the bacon, pour water around the sides. Cover and seal. Set pressure for 90 minutes.

Once the pork has finished do a natural release for 20 minutes. Transfer pork to a bowl.

Place the cabbage wedges in the pressure cooker. Cover and seal. Set pressure for 3 minutes.

Meanwhile, use two forks to shred the pork.

To serve, place cabbage wedges on the bottom of a serving platter and spoon pork over the top. Drizzle with some of the juice left in the instant pot if desired.
Calories:
631
kcal
Carbohydrates:
5.4
g
Protein:
38
g
Fat:
49.7
g
Saturated Fat:
17.2
g
Cholesterol:
158
mg
Sodium:
1437
mg
Fiber:
1.9
g
Sugar:
2.3
g
Keywords:
Hawaiian cuisine, instant pot, kalua pork, pulled pork