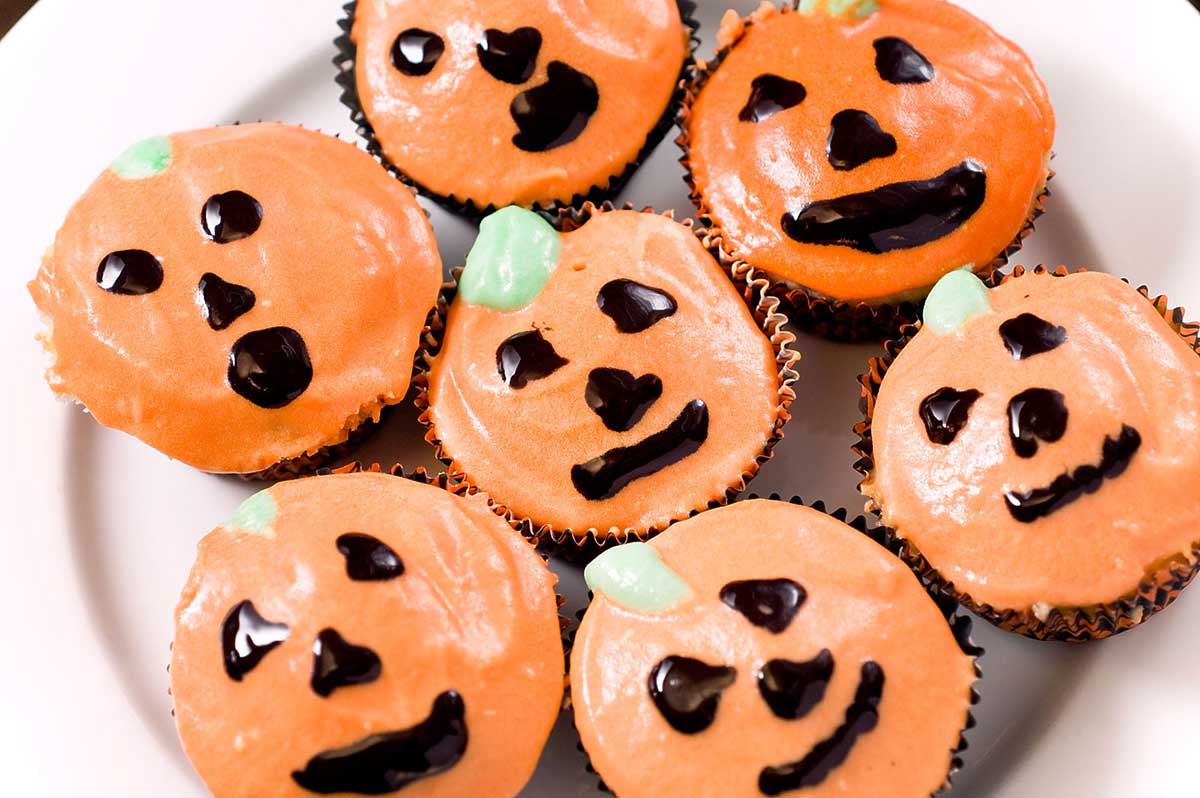 Jack-O-Lantern Cupcakes
Happy Halloween everyone! I hope you had a great pre-Halloween weekend. Ours was relaxing, we finished the nursery, carved pumpkins, watched horror movies and ate comfort food. What was even better than the fantastic weekend was that I had a bit of an energy burst yesterday. I spent the day cooking in the kitchen. It felt great. I made chili that I let simmer all day. And then I decided to make these cupcakes. These vanilla flavored, chocolate loaded, cute as a button cupcakes.
I've always been a bit shy about making any kind of super decorative cupcakes. I usually just stick to piping on the frosting. But this year, I decided to let my inner artist take over. And as you can see by the masterpiece like quality of my jack-o-lantern face, you don't need to be particularly artistic to make these. It's really just more about having fun because regardless of what the final product looks like, trust me, they taste amazing.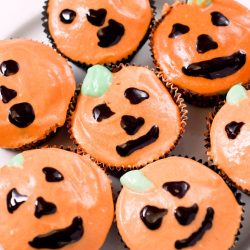 Jack-O-Lantern Cupcakes
Jack-O-Lantern vanilla cupcakes studded with chocolate chips. Happy Halloween!
Vanilla Cupcake Ingredients:
Frosting Ingredients:
3

cups

powdered sugar

5

tablespoons

unsalted butter

softened

1

teaspoon

vanilla

3 - 5

tablespoons

milk

orange

yellow and green food coloring

1

0.75 ounces tube of black decorating gel
Preheat oven to 350 degrees.

Beat sugar and butter until well combined. Beat in eggs and egg white one at a time. Beat in vanilla.

Sift together flour, baking powder and salt. Add 1/2 of the flour mixture to the sugar mixture. Stir in milk. Add remaining flour mixture. Beat until smooth. Fold in chocolate chips.

Place cupcake liners in a cupcake pan. Fill each liner 2/3 of the way full.

Bake cupcakes for 15 - 20 minutes or until a toothpick inserted comes out with just a few crumbs on it.

Remove cupcakes from the oven, allow to cool a couple of minutes. Transfer to a cooling rack to cool completely.

While you are waiting for your cupcakes to cool, beat together powdered sugar and butter until fluffy. Stir in vanilla. Stir in milk until the frosting reaches a stiff but spreadable consistency.

Divide frosting into bowls. Use the yellow and red food coloring to make the orange for the pumpkin. Use the green to make the color for the stem. Use enough of each color to get your desired color.

Frost the cupcakes with the orange frosting. Use the green frosting to make a stem. Use the black decorating frosting to make desired faces on the cupcakes.
Keywords:
chocolate chip cupcake, cupcake, dessert, frosting, halloween, holiday, sweet, treat, vanilla cupcake