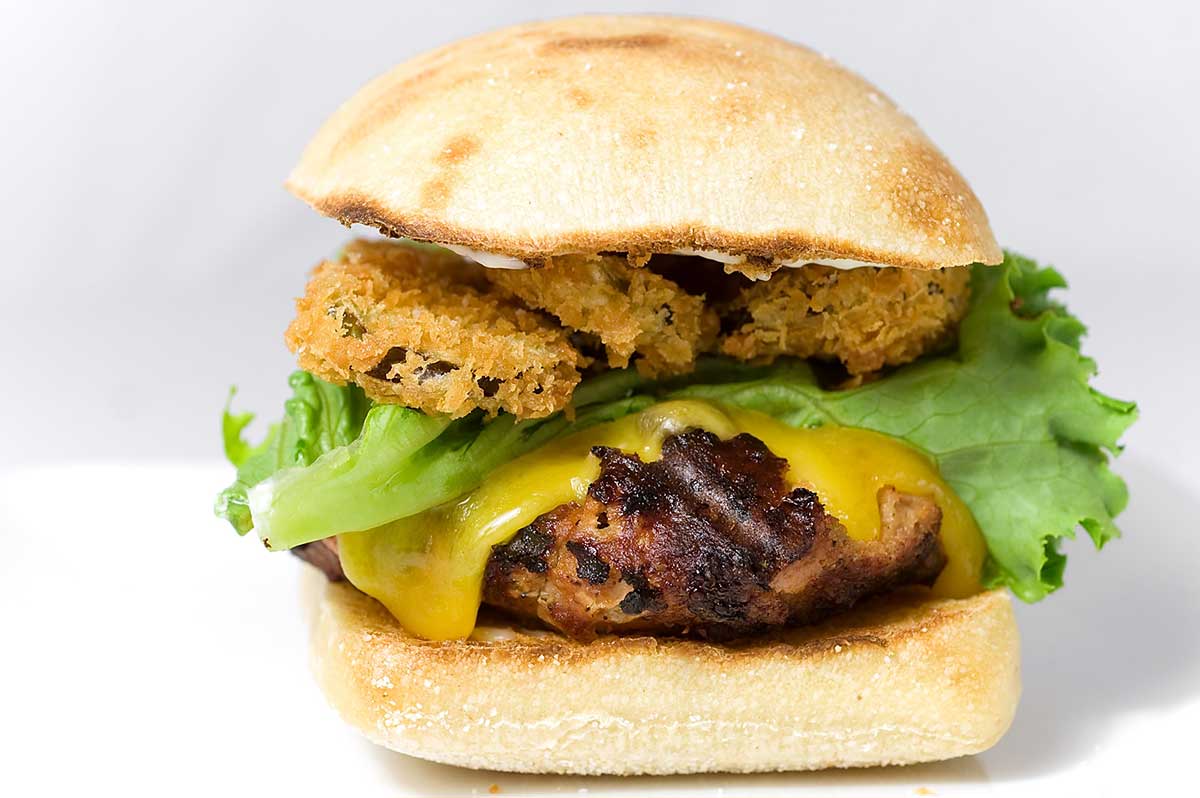 Jalapeno Cheddar Turkey Burger
It is amazing how quickly the weather can change, last week we were sweltering here in Seattle and now the air has an autumn feel to it, reminding me that my favorite season is just around the corner. So far I have resisted the urge to light my pumpkin spice candle keeping in mind that summer is still in full swing. It is a good thing too because I am not willing to give up grilling just yet. And I would be lying if I told you that this juicy turkey burger topped with crunchy jalapeno bites had nothing to do with it .
I chose to use ground turkey in this recipe for a couple of reasons. One, I prefer the flavor of ground turkey over ground beef so I always have some on hand. Two, because turkey is a little healthier for you I felt slightly less guilty about the cheese and fried jalapenos on top. But feel free to use whatever kind of meat you'd like.
You will notice that this recipe serves 2-4 and that is because you can either make the burgers into 1/2 pound burgers, 1/3 pound burgers or 1/4 pound burgers. Whatever size patty you decide to make, keep in mind that while the burgers will shrink up a little, they do keep their original size a little better than beef burgers because there is not as much fat to cook off.  Ryan and I make 1/3 pound burgers and they were quite filling.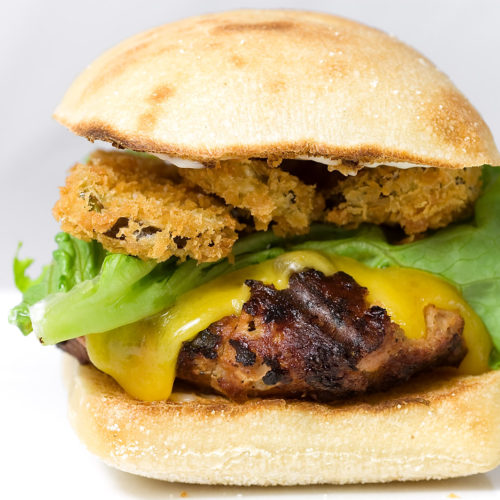 Jalapeno Cheddar Turkey Burger
A juicy turkey burger topped with cheddar cheese and crispy fried jalapenos.
Ingredients:
1

pound

lean ground turkey

1/2

medium onion

minced

1

clove

garlic

minced

1

tablespoon

Worcestershire sauce

1/2

teaspoon

chili powder

1/4

teaspoon

ground cumin

kosher salt and pepper

2-4

cheddar cheese slices

2-4

ciabatta rolls

mayonnaise

lettuce
Preheat grill to medium.

Turn your oven to warm setting.

Fry the jalapeno bites according to recipe instructions and then place in the oven to keep warm while you are preparing the burgers.

In a bowl combine ground turkey, onion, garlic, Worcestershire sauce, chili powder and cumin. Mix until well combined. Form into patties. Sprinkle with salt and pepper.

Once grill is heated. Cook burgers for 5 minutes on each side or until cooked through.

Turn the grill to low. Place cheddar cheese slices on top of the burgers and close the grill. Cook for about 1 minute or until slightly melted.

Slice ciabatta rolls in half and toast.

To assemble the burger, spread mayonnaise on toasted ciabatta rolls. Place one turkey burger on bottom half of roll, place lettuce on top, top with desired amount of jalapeno bites, top with remaining half of roll.

Serve.
Serve these with grilled veggies and macaroni salad for the perfect summer meal. Enjoy!
Keywords:
4th of July Recipes, barbeque, bbq, burger, cheddar cheese, crispy jalapenos, dinner, Food, fresh jalapeno, fried jalapeno, grilling, ground turkey, Jalapeno, jalapenos, Recipe, summer, tillamook cheddar cheese, turkey burger