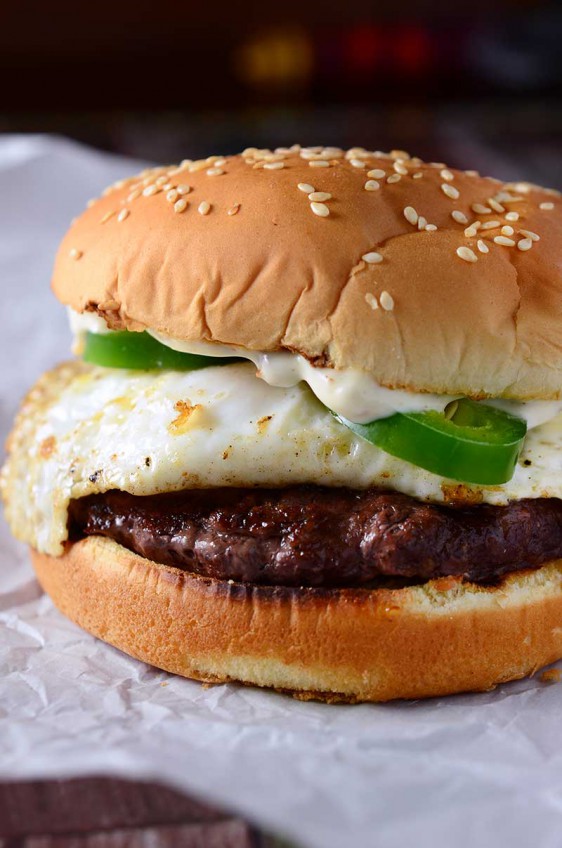 Jalapeno Egg Burger with Bacon Aioli
So I don't know if you know this but fried eggs should ALWAYS be on a burger. I didn't used to think so. In fact I used to think it was down right weird when I would see it on the Red Robin Royal Burger. I always thought "why would anyone want a fried egg on a hamburger?!" Now I know the answer: Because it's freakin' delicious that's why.
This burger is all about the toppings, friends. In fact, I actually didn't even make the patties myself, I bought them. Kind of like cheating I know but Costco has great frozen patties and make burger dinners so quick and easy.
But let's get back to the toppings.
First up, the egg. Like I mentioned above, I never really got the idea of having an egg on a burger until I tried it at a new burger place. The yolk just kind of spills out and creates a sauce all it's own when you bite into the burger. I seriously feel like I deprived myself for years by not adding eggs to my burgers.
Next up, jalapenos. If you've been following the blog for a while you know I love me some heat. I chose to use fresh jalapenos on this burger instead of pickled because the fresh jalapenos add the perfect amount of heat and crunch.
Finally, what I think of as the star of the burger show: Bacon Aioli.
And it was not what I intended to do at all.
I love when things work out like that.
You see, I actually just planned to make this a bacon, egg and jalapeno burger so I started cooking the bacon. Then Kellan asked me to help him pick out a movie. And if you've ever tried to help a very independent toddler pick out anything you know it can take some time.
Well it took more time then I realized and I burnt the bacon. Well some of the bacon, I was able to salvage 3 pieces. Three pieces however, wouldn't be enough to serve alone on the burgers so I had to figure out another way to use it. I started thinking, bacon ranch…bacon mayo…then it hit me: Bacon Aioli.
This is a quick version of aioli using mayonnaise instead of raw eggs. But it still has the olive oil, garlic and lemon like traditional aioli.
And of course the bacon.
The result is a creamy, bright sauce that I could pretty much slather on everything. I'm already trying to find more excuses to use it in the very near future.
In the meantime, I'll continue enjoying this burger. :)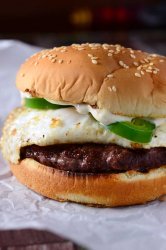 Jalapeno Egg Burger with Bacon Aioli
Jalapeno Egg Burger Ingredients:
Bacon Aioli Ingredients:
3

slices

bacon

1/2

cup

mayonnaise

1

tablespoon

lemon juice

1

tablespoon

olive oil

2

garlic cloves

minced

salt and pepper
Make aioli first. Cook bacon over medium heat until cooked through. Transfer to a paper towel lined plate to cool. Once cool dice into small pieces.

In a bowl whisk together mayonnaise, lemon juice, olive oil and garlic. Stir in bacon. Season to taste with salt and pepper. Cover and refrigerate until ready to use.

Season both sides of hamburger patties with seasoning salt. Cook until cooked through.

While hamburgers are cooking, melt butter in a skillet over medium heat. Cook eggs 1 - 2 minutes on each side, white should be set but yolk soft.

Toast hamburger buns.

To assemble a burger: Place hamburger on bottom bun, top with fried egg and sliced jalapenos. Spread bacon aioli on top bun. Repeat with remaining ingredients. Serve.
Keywords:
aioli, bacon, burger, egg, man food