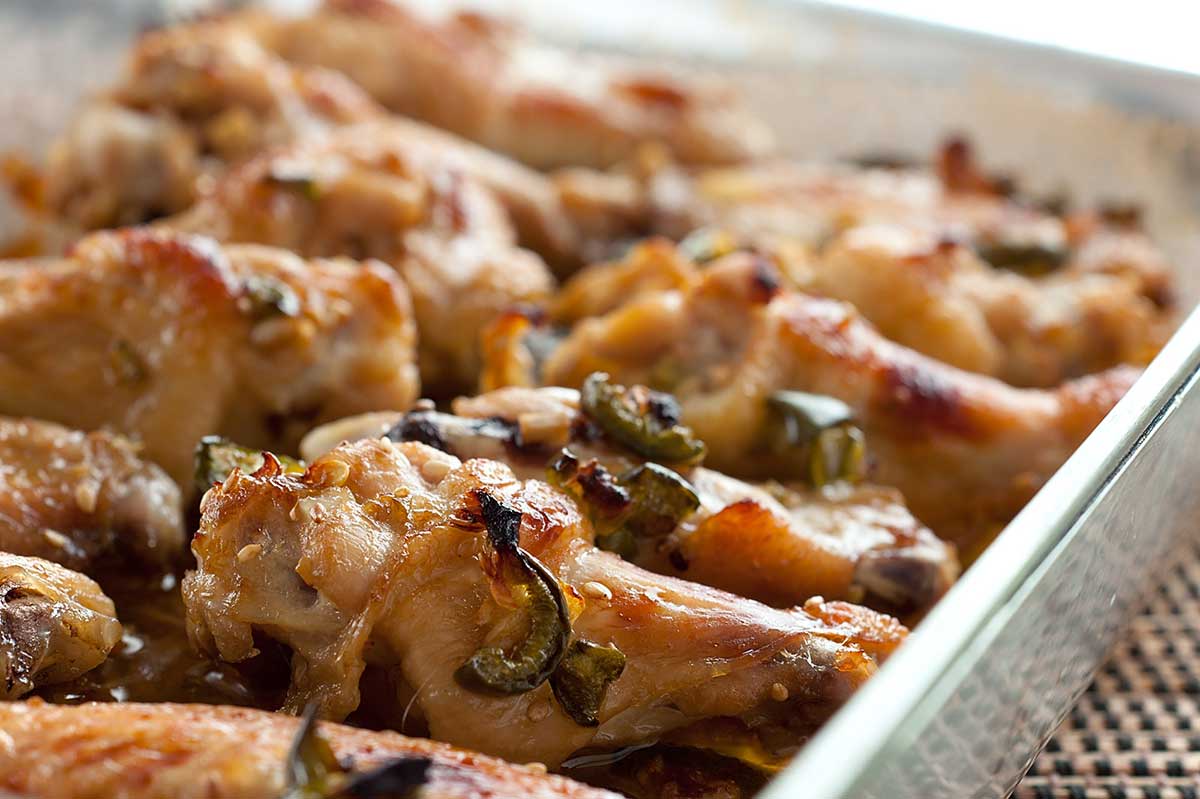 Jalapeno Ginger Chicken Wings
When you read this recipe title you may have thought to yourself "Des another chicken wing recipe?" or maybe you thought to yourself "Des! Another chicken wing recipe!"or maybe you didn't think anything at all because you don't have any feelings about chicken wings whatsoever to which I say I hope this recipe changes your mind because frankly these things are delicious.
I chose the word delicious deliberately. I chose it because I like to describe food as delicious from time to time. That's just what I do. Ask my friends and family. When I try something that I absolutely love, like the Maple Bacon Doughnut, yes bacon ON a doughnut, the first thing out of my mouth is "this is DELICIOUS". I think it conveys very nicely what I'm trying to say. Although it is not very descriptive, when you hear the word delicious you know that its going to taste good and chances are you are going to like it.
Why am I bringing all of this up? Well this past weekend I got to attend the International Food Blogger's Conference here in Seattle. It was a weekend full of food, drinks, friends and information. Lots and lots of information. There were sessions on writing where we were told that some people think the word "delicious" is a four letter word in the food writing world. There were sessions where we got up close and personal with a lemon and others where we learned that sometimes the awards that restaurants receive can be a reflection of cold hard cash rather than anything noteworthy. There were sessions about how to pitch your book and how to get your blog to the top of Google searches by using SEO tactics. Like I said lots of information. And while I am still trying to digest it all, as well as the lunch from the food truck crawl on Sunday, a few things hit me immediately.  One, yes I am one of those food bloggers that uses the word "delicious"  and that is okay because it's who I am. Two, I also learned that I absolutely love the food blogging community.  They are some of the nicest, sweetest, most creative and talented people I have ever met.  It is an honor to be a part of such wonderful group of people and I cannot wait for next year's conference when I get the chance to meet them all again.
Now, onto the recipe for these delicious spicy, sweet and crispy chicken wings.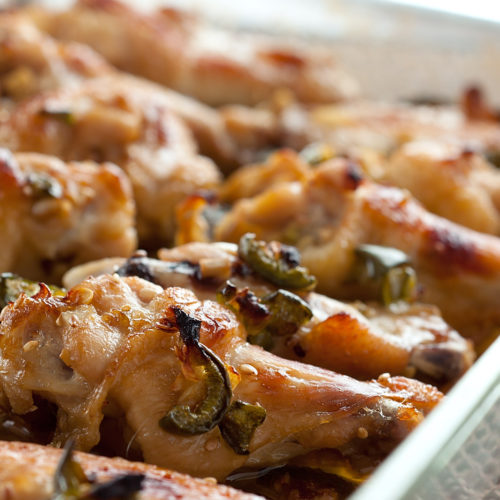 Jalapeno Ginger Chicken Wings
Chicken wings tossed with jalapenos, garlic and fresh ginger and baked until golden.
Ingredients:
1.5

pounds

party wings

4

cloves

garlic

minced

1

jalapeno

minced

1

tablespoon

soy sauce

1

tablespoon

peanut oil

1

teaspoon

fresh ginger

2

teaspoons

rice vinegar

1/2

teaspoon

sesame seeds

1/2

teaspoon

kosher salt
Preheat oven to 400 degrees.

Rinse and pat dry the chicken wings.

In a bowl whisk remaining ingredients together. Place chicken wings in a bowl and pour jalapeno mixture over the top. Seal bag and shake to coat.

Place chicken wings in a baking dish and bake for 20 minutes. Turn over and bake for another 15 - 20 minutes or until chicken is golden brown and cooked through. Serve.
Keywords:
baked chicken, chicken, chicken wings, dinner, entree, Food, ginger, IFBC, Jalapeno, Recipe