Jalapeno Lime Chicken
Spicy, sweet, bright. Three words that describe this chicken perfectly. The spice comes from the crisp fresh jalapeno, the sweet comes from honey and the brightness comes from a squeeze of fresh lime. It's light, filling and the perfect summer supper. That is if you are having a summer this year, which apparently those of us in the Pacific Northwest might not get.
I decided to baked this chicken in the oven because….well..frankly Seattle weather has sucked. I mean seriously, I just learned that it has been over 270 days since we have hit 75 degrees here. Two. Hundred. Seventy. This makes it awfully hard to BBQ or grill very often. If you are one of the lucky ones who is actually getting a spring and summer this year, you could also grill this chicken and it would be just as lovely.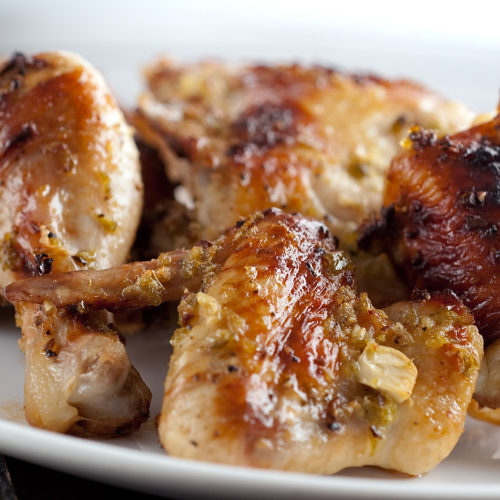 Jalapeno Lime Chicken
Spicy, sweet and bright this chicken gets its flavor from jalapeno, honey and a squirt of fresh lime.
Ingredients:
1

whole fryer chicken cut into 8 pieces

kosher salt and fresh cracked pepper

1

jalapeno

chopped

2

cloves

garlic

minced

2

teaspoons

honey

2

tablespoons

olive oil

juice from 1 lime
Preheat oven to 400 degrees.

Rinse and pat dry the chicken. Sprinkle with salt and pepper. Place on a baking sheet.

Combine jalapeno, garlic, honey, olive oil and lime juice in a food processor. Process for about 30 seconds or until jalapenos are chopped fine.

Brush jalapeno lime mixture over the top of the chicken.

Bake in preheated oven for 45 - 60 minutes or until chicken is cooked through. If the skin starts to brown too much tent some foil over the top.

Transfer to a serving platter. Serve.
Keywords:
baked chicken, chicken, Food, fryer chicken, garlic, honey, Jalapeno, lime, Recipe, roasted chicken, summer