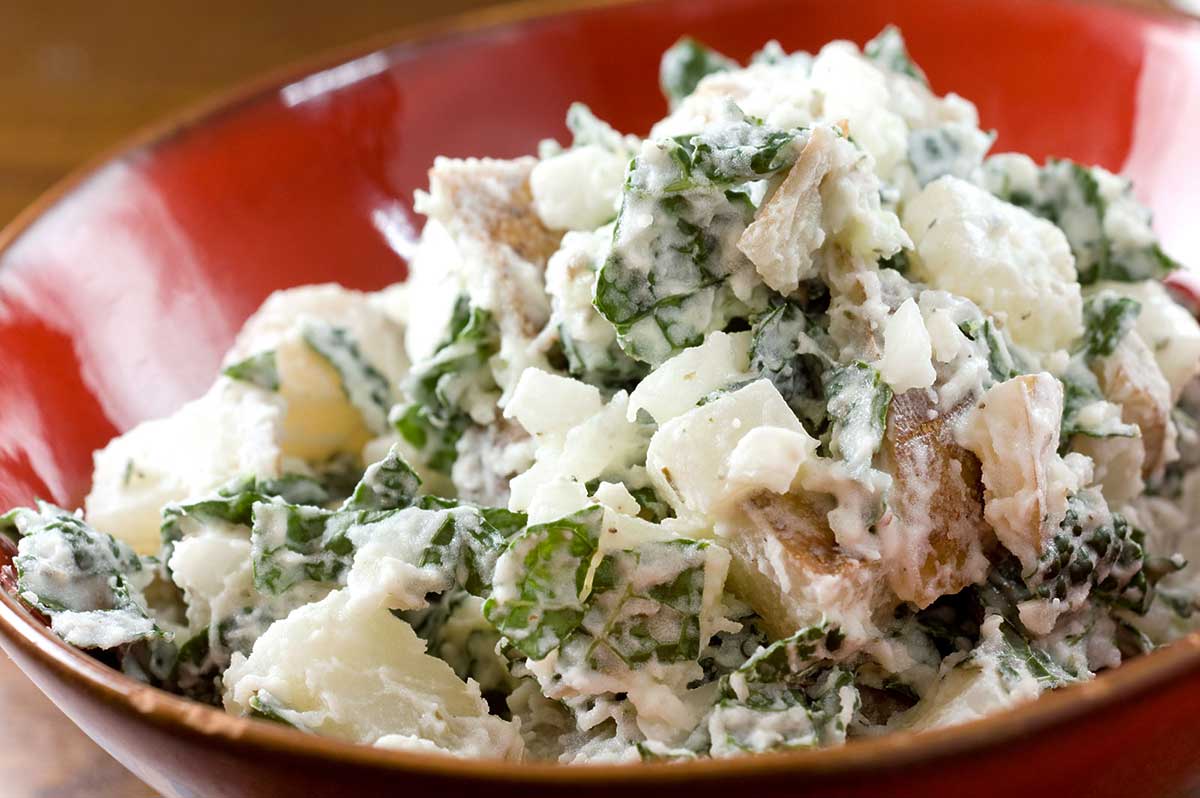 Kale and Potato Salad
While at work the other day, it was only about 10am and I was already thinking of what I wanted to make for dinner. Totally normal right? I thought so. During my thinking, I had decided on these cajun chicken wings but needed the perfect side dish. Then someone said "why not make a potato salad? How good does a potato salad with fried chicken sound right now?" And  the more I thought about it the more I realized that it did sound good. It sounded really good.
If you're looking for a traditional potato salad with mayo and mustard then this recipe isn't for you. However, if you're looking for a change, let's say a potato salad with bright herb flavor and a light sour cream dressing then you've come to the right place because this salad has just that. First you make a tangy dressing with sour cream, Herbs de Provence, red wine vinegar, salt, pepper, garlic and then toss it with tender potatoes, yellow onion and chopped kale.
I wasn't actually planning on putting kale in this salad at first. I simply had no idea if you could actually eat raw kale. To get my answer I took to twitter to ask some friends who I was sure would know. Thankfully Gaby from What's Gaby Cooking happened to be checking her twitter feed at the moment I asked my question. She told me that you could in fact eat it raw, it was just important to chop it really small. I followed her advice and am thankful I did, it added a nice crunch to the salad.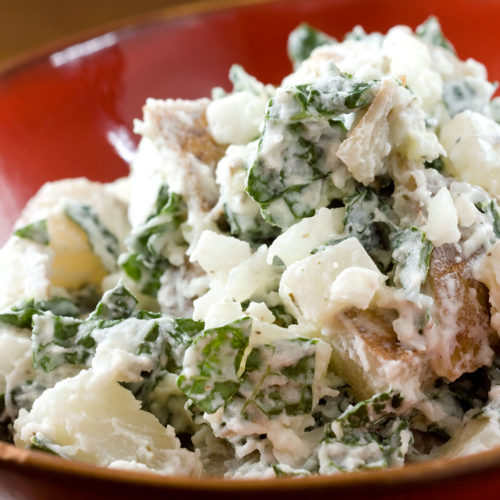 Kale and Potato Salad
A bright, flavorful potato salad with herb sour cream dressing and crunchy kale.
Ingredients:
2

pounds

russet potatoes

diced. Peeled if desired

3/4

cup

sour cream

1

tablespoon

plus 1 teaspoon red wine vinegar

1 1/2

teaspoon

Herbs de Provence

1/2

teaspoon

kosher salt

1/4

teaspoon

garlic powder

1/4

teaspoon

black pepper

1/2

medium yellow onion

chopped small

1/2

pound

Italian kale

ribs removed, chopped small
Place potatoes in a large pot of water. Bring to a boil and cook just until fork tender. Drain and allow to cool.

In a bowl whisk together sour cream, vinegar, Herbs de Provence, salt, garlic powder, and black pepper.

Once potatoes have cooled, place them in a bowl with onion and kale. Pour dressing over the top and toss to coat. Cover and refrigerate for 30 minutes. Serve.
Keywords:
4th of July Recipes, bbq, Food, kale, kale and potato salad, Labor day recipes, memoria day recipes, potato salad, Recipe, salad