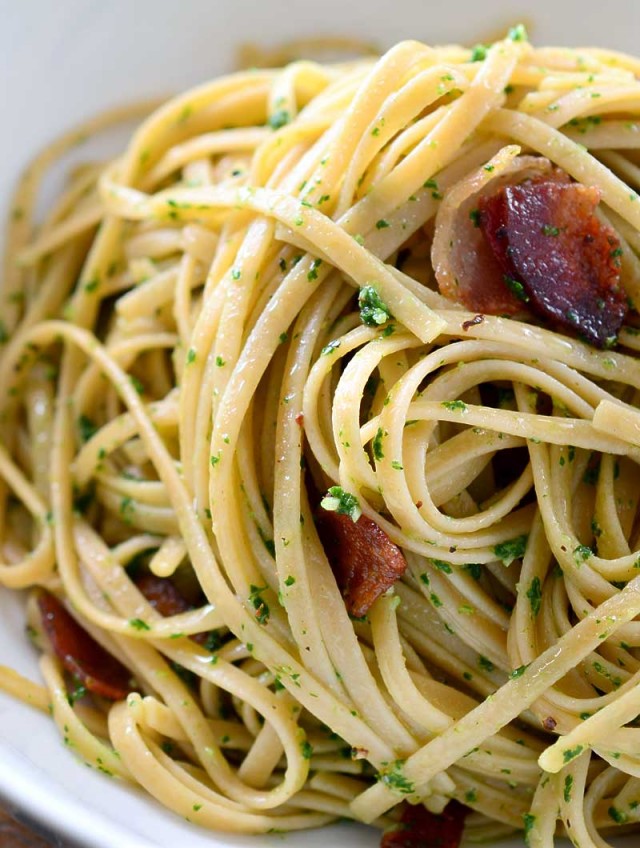 Kale Pesto and Bacon Pasta
Oh gardening. I think I'm finally getting the hang of it. Yes, I had a hiccup with my onions but my garlic turned out fabulous. I almost lost my tomato plants but after some TLC they too are doing very well. My green beans are growing. Most of my herbs are doing well and my rosemary is straight up out of control. But in a good way. Things are going so well that the other night, we enjoyed a dinner of rosemary focaccia with rosemary from my garden, a Caesar salad with romaine from my garden and this pasta made with, you guessed it, kale fresh from my garden. I think I can get used to this whole gardening thing.
Just a little housekeeping note: If you haven't visited the Galbani Cheese website to cast your vote for the Caprese Challenge please do! Of course I'd love a vote for my Caprese Avocado Breakfast toast but there are 11 other tasty creations to check out too. And remember each day you vote you get a chance to win one of the weekly prizes! Pretty fun no?
Now back to gardening. And pasta. And Kale.
Oh Kale.
I have a funny story about kale.
When planning my garden this summer I figured I'd get the most out of it if I planted stuff that we eat a lot of. I'd save money and we'd have our favorites on hand all the time. That is why I planted kale. We eat TONS of kale. However, this was my first time planting from seeds so when planting I just dumped some seeds into the hole. And by some I mean like 30. Kale seeds are small!
Further reading said I should do like 3 or 4 seeds. OOPS.
Time goes by, little green leaves start popping up. Yay! Kale!
Soon more green leaves start popping up. Yay! More Kale!
Then more.
Then more.
Then OH. MY. WORD. WE. HAVE. SO. MUCH. KALE.
What do you do with all that kale? Well I've sauteed it. I've given some away. I've put it on an awesome pizza and I made pesto.
Pesto is great because it is quick, easy and super flavorful. Not to mention it is the most gorgeous green color ever. While most pesto recipes call for nuts this version is made sans nuts because I didn't have any. But don't worry there is still plenty of cheese, garlic and olive oil and to be honest, I didn't miss the nuts.
And if the gorgeous, flavorful and oh so easy pesto wasn't enough, I decided to make a dinner out of it by tossing it with hot whole grain pasta and crisp bacon. It was the perfect summer dinner and left me thinking, maybe I should've planted more kale after all.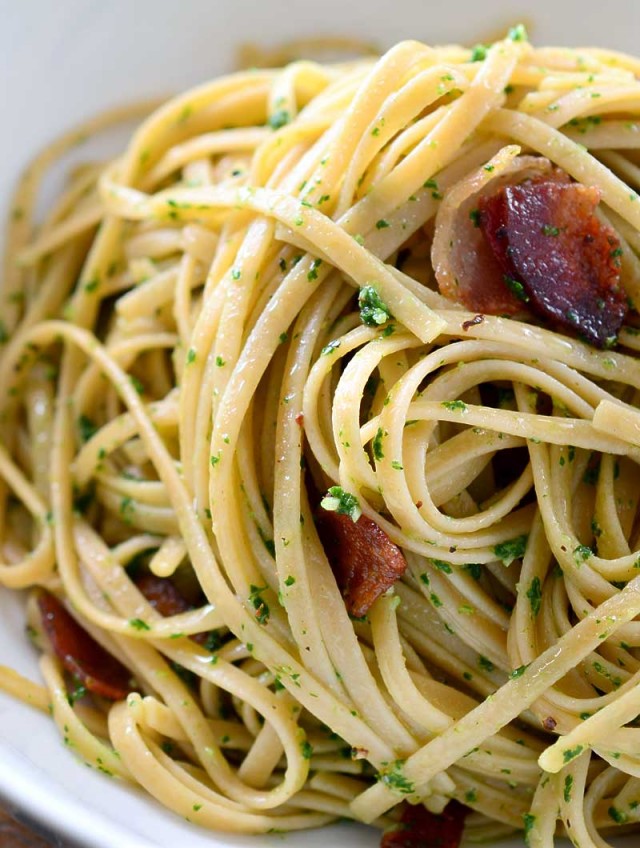 Kale Pesto and Bacon Pasta
A summery pasta with garden fresh kale pesto and smoky bacon.
Place kale and garlic in a food processor and process until kale and garlic are finely minced. Add the cheese. Turn on food processor. With food processor running, slowly drizzle in olive oil until the mixture is smooth. Season to taste with salt and pepper. Cover and refrigerate until ready to use.

Bring a large pot of water to boil. Cook pasta according to package directions. Drain.

While pasta is cooking, cook bacon over medium heat until browned and cook through. Use a slotted spoon to transfer the bacon to a paper towel lined plate.

Toss hot pasta with pesto and bacon. Serve with more grated Parmesan cheese if desired.
Keywords:
bacon, Food, fresh pesto, gardening, kale, kale pesto, nutfree pesto, pasta, pesto, Recipe, whole grain pastas