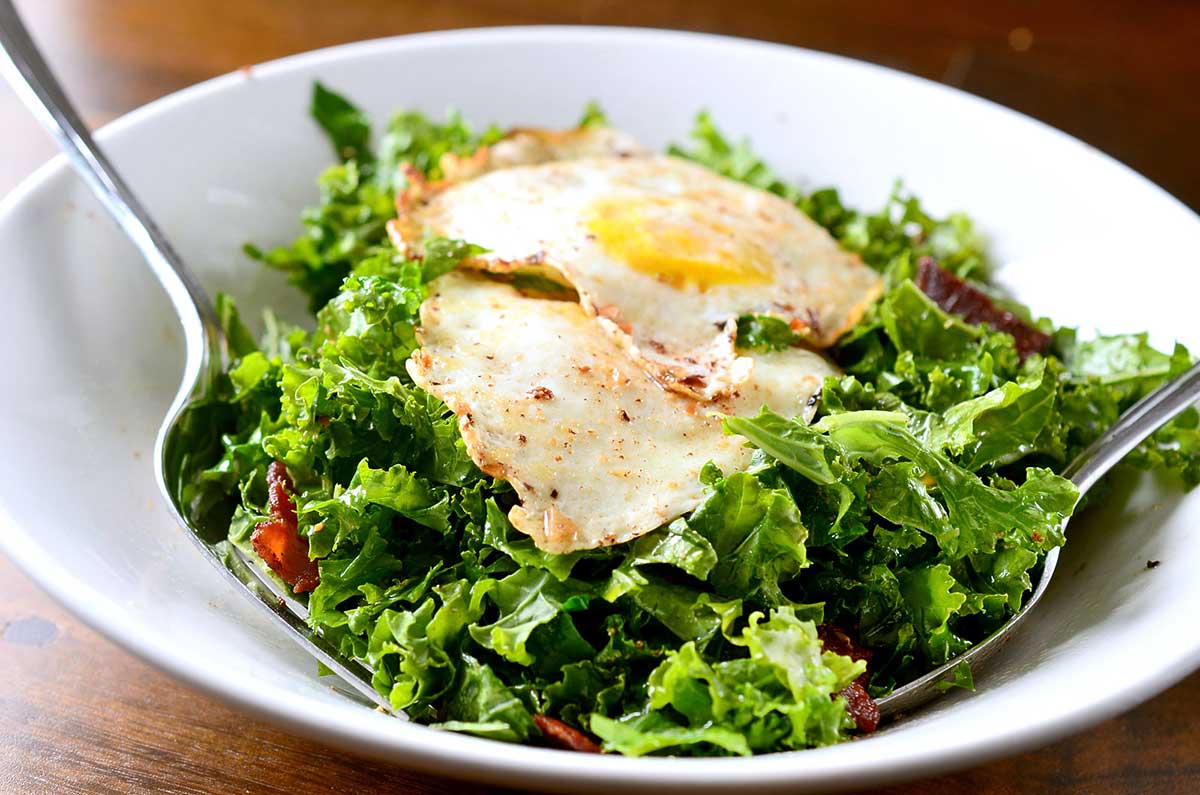 Kale Salad with Bacon Vinaigrette
This is a take on the classic spinach salad with bacon vinaigrette but instead of spinach I use kale and instead of hard boiled eggs, I throw a couple over easy fried eggs on top. The egg yolk mixes with the bacon vinaigrette dressing and makes one heck of a salad.
I could eat kale with every meal. Not many people will say that but I just love it. It's great sauteed, tossed into a soup, as chips, in potato salad and, like this recipe, as the salad itself. It's just really yummy. There is no other word to describe it. And it's really healthy to boot.
I can hear the laughter now. "Des you're trying to tell me that Kale is healthy but at the same time give me a recipe for a salad with bacon vinaigrette?" Well yes. Kale is healthy. However, I'm not going to argue that this salad is the healthiest way to eat kale. But life is all about balance and I figure the two balance each other out.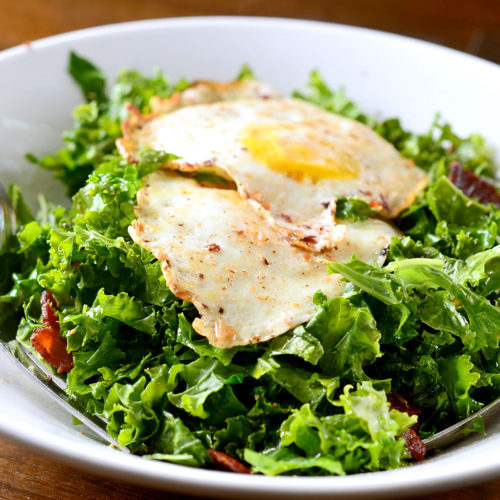 Kale Salad with Bacon Vinaigrette
Fresh chopped kale tossed with a bacon vinaigrette and topped with a fried egg.
Ingredients:
4

slices

bacon

diced into 1 inch pieces

3

tablespoons

olive oil

4

eggs

3

tablespoons

red wine vinegar

1/2

teaspoon

dijon mustard

1/8

teaspoon

granulated sugar

pinch

of crushed red pepper

4

cups

chopped fresh curly kale
Cook bacon in a skillet over medium heat until browned. Use a slotted spoon to transfer to a paper towel lined plate. Reserve 1 tablespoon bacon drippings.

While bacon is cooking, heat 2 tablespoons of olive oil in a skillet and cook eggs 2 -3 minutes or just until whites are cooked and yolks are set.

Keep reserved bacon drippings over low heat, whisk in remaining olive oil, red wine vinegar, dijon mustard, sugar and crushed red pepper.

Place kale in a salad bowl, sprinkle bacon over the top. Toss with warm bacon dressing. Spoon into individual salad bowls and top each salad with a fried egg. Serve immediately.
Keywords:
bacon, bacon dressing, bacon vinaigrette, dressing, kale, kale salad, salad, side dish