Kale with Tahini
Lately kale has been my new obsession. Prior to this new found love I would only buy kale every once in a while. Now however, not a week goes buy that I don't pick up one if not two bunches of it while I'm at the grocery store. It tastes good and it's super good for you. Usually I just eat it sauteed with a little olive oil and salt and pepper, but the other day I decided to add a little twist to it with some tahini. It gave a nutty creaminess to the kale that made me love it even more, if that is possible.
For those of you that are not familiar with tahini, it is a paste made out of sesame seeds. It is a ingredient that is quite popular in Middle Eastern cuisine. If you've had hummus you've had tahini. Some people say that it is similar to peanut butter and that you can substitute peanut butter for tahini in a pinch. While I don't think it is quite the same, tahini might not be available where you are. If you absolutely cannot get your hands on tahini, unsalted creamy peanut butter would be your best bet. It will still give a nutty, creamy flavor to the kale.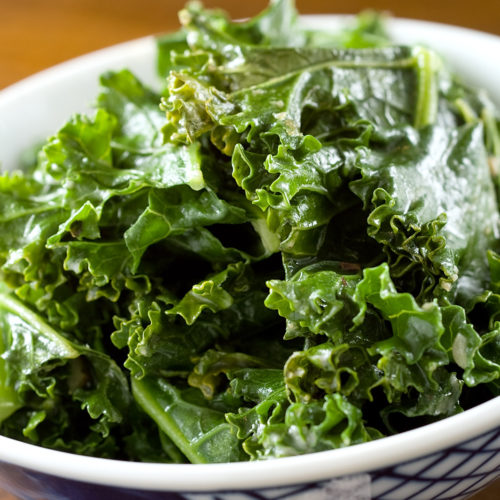 Kale with Tahini
Kale gets a little nuttiness and a touch of creaminess from tahini.
Heat sesame oil and olive oil in a skillet over medium heat. Add kale and garlic and stir well. Cover and cook for 5 minutes. Stir occasionally to avoid burning the garlic.

Uncover kale and stir in tahini. Toss kale to coat in the tahini. Season to taste with salt and pepper. Serve immediately.
Keywords:
Food, kale, Recipe, sauteed kale, side dish, tahini, vegetable, Vegetarian