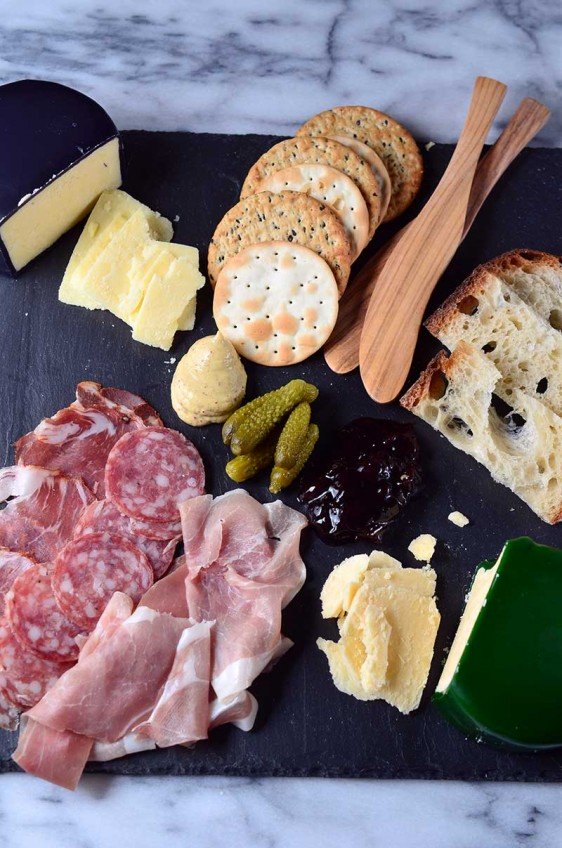 Kerrygold Cheese Charcuterie Board
If we are ever together at a party, you would most likely find me hovering over the food. More specifically, you'd find me hovering over the charcuterie board. All the different kinds of meats, cheeses, spreads, crackers and breads. So many different flavor combos to create. So much deliciousness to enjoy. It is my most favorite appetizer spread so when the nice people at Kerrygold challenged me to create a charcuterie board using their cheeses I was all over it.
When you say "Charcuterie Board" it sounds all fancy schmancy, but there are really only a few things that go into the making of a good charcuterie board. I put together a list so that you will be ready for all of your upcoming holiday parties:
Crackers and Bread: You've got to have something to put all the deliciousness on, right? I chose to serve multigrain crackers, water crackers and crusty Italian como bread. Each of these has a pretty mild flavor so it let the flavor of the toppings shine though.
Cheeses: A charcuterie board will always have at least a couple good cheeses. For this board I chose to use Kerrygold Dubliner with Irish Stout and Kerrygold Aged Cheddar with Irish Whiskey. The Dubliner with Irish Stout is nutty and sweet with just the right amount of malty flavor from the stout while the Aged Cheddar with Irish Whiskey is rich and creamy with just a slight hint of whiskey. Not only did they taste good, but slicing just a few slices and serving the wedge on the plate made for pretty presentation.
Spreads: I love the whole salty/sweet combo so I put a little bit of both on this board with some grainy country style Dijon mustard and some blackberry preserves. I especially enjoyed the blackberry preserves when spread on the water crackers and topped with Aged Cheddar, it was creamy and sweet perfection. While the mustard was excellent on the bread topped with prosciutto and the Kerrygold Dubliner.
Something pickled: I chose some tangy gherkins that I found at the cheese counter of my grocery store. Some olives or even pickled garlic would also work nicely.
Meats: I am always a sucker for cured meats. For this board I chose to use hot coppa for some spice, hard salami and some prosciutto.
There you have it. All you need to create a perfect charcuterie board for your Thanksgiving table and any holiday parties that you have this year. I know I'll be making plenty.
Disclousre: I was sent the cheeses by Kerrygold and this post is my entry for a giveaway for members of the Kerrygold Blogger Loyalty Program. All opinions are my own.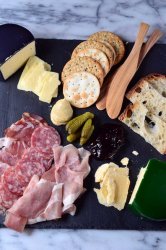 Kerrygold Cheese Charcuterie Board
Ingredients:
Kerrygold Dubliner with Irish Stout

Kerrygold Aged Cheddar with Irish Whiskey

10

slices

Hot Capicola

5

slices

prosciutto

10

slices

hard salami

Blackberry Preserves

Country style dijon mustard

Multigrain crackers

Water Crackers

Italian Como Bread

Gherkins