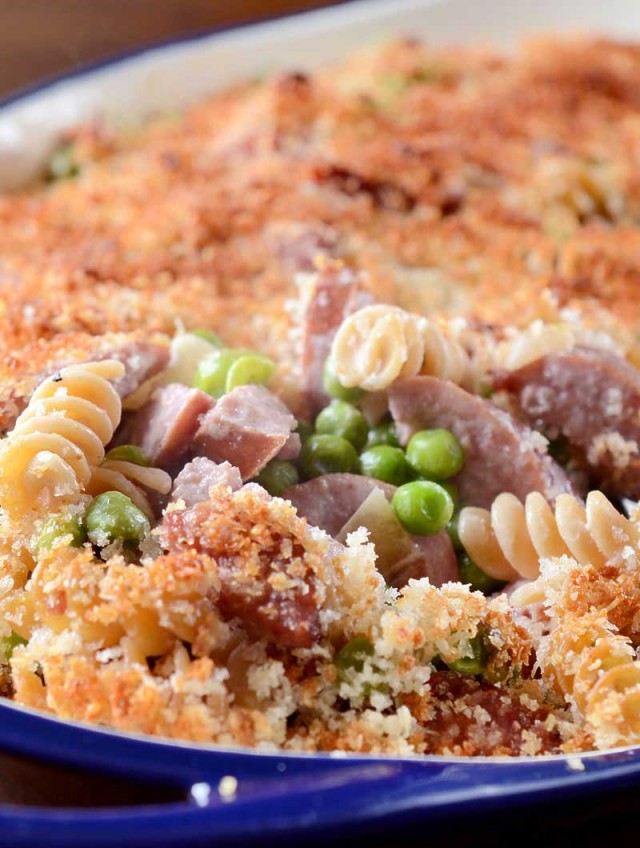 Kielbasa and Pea Casserole
I know, I know I already shared a pasta recipe this week but I couldn't resist sharing this casserole with you today. I made it last night for dinner. That is the second time in as many weeks. That is saying something. And that something is, this casserole is fantastic. The sweet peas, savory kielbasa, sauteed onions, light cream sauce and crisp panko and Parmesan crust just work so well together, it's crazy to think I waited so long to try it.
Crazy, but completely understandable because aside from this pea salad, I'm not a huge pea fan. I never really have been. But in an effort to expose Kellan to all different kinds of foods, even foods I do not like, I decided to give peas a go again. And to my surprise, they weren't bad and Kellan loved them. He was a little confused and kept calling them corn but he ate every one I put on his plate.
He also ate all the pasta, all the onions and all the kielbasa. This is an unusual occurrence as most of his food usually ends up on the floor.
I ate all mine too.
And so did Ryan. Two platefuls.
And a few more bites as he was putting the leftovers away.
It's good I tell you. Really, really good.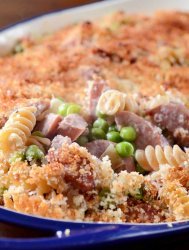 Kielbasa and Pea Casserole
Whole grain pasta, savory sausage, sweet peas, sauteed onions tossed in a light cream sauce and topped with a crunchy panko Parmesan topping.
Ingredients:
2

cups

dried whole grain rotini pasta

2

tablespoons

plus 1 teaspoon olive oil

1/2

medium onion

diced

1

pound

beef kielbasa

1

12 oz bag frozen green peas

1

cup

beef broth

4

ounces

cream cheese

cut into 1 inch cubes

1/2

teaspoon

garlic powder

12

teaspoon

black pepper

1/4

cup

shredded Parmesan cheese

1/2

cup

panko bread crumbs
Preheat oven to 350 degrees.

Cook pasta according to package directions. Drain. Set aside.

Heat 2 tablespoons of olive oil in a skillet over medium heat. Cook onions until they start to brown, about 3 minutes. Stir in kielbasa and frozen peas. Cook 2 minutes. Pour in beef broth. Add in the cream cheese. Cook just until the cheese melts, stirring frequently. Stir in pasta, garlic powder and black pepper. Mix well.

Transfer the casserole to a 2 quart casserole dish.

Combine remaining teaspoon of olive oil, panko and Parmesan together in a bowl. Sprinkle over the top of the casserole.

Cover and bake for 15 minutes. Uncover and continue cooking for 15 more minutes. Turn the broiler on low and broil for two minutes to brown the crust. Serve.
Keywords:
casserole, entree, Food, kielbasa, pasta, pea, Recipe, spring casserole