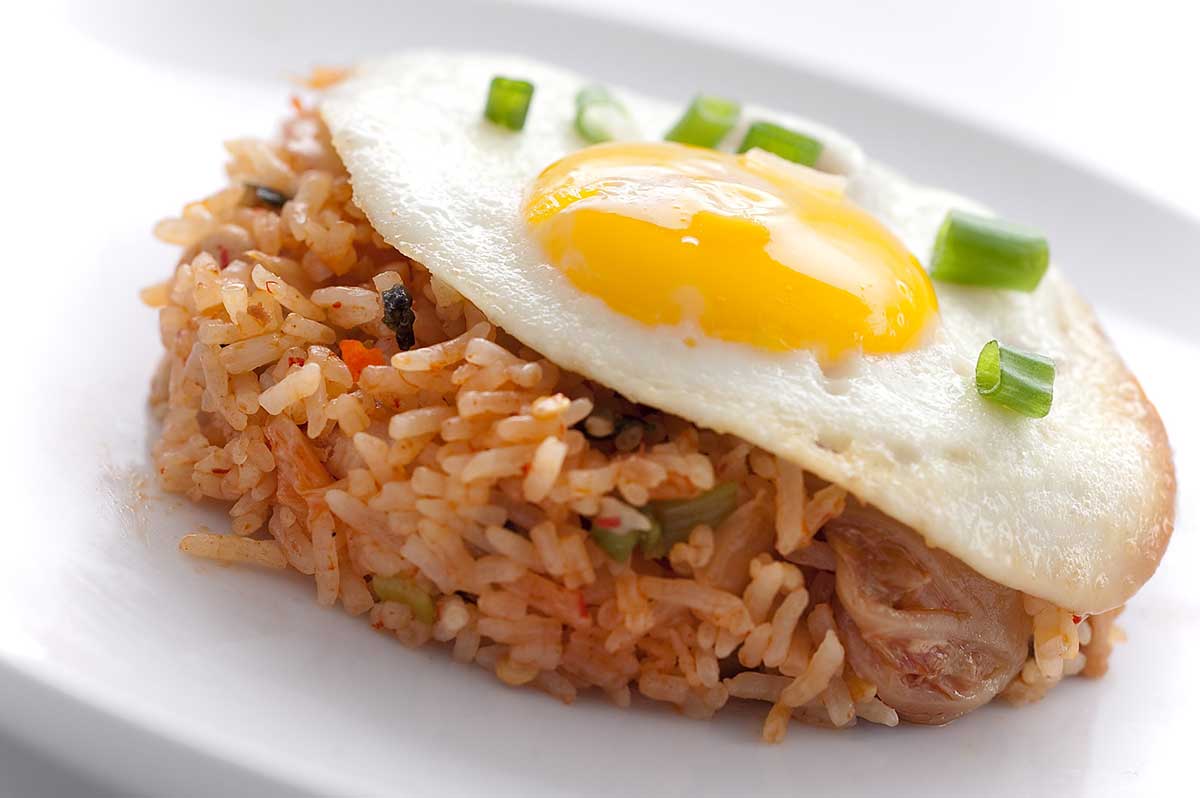 Kimchi Fried Rice
I truly do love working on this blog but sometimes creating and writing new recipes to post to the blog five days a week can be a little draining on the creativity department. Sometimes I sit down to write my weekly menu and the paper remains blank for quite some time.  During times like this, I turn to family, friends and in the case of this fried rice, you all to give me some inspiration. You see back when I posted my recipe for Andouille and Shrimp Fried Rice a reader suggested that I try kimchi fried rice with a fried egg on top. Well, now is my chance to say thank you, because man on man was it good.
I personally have not had much experience with kimchi. Just in case you haven't either, it is a popular Korean dish of fermented vegetables with seasonings. Most commonly the vegetable is cabbage and it is usually a little on the spicy side.  While it sounds like it might be a more exotic ingredient, I was able to find some at my local super market with no problem. It was in the refrigerated produce section. They had a spicy and a mild version, because I like heat I went with the spicy but you could always opt for the mild version to keep the spice down.
Note: This, like most fried rice, is best made with cold day old rice.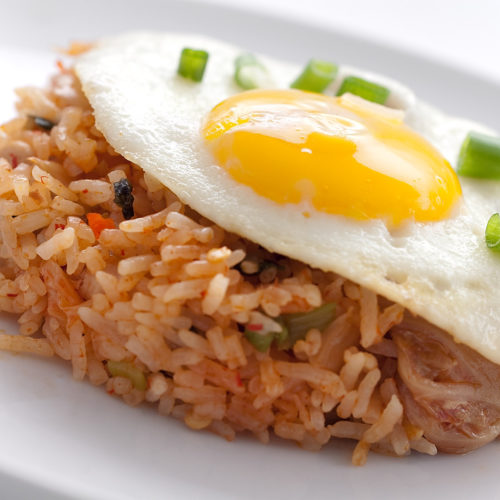 Kimchi Fried Rice
A twist on fried rice with spicy kimchi and an egg served sunny side up.
In a large skillet, heat peanut and sesame oil over medium-high heat. Add pork and 1 teaspoon soy sauce, cook 3-4 minutes. Mix in garlic, green onions (reserving a few for garnish), sambal oelek (if using) and kimchi. Cook 5 minutes. Stir in rice and remaining soy sauce, mix well. If mixture seems too dry add a little (a teaspoon or two) of the juice from the kim chi jar. Reduce heat to low and cover to keep warm.

Meanwhile, melt butter in a separate skillet over medium heat. Once butter has melted carefully crack eggs into the pan and cook 3 - 4 minutes or until egg white is cooked and yolk is set. Season with salt and pepper if desired.

Divide the rice into servings, place one egg on top of each serving. Garnish with green onions. Serve.
Keywords:
asian, food recipe, fried rice, kim chi, kim chi fried rice, kimchi, korean food, pork, pork chop, rice, side dish