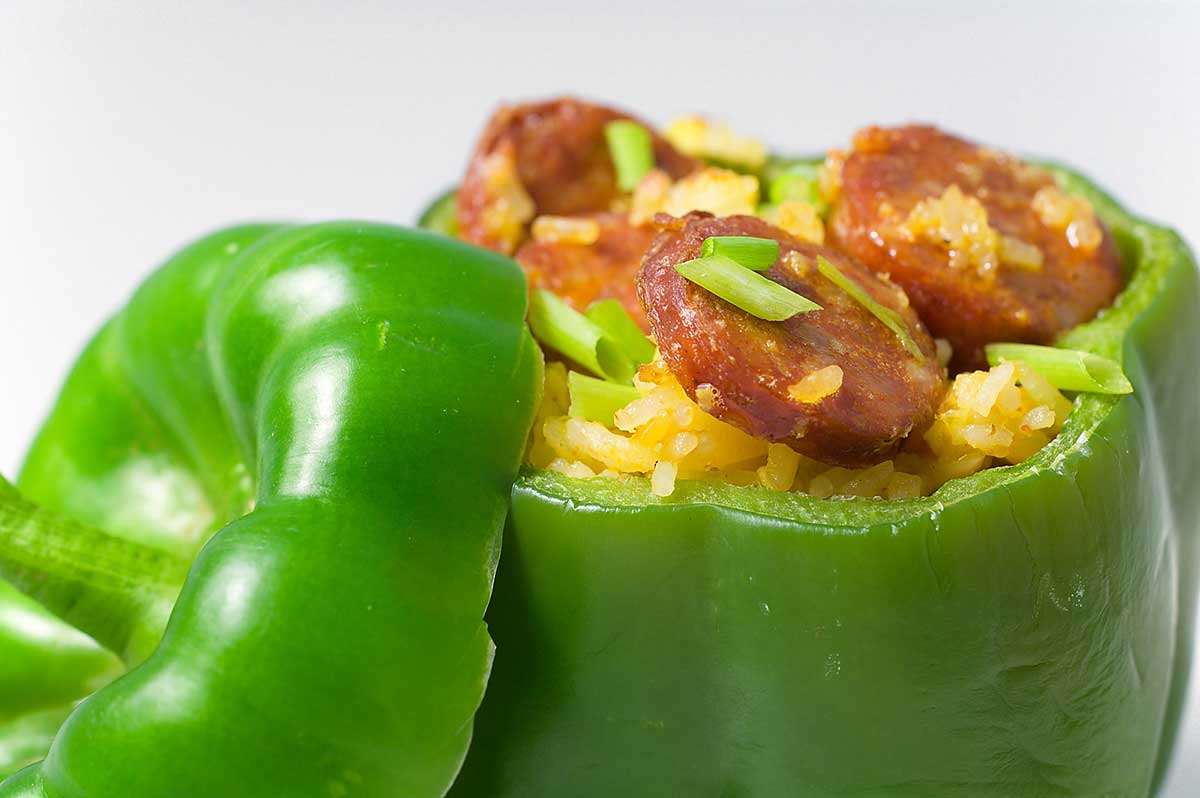 Linguica and Rice Stuffed Bell Peppers
Stuffed bell peppers are a little stroke of kitchen genius. I mean, your whole meal: veggies, protein and carbs all in one little edible cup. How is that not perfect? Traditionally, these are made with ground beef, rice and tomato sauce, but I decided to step outside of the box a little and stuff them with rice, linguica sausage and eggs. Think fried rice in a crunchy green bell pepper.
Much like fried rice, you will have to do a little planning ahead when you make this dish since you will need cold left over rice. If you are having rice one night just make extra, pop it in the fridge and you're ready to make this dish the next day.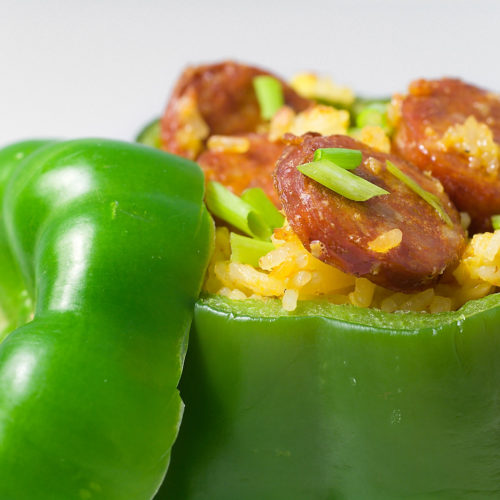 Linguica and Rice Stuffed Bell Peppers
Green bell peppers stuffed with rice, linguica sausage and eggs.
Ingredients:
4

green bell peppers

tops, seeds and ribs removed

1

tablespoon

olive oil

1/2

yellow onion

diced

1

clove

garlic

minced

1

13 ounce package linguica sausage, sliced into 1/2 inch rounds

1 1/2

cups

cooked white rice

2

eggs

beaten

1/4

teaspoon

cayenne pepper

optional

fresh cracked pepper and kosher salt.

chopped fresh green onion
Bring a large pot of water to a boil. Once boiling season liberally with salt (about 2 tablespoons). Place the cleaned peppers into the water and allow to cook for 3 minutes or until bright green and softened slightly. Remove from water, set aside.

Preheat oven to 350 degrees.

Heat olive oil in a skillet over medium heat. Add onion and garlic, cook until fragrant, about 30 seconds. Stir in sausage. Cook 4 minutes or until sausage is warmed through and onions are softened. Stir in rice. Once rice is incorporated, using a spoon create a hole in the middle of the rice and sausage mixture. Pour the beaten eggs into the hole. Cook 30 seconds or until the egg starts to set. After the egg starts to set, stir with rice mixture to combine. The egg will coat the rice. Allow to cook for 3-4 minutes. Season with cayenne (if using) and salt and pepper to taste.

Place prepared bell peppers in a glass baking dish. Spoon rice mixture into the peppers. Bake in preheated oven for 15-20 minutes or until peppers have softened but are still firm.

Remove from oven, sprinkle with chopped green onion. Transfer to a serving platter. Serve.
To make a great presentation you can keep the tops of the bell pepper and lean them against the stuffed pepper after plating. Enjoy!
Keywords:
bell pepper, dinner, eggs, entree, Food, fried rice, garlic, linguica, onions, Recipe, rice, scrambled eggs, stuffed bell pepper, stuffed pepper