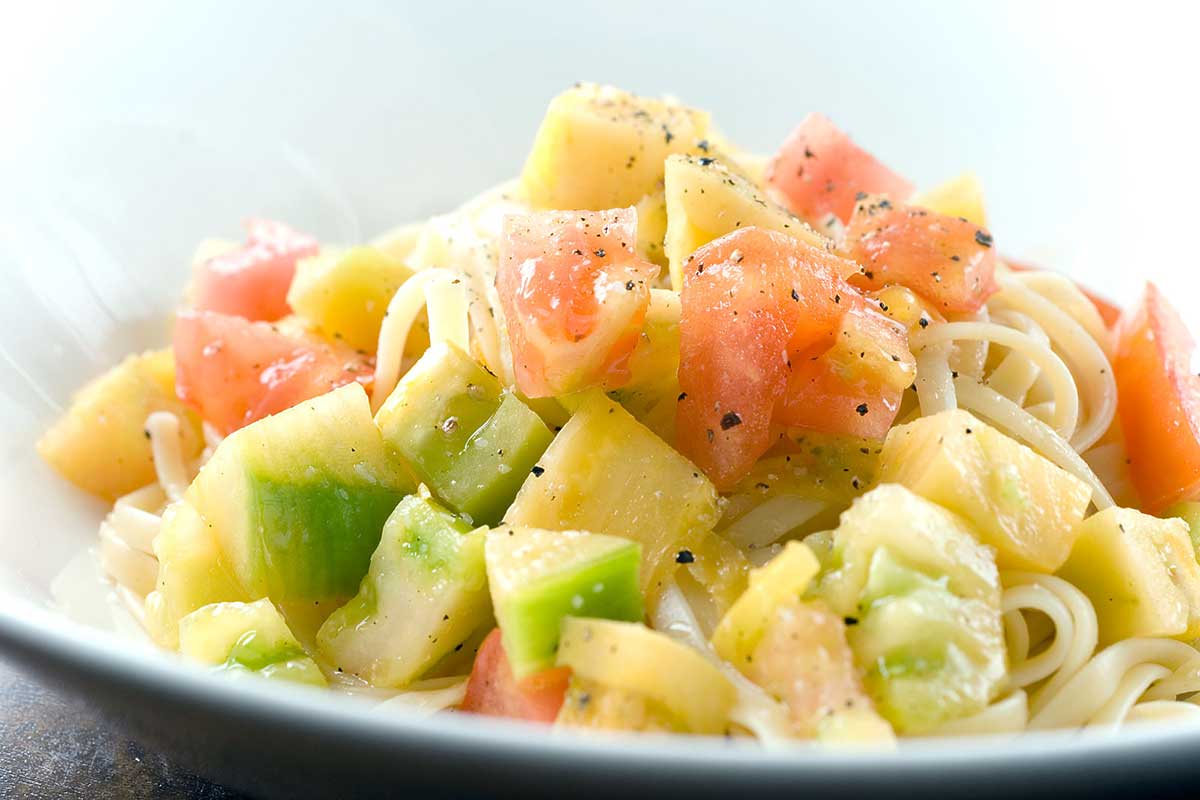 Linguine with Heirloom Tomatoes
When I posted on Facebook a couple of weeks ago that I love tomato season, I got quite a few responses from people who also adore these juicy beauties.  I'm not sure what it is about them that makes them so lovable but knowing that so many people love them I'm sure you will adore this dish just as much as I do. After all this pasta dish lets heirloom tomatoes shine and is summer plain and simple. Simple being the key word. There are only seven ingredients. And it can all be done in the time it takes the pasta to cook.
When I say simple I really do mean simple. You probably have most of the ingredients that you need on hand: garlic, lemon, salt, pepper, olive oil and pasta. The only thing you might not have are the heirloom tomatoes. If you are lucky enough to have them in your yard then I'm jealous. If you're like me and you don't have access to them by walking out your door, you can find them at farmer's markets and I've even seen them in the organic section of my local big chain supermarket. Like those used in the Fried Green Tomato Grilled Cheese recipe, you'll want pretty firm tomatoes. You are cooking them slightly so you want them to hold up well in the pasta without turning into a tomato sauce.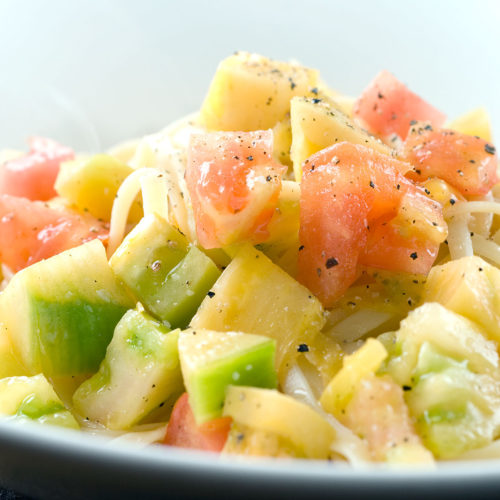 Linguine with Heirloom Tomatoes
An easy 10 minute pasta where perfectly juicy heirloom tomatoes are the star.
Bring a large pot of water to a boil and cook pasta according to package directions. Drain.

When pasta is just about done, begin heating olive oil in a skillet over medium heat. Add garlic and cook just until fragrant, about 30 seconds. Stir in remaining ingredients. Allow to cook for 3 - 5 minutes or until tomatoes release some of their juice but are still firm.

After you drain the pasta, place it in a large bowl and pour the tomatoes over the top. Toss well. Serve immediately.
Keywords:
easy, entree, Food, heirloom tomatoes, italian, pasta, quick and easy, Recipe, simple, summer, tomatoes