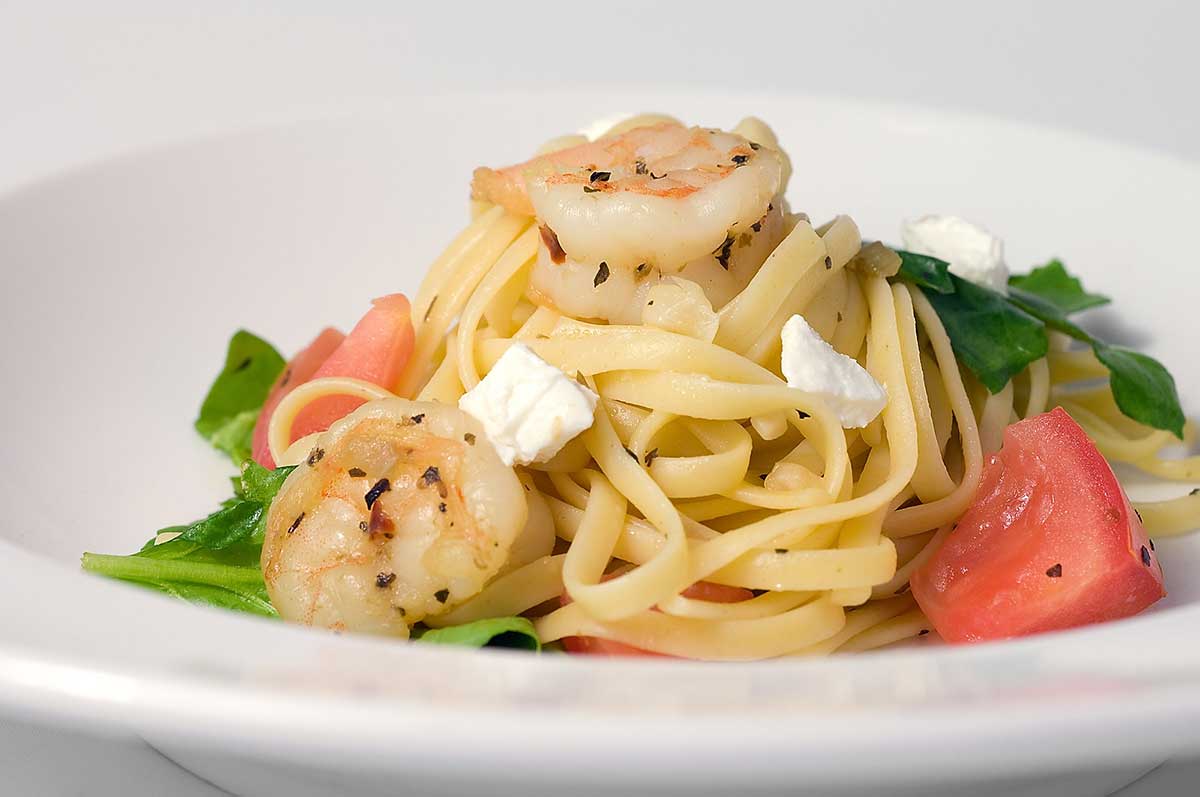 Linguinie with Prawns, Spinach, Tomatoes and Goat Cheese
For those of you that are shying away from this recipe because of the words, "goat cheese", you are not alone. I know many people who cringe at the words and refuse to eat anything with goat cheese listed as an ingredient. I don't know if its because they tried it and didn't like it or if it's because it has the word goat in it. But I urge you to give it a try if you haven't. I was first introduced to goat cheese at the ripe old age of 9 when I went camping with my mom and some of her friends. My first response, was "Mom, I am not eating anything that comes from a goat!" But my mom can be very convincing so after a little coaxing I finally took a bite and I surprise, I LOVED it. For those of you that have never had it, it's a little tart and a little creamy. One of my favorite things to pair it with is spinach so when I was making a pasta with spinach last week and wanted to add something a little creamy to the mix, I thought to add goat cheese.  In addition to the spinach and goat cheese, I also added some succulent prawns, sweet tomatoes and a splash of brandy. It was a very light pasta, perfect for a warm evening.
This pasta comes together pretty quickly, which makes it great for weeknights. I like to add the spinach at the end so that it barely wilts, followed by the tomatoes. I find that if you cook the tomatoes just slightly, they burst with sweet tomato flavor the moment you take a bite.
I used linguine in this recipe, but you could easily substitute fettuccine, spaghetti or even angel hair.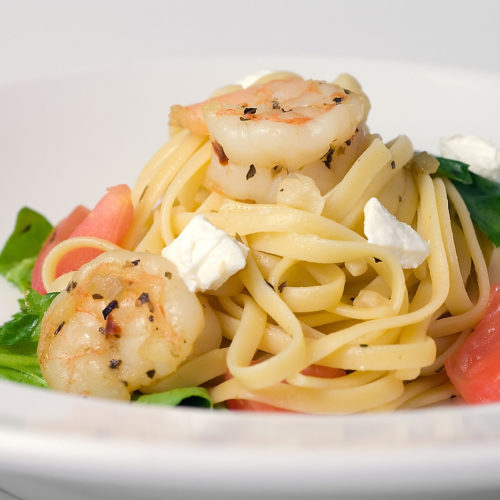 Linguinie with Prawns, Spinach, Tomatoes and Goat Cheese
A light pasta with shrimp, tomatoes, goat cheese and spinach. Perfect for a summer evening.
Heat water for pasta according to package directions. Cook until Al-dente. Strain.

Meanwhile, heat olive oil in a large skillet over medium heat. Cook garlic and shallots just until soft. About 3 minutes. Add oregano, basil, crushed red pepper and salt. Cook 1 minute.

Add prawns. Cook 3-5 minutes or until they turn pink. Stir in brandy to deglaze the pan. Cook 1 minute.

Transfer strained pasta to the skillet. Toss.

Toss in spinach, tomatoes and goat cheese. Cook 3 minutes or just until the spinach wilts and the cheese softens slightly tossing occasionally. Note: As the cheese melts it will coat the pasta slightly, if you want the crumbles to stay intact, toss them in just before serving.

Serve immediately.
Keywords:
dried pasta, fettucini, Food, Goat Cheese, italian, linguine, linguini, linguinie, pasta, Prawns, Recipe, shrimp, Spinach, tomatoes