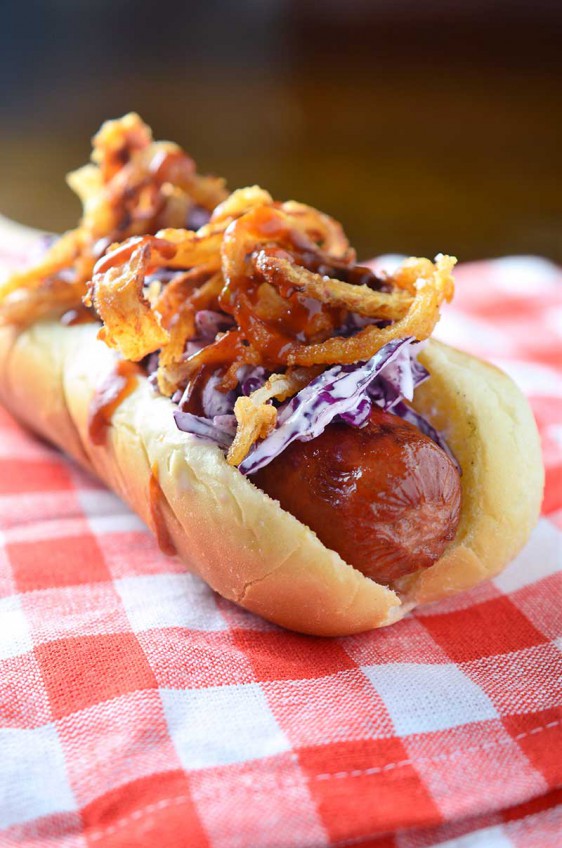 Loaded BBQ Hot Dogs
Now that grilling season is in full gear, I thought it high time to share a new hot dog recipe. After all, the good ol' standby of ketchup, mustard, relish and onions can get a bit boring. Today, I've decided to take one of my favorite sandwiches "the BBQ Pulled Pork Sandwich" and turn it into a hot dog. This dog is piled high with tangy coleslaw, crispy BBQ onion strings and BBQ sauce. It is a deliciously messy twist on a classic.
I hope you all had a relaxing long weekend. Ours wasn't super relaxing but it was loaded with fun. Our little Prestonio turned 1. We had family and friends come visit. The party was minion themed and I baked a cake from scratch that turned out pretty good, if I do say so myself :) I shared a picture on Instagram. Whatcha think? I'm really starting to enjoy cake decorating!
The birthday boy loved the cake and visiting with his friends and family. He played and played and played and played. By the time all was said and done, little man and Mama were all tuckered out. Which is why, when Monday rolled around, and it was just our small little family again, we took it easy for our Memorial Day spread and made these Loaded BBQ Hot Dogs.
I've been putting slaw on pretty much everything lately. I love the crunch and the creaminess. It takes burgers, sandwiches and in this case, hot dogs to a whole other level. And while I love the slaw on this hot dog, the real star of the show is the crispy BBQ onion strings and they couldn't be easier to make. You simply cut onions super thin, toss them with a little BBQ sauce (I used my fave Stubb's Smokey Mesquite) and let them marinate in it for a bit. Then dredge them in flour and fry until crispy and golden brown. They are smoky, sweet and the perfect crunchy addition to this hot dog.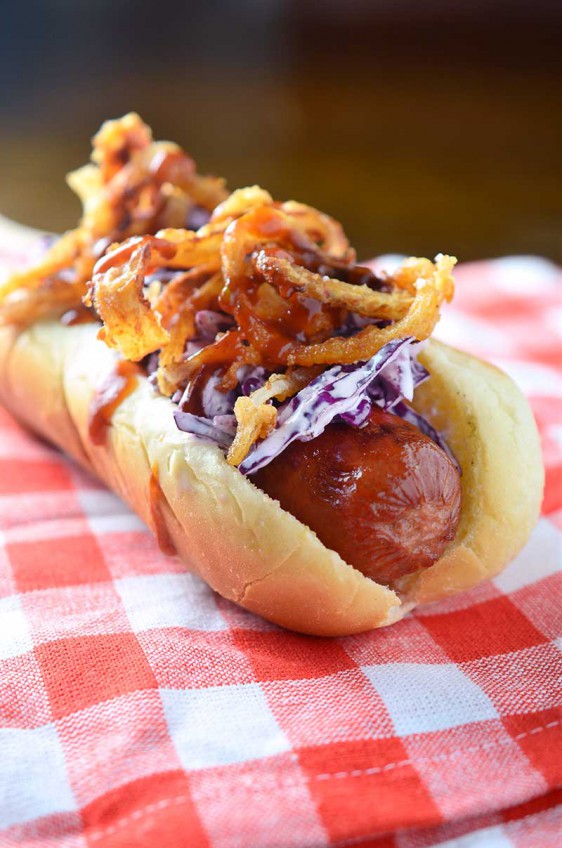 Loaded BBQ Hot Dogs
A hot dog loaded with creamy slaw, crispy BBQ onion strings and BBQ sauce. A deliciously messy twist on a classic!
Toss the onions with 1 tablespoon of BBQ sauce. Allow to marinate for at least 20 minutes.

Meanwhile, make the coleslaw. whisk together mayonnaise, apple cider vinegar, garlic powder, salt and pepper. Pour over shredded cabbage and toss to combine. Cover and refrigerate until ready to use.

Once onions have marinated, place flour in a resealable plastic bag, add in onions and shake to coat.

Heat 1/4 inch layer of oil in a skillet over medium heat. Once hot, remove onions from flour and shake off any excess. Fry in hot oil until golden brown and crunchy. Use a slotted spoon to transfer to a paper towel lined plate. Sprinkle with salt.

Heat a grill to medium-high heat and cook hot dogs until cooked through.

To assemble a hot dog: place a hot dog in a bun, spoon slaw over the top, place onions on top and drizzle with BBQ sauce. Serve.
Keywords:
bbq, coleslaw, grilling, hot dog, summer