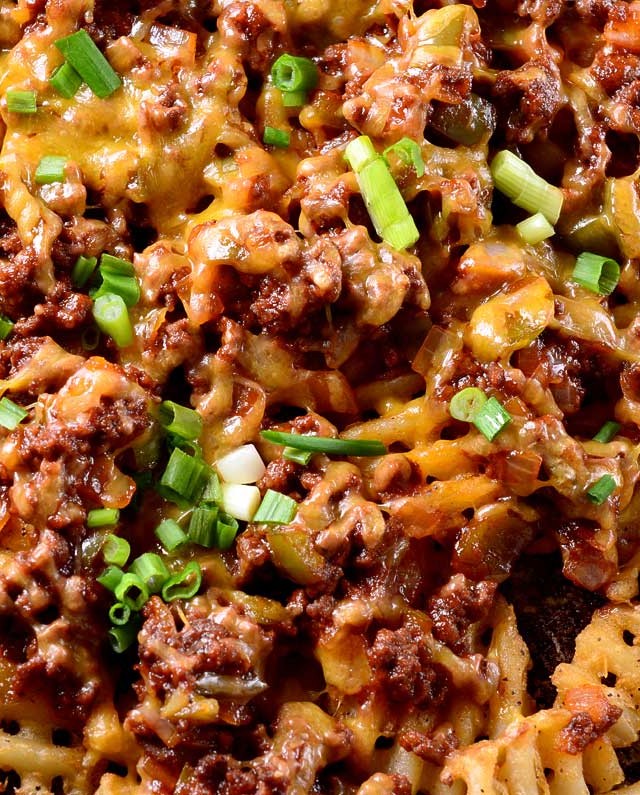 Loaded Sriracha BBQ Sloppy Joe Fries
Happy Monday Friends! How was your weekend? Ours was a whirlwind. Halloween Thursday. Kellan's birthday Friday. My Uncle had been visiting, Ryan's parents came up Friday and then Saturday the rest of the family came and so did the friends. We had a great party, great food, great friends. And guess what…today is Ryan's birthday! So we are about to do it all over again!
Oh man the last week of October and the first week of November is always so busy. But to tell you the truth, I love it. It's so fun to spend time with family and friends. We don't live close enough to our family to see them that often so I love when they come to visit.
I actually made these babies last Monday night when my uncle was visiting and we were watching Monday Night Football. And I think they turned out fabulous.
Truth of the matter is, I love anything on top of fries. Chili. Cheese. Gravy. Cheese curds. Carne asada. You name it. That is why I adore these fries. They are topped with cheese, green onions and the lovely sloopy joe sauce from these Sriracha BBQ Sloppy Joes. I might even suggest squeezing a bit more sriracha over the top.
They are loaded french fry perfection and perfect for game day!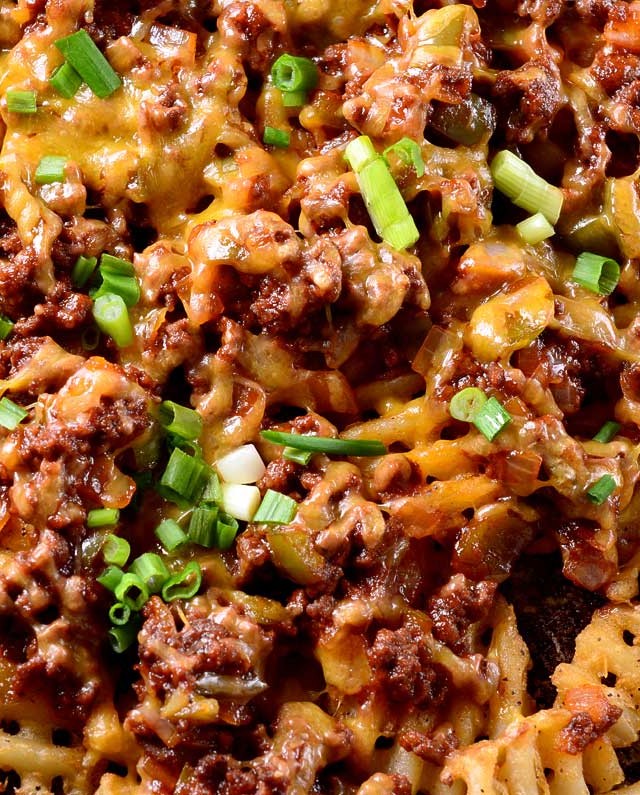 Loaded Sriracha BBQ Sloppy Joe Fries
Crispy french fries topped with Sriracha BBQ Sloppy Joe Sauce, cheese and green onions. Perfect for game day!
Cook the ground beef in a skillet over medium heat. Drain. Reserve 1 tablespoon pan drippings.Cook the bell pepper and onion in the reserve pan drippings until softened, about 5 minutes. Return ground beef to the pan.

Add in remaining ingredients and mix well. Reduce heat to low and simmer for 30 minutes.

While sauce is simmering, cook french fries according to package directions. You want them crispy so they don't get soggy under the sloppy joe sauce.

Turn oven to broil. Spoon the sloppy joe mixture over the top of the cooked french fries. Sprinkle with cheese. Broil just until the cheese is melted. Sprinkle green onions over the top. Serve.
Keywords:
appetizer, Food, game day, manfood, Recipe, sloppy joes, snacks, super bowl