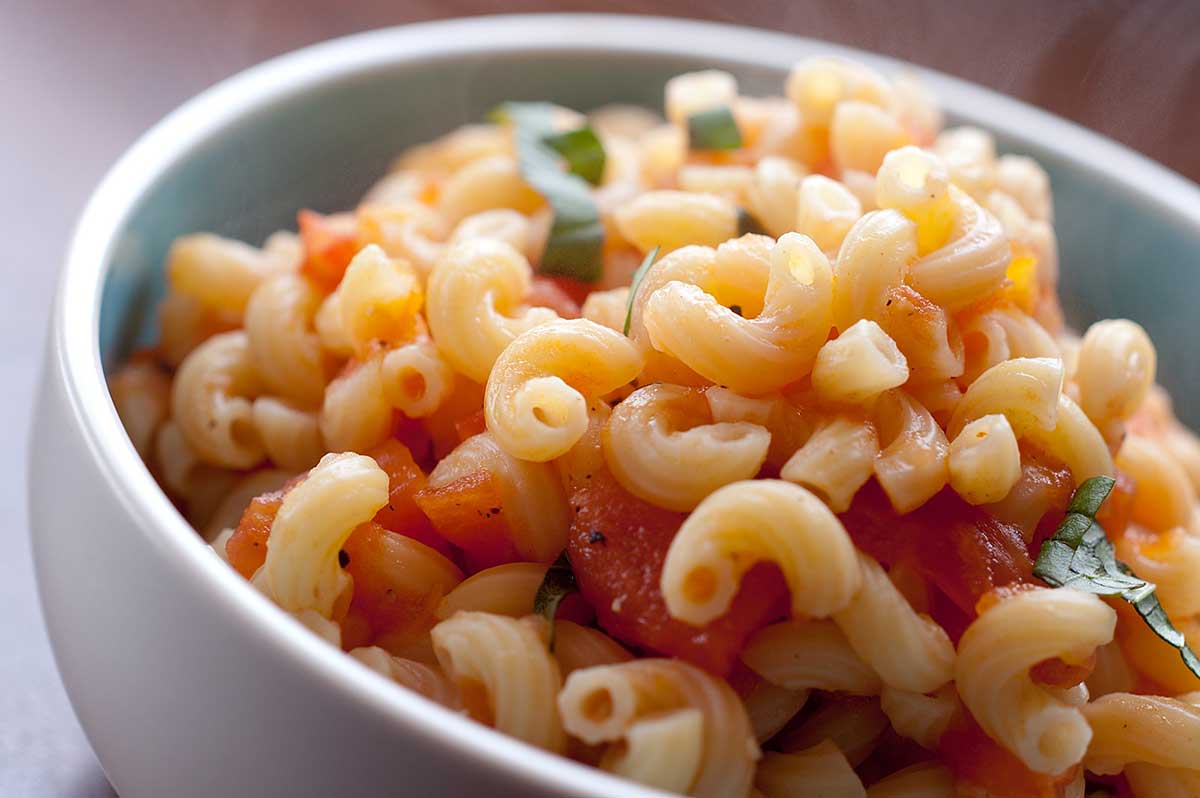 Macaroni and Tomatoes
Macaroni and tomatoes is a comfort food dish and a family favorite meal. Vine ripened tomatoes are used to create the homemade tomato sauce for this easy pasta recipe.
Do you have any recipes from your childhood that you still enjoy just as much now that you are an adult? I do. Macaroni and tomatoes happens to be one of them. It's simple. It's quick. It showcases the wonderful sweetness of tomatoes. One small problem: Ryan does not like it. Like at all. This, along with tuna casserole topped with potato chips, are meals that I reserve for myself when Ryan isn't going to be home for dinner.
However, I was bound and determined to get him to love this macaroni dish, so I decided to use the vine ripened tomatoes that I bought to make Macaroni with Fresh Tomatoes. I threw in a little basil for good measure and voila! He ate 2 bowls full of it.

I have always wanted to make tomato sauce from scratch, but it always seemed too complicated. Boiling the tomatoes, tossing them in an ice bath and then peeling them just seemed like too much work. But like I said, I was determined to get Ryan to like this dish, so I bit the bullet and tried it. And guess what? It is really super easy. It only takes about 10 minutes from the time the water is placed on the stove to boil.
And the results leave me wondering why I waited so long to make macaroni and tomatoes with homemade tomato sauce.
Serve the pasta and tomatoes with a fresh garden salad and some garlic bread sticks.
Now, do you have any suggestions on how can I get him to go for the tuna casserole? Please come over to my Facebook page and share your ideas with me!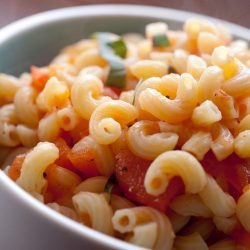 Macaroni and Tomatoes
Macaroni and tomatoes is a comfort food dish and a family favorite meal. Fresh tomatoes are used to create homemade tomato sauce for this easy pasta recipe.
Ingredients:
Ice

2

pounds

vine ripened tomatoes

1

tablespoon

olive oil

2

cloves

garlic minced

1

teaspoon

kosher salt

1/2

teaspoon

black pepper

1/2

pound

dried elbow macaroni

5

basil leaves
Bring a large pot of water to a boil.

Fill a large bowl with cold water and some ice cubes to make an ice bath.

Using a paring knife, make an "X" on the bottom of the tomatoes. Do not cut too deep, just through the skin.

Once the water starts boiling add the tomatoes and cook for 30 - 60 seconds or until the skin starts to fall off of the tomatoes. Use a slotted spoon to transfer tomatoes to the ice bath.

Once tomatoes are cool enough to handle remove skin. Slice tomatoes in half and remove the seeds inside. Reserve 1/2 cup of tomato seeds and juices. Dice tomatoes

Heat olive oil in a pot over medium heat. Add garlic and cook just until fragrant. Stir in diced tomatoes, reserved tomato juices, salt and pepper. Bring to a boil and reduce heat. Simmer for 30 minutes.

After 30 minutes, begin cooking your pasta according to package directions. At this time you can also chose to leave the sauce as is for a chunky version or use an immersion blender to make it a little more sauce like. It's up to you.

Transfer cooked pasta to the tomato sauce. Stir to combine. Adjust salt and pepper if needed. Transfer to serving dish.

Roll basil leaves together and chop. Sprinkle over the pasta and serve.
Keywords:
basil, Food, fresh tomatoes, italian, macaroni, pasta, Recipe, tomato sauce, tomatoes, vine ripened tomatoes