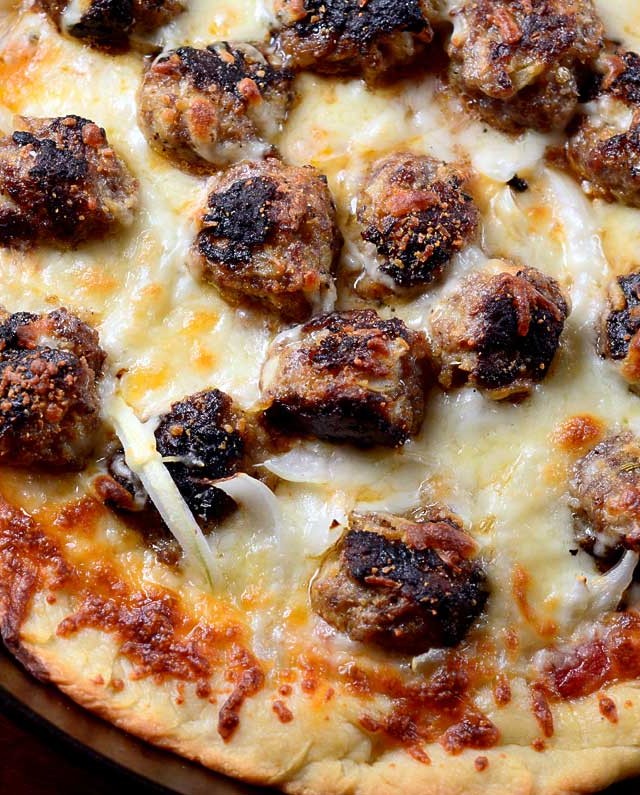 Meatball Pizza
After all the veggie dishes I've been sharing lately, I figured it was high time to share something a little different. Enter the Meatball Pizza. This is one of those pizzas that I always saw on pizza parlor menus but never ordered. It just seemed so weird to me. Meatballs…on a pizza? But it totally works. Each bite that is not filled with scrumptious meatball goodness is filled with melted cheese goodness. You can't beat that.
There are a few of keys to this pizza. One is to cook the meatballs all the way through before you put them on the pizza. If you don't do this then the rest of your pizza will be done a long time before the meatballs finish cooking. Second, cheese. You want lots of it. I usually put between 1 1/2 cups – 2 cups on a pizza. This pizza gets 2 1/2 cups. That way any bite that doesn't have meatballs is loaded with cheese.
And finally the sauce.
For this pizza, you want a simple marinara sauce. You don't want something that is going to overpower the flavor of the meatballs. The marinara sauce is simply a can of whole tomatoes that you crush up by hand then season with garlic, oregano, crushed red pepper, salt, pepper and olive oil. It's so simple and so unbelievably delicious on this pizza.
For a pizza that I always shied away from, I must say that the inventors of the meatball pizza new what they were doing as it has started to make regular appearances on our Friday Night Pizza Night table.
Meatball Pizza Recipe
Pizza Ingredients:
3/4 pound mild Italian sausage
1 medium yellow onion (1/2 sliced and 1/2 minced)
2 cloves garlic minced
1 egg, beaten
1/4 cup plain dry bread crumbs
1 tablespoon olive oil
store bought pizza dough
2 1/2 cups shredded mozzarella
Marinara Ingredients:
1 (28 ounce) can whole tomatoes, drained and crushed with hands

1 teaspoon dried oregano

1/2 teaspoon salt

1/4 teaspoon pepper

1/4 teaspoon crushed red pepper

2 cloves garlic, minced

2 teaspoons olive oil
Instructions
1
Preheat oven to 430 degrees.

2
Make the meatballs by combining sausage, minced onion, minced garlic, egg and bread crumbs in a bowl. Mix well and roll into about 15 meatballs.

3
Heat olive oil in a skillet over medium heat. Cook meatballs until browned on all sides and cooked through, turning often, 10 - 15 minutes.

4
While meatballs are cooking, combine all ingredients for the marinara together in a small saucepan. Bring to a boil and reduce heat to a simmer.

5
Remove meatballs from the skillet. Set aside.

6
Press the pizza dough into the bottom of a 12-inch cast iron skillet. Place skillet on a burner over medium heat. Spoon sauce over the top. Top with cheese, meatballs and remaining sliced onion. Allow to cook on the stove for 5 minutes. Transfer pizza to preheated oven and cook for 12 - 15 more minutes or until cheese is melted and bubbly and crust has browned.