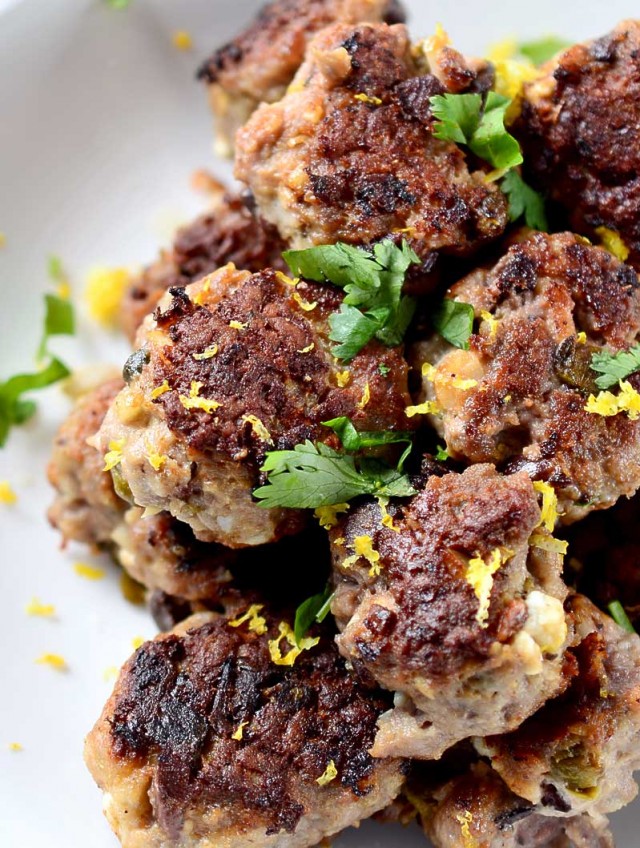 Mediterranean Lamb Meatballs
When we plan Sunday dinner, my friend Sabrina and I will start planning it, usually via text, the Wednesday before. It usually starts out with "what should we make, what do we already have on hand etc…" A few Wednesdays back during our texting planning session she suggested that for the upcoming Sunday dinner we try our hands at Mediterranean cuisine. We started talking about our favorite things: feta, lamb, capers, olives and bam over about 10 texts these Mediterranean Lamb Meatballs were born.
I know what some of you might be thinking, Ryan is always asking me the same thing: Why don't you just call each other? Wouldn't that be easier? Faster?
Not to me. To me texting seems easier.
Strike that. Texting when you have a 22-month old trying to show you how monkeys jump off the couch and bump their heads, is in fact much easier than talking on the phone.
You can wait to respond to a text. Leaving you with the ability to stop said monkey from jumping, without yelling in your friends ear.
It's easier to brain storm on text. I work better writing things out then talking things out. I think a lot clearer that way. That's probably not all that shocking because well… you know, I blog.
Plus…auto-corrects are HILARIOUS. You know they are. And the more you text the more chances you get to secure your spot on one of those Auto-correct blooper sites.
And now that I've completely veered off topic (probably because I didn't brain storm this post out ahead of time), let's make a sharp left and get back to these meatballs. They are quick, easy and loaded with all kinds of goodies. We served them with a Greek salad and some couscous but they would be equally as a filling for a pita or put toothpicks in them and serve them up at your next game day party.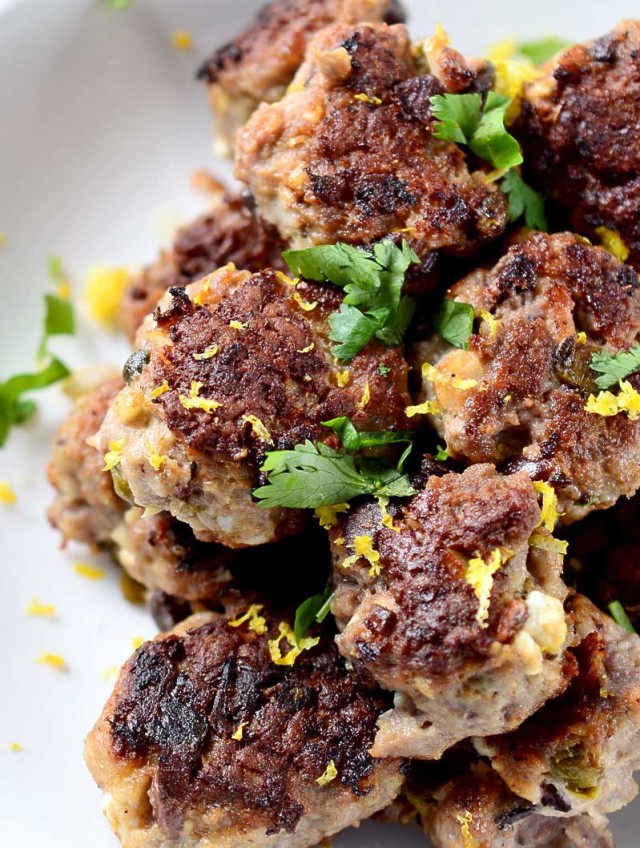 Mediterranean Lamb Meatballs
Feta, garlic, capers, olives, lemon zest and cilantro give these lamb meatballs a Mediterranean twist. Perfect as a dinner, in a pita or as a game day snack.
Ingredients:
1

pound

ground lamb

1/2

cup

crumbled feta

8

cloves

garlic

minced

2

tablespoons

non-pareil capers

1/4

cup

chopped kalamata olives

1

teaspoon

dried oregano

2

tablespoons

lemon juice

1/4

cup

plain dry bread crumbs

1

egg

beaten

oil for frying

lemon zest

cilantro
Preheat oven to 375.

In a bowl combine lamb, feta, garlic, capers, chopped olives, oregano, lemon juice, bread crumbs and egg. Use hands to mix well. Roll into approximately 20 meatballs.

Add just enough oil to lightly coat the bottom of a large oven proof skillet. Heat over medium high heat. Cook meatballs, in batches if necessary, just long enough to brown the outside, about 3 minutes each side. Return all meatballs to the skillet. Place skillet in preheated oven and cook until meatballs are cooked through, 20 - 25 minutes.

Remove meatballs from skillet. Transfer to a serving platter. Sprinkle lemon zest and cilantro over the top. Serve.
Keywords:
appetizer, entree, feta, Food, greek, gyro, kalamata olives, lamb, meatballs, mediterranean