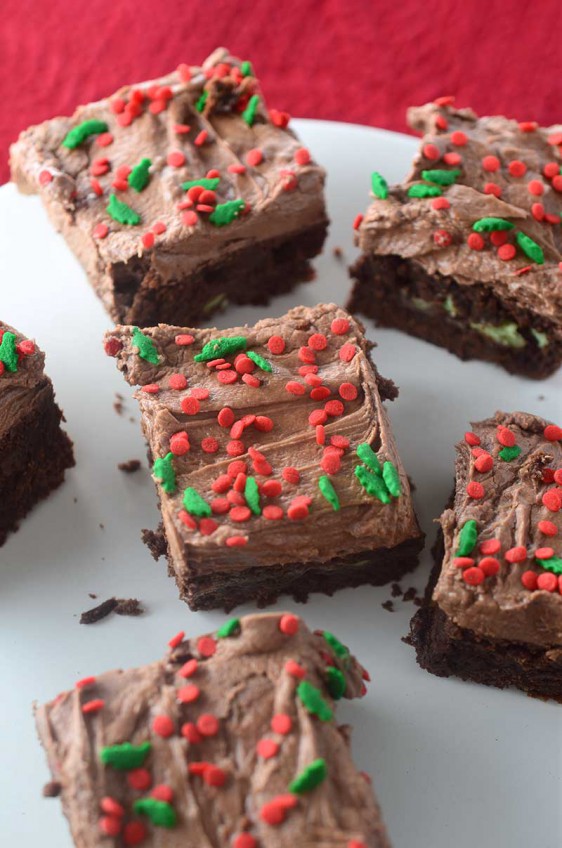 Mint Truffle Brownies
Mint Truffle Brownies. If that doesn't say Christmas treat then I don't know what does. With a layer of mint truffle kisses sandwiched in between layers of fudgy brownies and topped with chocolate buttercream, trust me when I say you're gonna want to make this brownie recipe, friends.
When it comes to dessert, brownies are probably one of my all time favorites. They are right there holding onto the top spot with cheesecake. There is just something about the chocolate deliciousness of a perfectly chewy brownie that gets me every single time.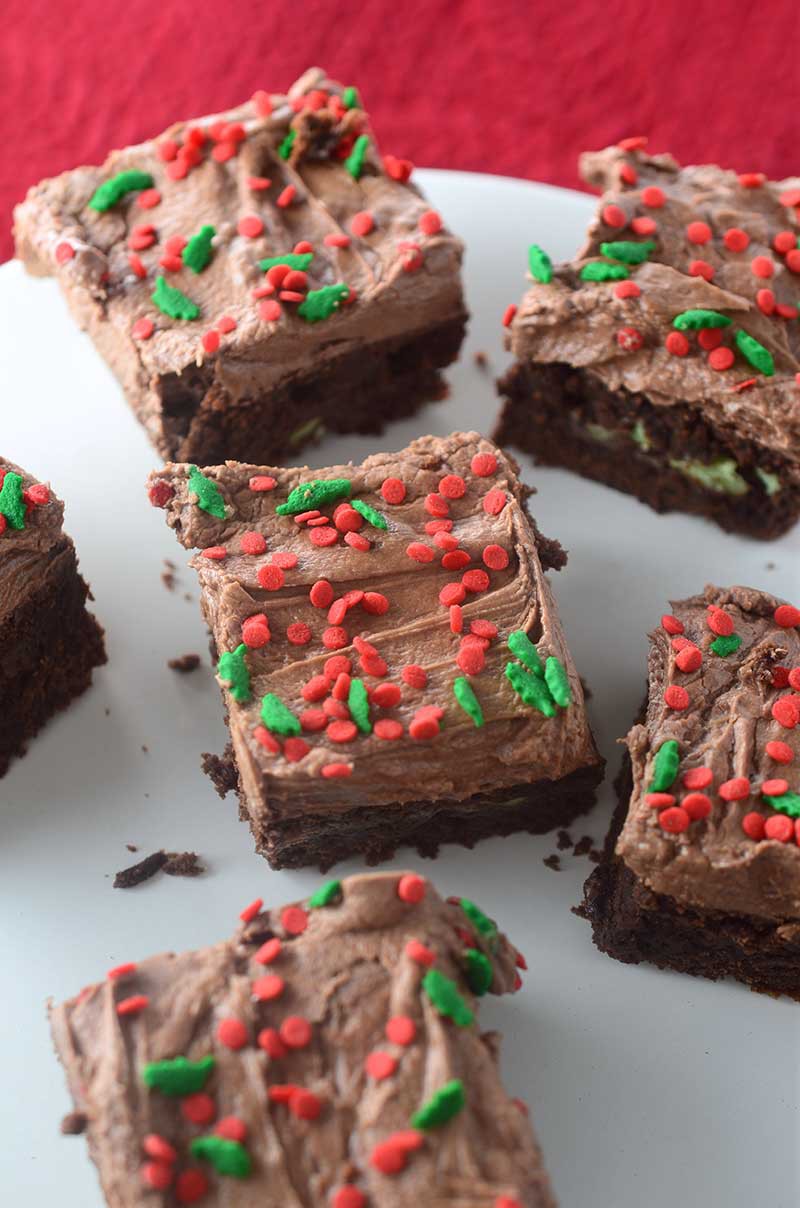 However, when you take that same decadent, chewy, chocolatey brownie and slather it in a rich chocolate buttercream frosting, it is absolute pure brownie bliss.
The first time I remember trying a brownie with frosting was when my mother-in-law made a batch. At that time, I had no idea brownies with frosting were even a thing. Brownies with ice cream, yes, totally. Brownies with frosting? Never heard of it.
But guys, it so needs to be a thing.
And I am so making frosted brownies a thing with this Mint Truffle Brownies recipe.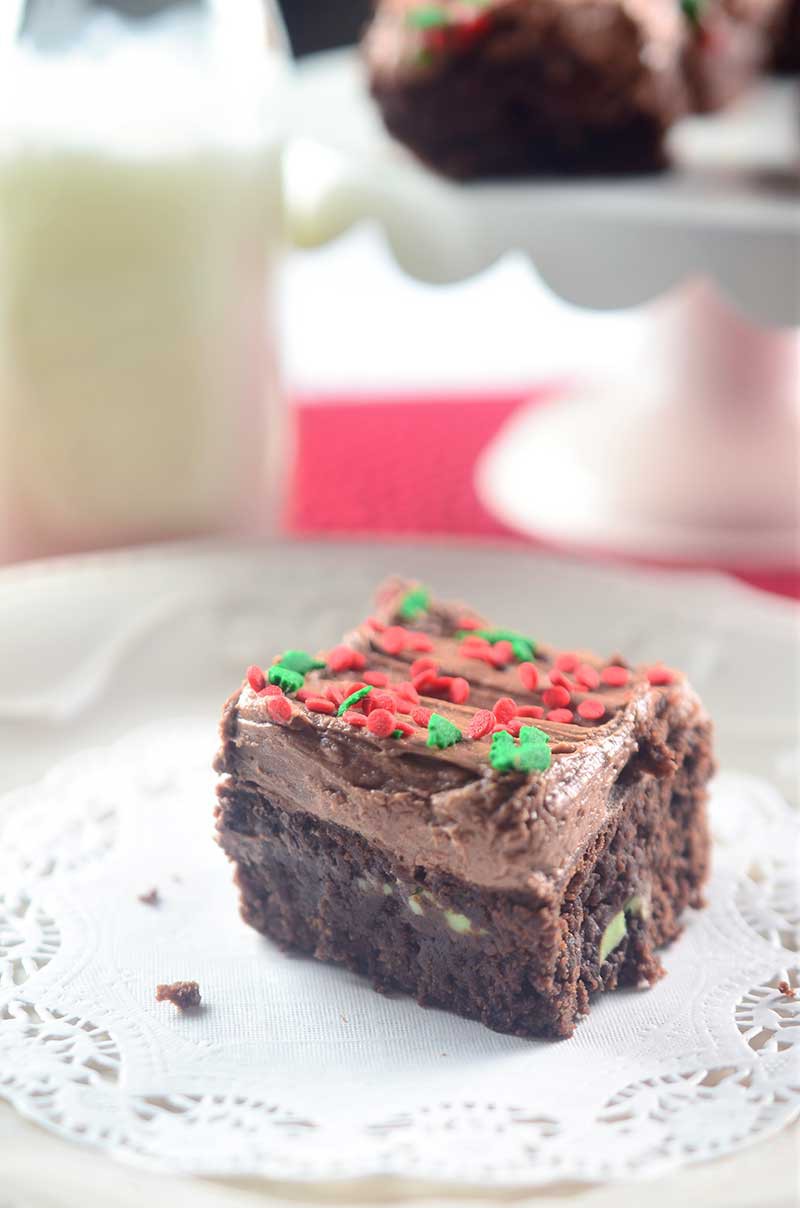 Brownies with buttercream frosting would've been delicious all on their own. However, it is Christmas time, so I had to take advantage of all of that wonderful Christmas candy. Like my fave, Mint Truffle Hershey Kisses. Then I sandwiched them right in the center of the brownies.
So if you're keeping track, these Mint Truffle Brownies have a layer of brownie, layer or mint truffle kisses, layer of brownie and layer of chocolate buttercream.
Like I said, pure brownie bliss.
Not a mint fan? You could easily do this with other Christmas candies too. I actually used the same technique back when I made these Killer Brownies for Halloween. Those brownies are topped with ganache, which should also totally be a thing.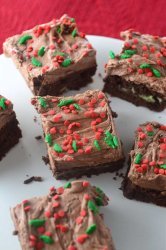 Mint Truffle Brownies
Decadent Mint Truffle Brownies are brownies layered with mint truffle kisses and topped with a creamy chocolate buttercream. Pure brownie bliss.
Chocolate Buttercream
1/2

cup

butter

softened

2

cups

powdered sugar

1/4

cup

unsweetened cocoa powder

1

teaspoon

vanilla

1 - 3

tablespoons

whole milk
Preheat oven to 350 degrees. Line an 8 x 8 baking dish with enough aluminum foil to have some hang over the sides. Grease and flour the aluminum foil.

Melt butter in a saucepan over medium heat. Once melted allow to cool completely.

Once cool, whisk in cocoa powder. Whisk in sugar. Once mixed, whisk in eggs one at a time. Whisk in vanilla. Add in flour and salt and mix just until combined. Don't over mix.

Spread half of the brownie batter on the bottom of the prepared pan. Scatter Mint Truffle Kisses over the top. Top with remaining brownie batter. Bake in preheated oven for 20 - 25 minutes or until a toothpick inserted comes out clean. Place on cooling rack to cool completely.

Meanwhile make buttercream by creaming together butter and powdered sugar for about 2 minutes. Beat in cocoa powder and vanilla. Beat in milk one tablespoon at a time until a stiff but spreadable mixture forms. Spread frosting on the top of the cooled brownies. Cut into 16 brownies and serve.
Keywords:
Christmas, mint truffles, sweets