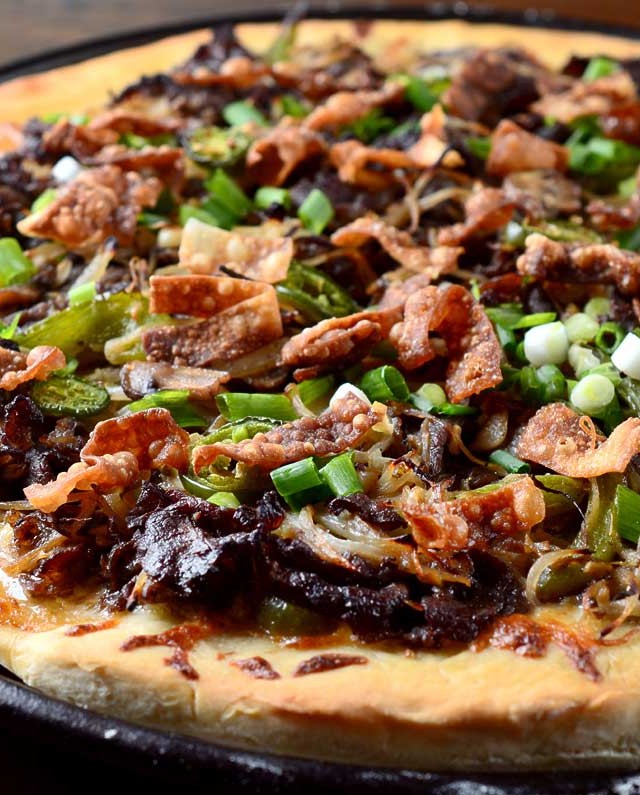 Mongolian BBQ Pizza
There is actually no BBQ sauce on this pizza. This Mongolian BBQ Pizza gets it's name from our favorite restaurant in our home town which happens to be a Mongolian BBQ. And our home town seems to be the Mecca for them. Ryan and I had our first date at a Mongolian BBQ 15 years ago and where we try to eat at one every time we are back home. Usually Mongolian BBQ is a noodle dish, but I've made it into a pizza and oh mama is it good.
When I first thought of making this pizza I thought to myself, it could either be a huge hit or a huge flop. I have not had much experience with Asian style pizzas. But since we have pizza every Friday, I thought it was time to be a bit daring and give it a try.
If you have never been to a Mongolian BBQ before, there is a buffet of raw meat, veggies and sauces. You make up your own concoctions, take it up to the grill and they cook it right in front of you. Then you take it to your table and add tons of sriracha and, if you're Ryan, tons of hoisin. And oh boy it is amazing, friends.
And this pizza includes all of my favorite mongolian grill ingredients: mushrooms, jalapenos, loads of garlic, bell peppers, yellow and green onions and perfectly thinly sliced beef. Thankfully we have a fabulous Asian market here in Seattle that sells thinly sliced beef for sukiyaki. It's simply steak sliced razor thin. If you cannot find thinly sliced meat, I recommend getting a 3/4 pound sirloin steak, freezing it for about an hour or so until it's slightly frozen. Then use a knife to slice it as thin as you can get it.
I also decided to top this pizza with crispy wonton strips. The restaurant that we go to always serves crispy wonton chips on the side and I like the crunch that they add to the pizza. But they are totally optional, I've made it with and without it and it's delicious either way.
Now, pass the sriracha!

Mongolian BBQ Pizza
Asian style pizza topped with stir-fried beef, veggies and crispy wonton strips. Pass the sriracha!
Ingredients:
1

store bought pizza dough

3/4

pound

beef for sukiyaki

sub super thinly sliced steak

1/2

cup

thinly sliced mushrooms

1/2

medium onion

sliced thin

6

cloves

garlic

minced

1

jalapeno

thinly sliced

12

ounces

bean sprouts

1

green bell pepper

seeds and ribs removed, sliced

1

tablespoon

plus 1/2 teaspoon soy sauce

1

tablespoon

teriyaki sauce

1/2

teaspoon

hot oil

2

teaspoons

sesame oil

divided

1

teaspoon

ginger

divided

2

teaspoons

olive oil

2

cups

shredded mozzarella

oil for frying

5

wonton wrappers

cut into strips

2

green onions

diced
Preheat oven to 430 degrees.

Roll out pizza dough and place on a 15 inch pizza pan.

Bake in preheated oven for 5 minutes to slightly cook the dough.

While dough is cooking, cook steak in a skillet over high heat, just until browned, about 1 minute. Add in mushrooms, onions, garlic, jalapeno, bean sprouts and green bell pepper. Add in soy sauce, teriyaki, hot oil, 1/2 teaspoon ground ginger and 1 teaspoon sesame oil. Cook until vegetables have softened slightly. Turn off heat and set aside.

Remove pizza crust from oven. In a bowl combine remaining ginger, sesame oil and olive oil. Brush onto pizza crust. Sprinkle with mozzarella cheese. Put cooked beef and vegetable mixture evenly over the top of the crust. Bake for 20 - 25 minutes or until crust has browned.

While pizza is cooking heat a 1/4 inch of oil in a small skillet over medium heat. Once hot, fry wonton strips, in batches if necessary. Use a slotted spoon to transfer to a paper towel lined plate. Sprinkle with salt.

Remove pizza from oven. Sprinkle with fried wonton strips and green onions over the top. Slice and serve with sriracha and hoisin sauce on the side.
Keywords:
Food, man food, mongolian grill, pizza, Recipe