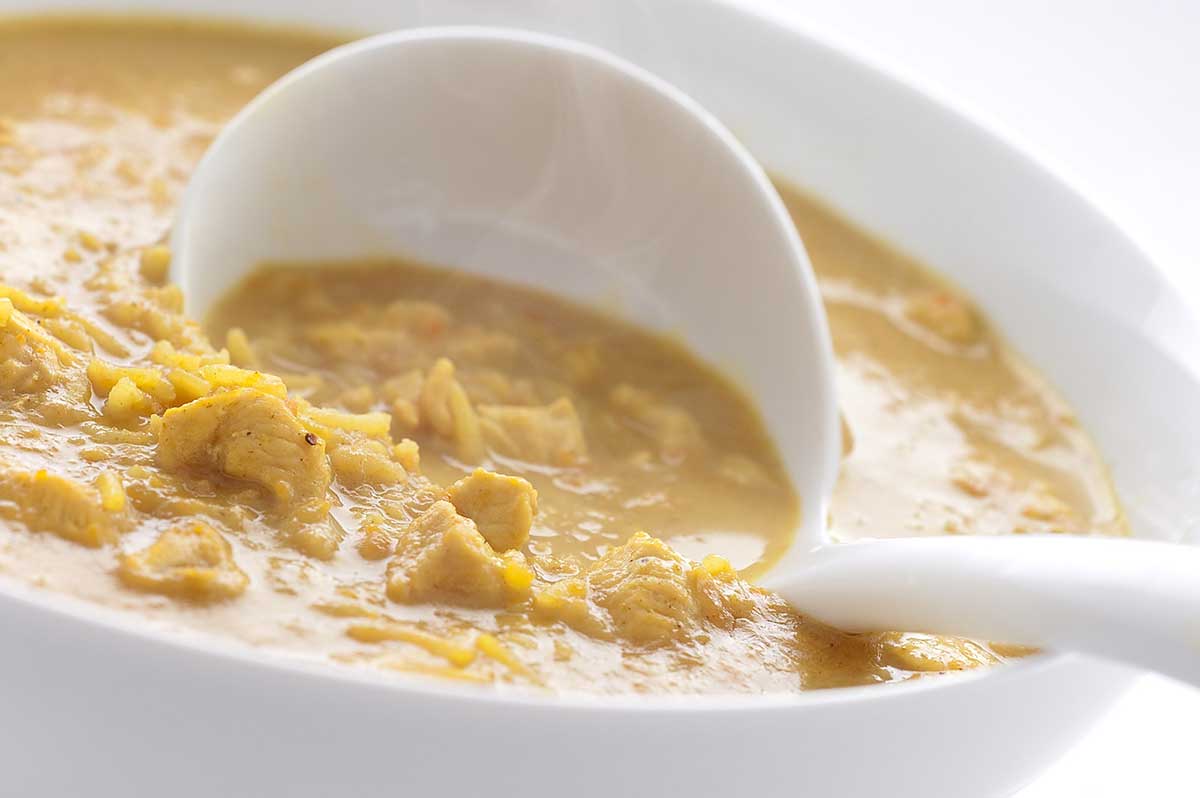 Mulligatawny Soup
Despite the brilliant sunshine that graced Seattle with its presence yesterday, the calendar still says we are smack dab in the middle of February. This means that we have at least a few more weeks of cold weather to get through before things start to warm up. The only good part about this I see is that these lingering cold winter days mean that I get to enjoy warm soups for just a wee bit longer. Soups like this tummy warming Mulligatawny soup that is sure to hit the spot on a cold winter's day.
I was inspired to create this recipe not by a cookbook, not by a restaurant and not by watching a cooking show. No, I was inspired to create this recipe by watching Seinfeld, everyone's favorite 90s sitcom about nothing. You see, Ryan and I love to watch a couple of episodes of Seinfeld every night before bed. The episode that inspired this recipe was probably one of the most famous, you know the one. The one with the Soup Nazi. The one where scores of people line up around the block to order some soup so good that they follow a strict set of rules in order to be able to order a cup of it.  Now this isn't the Soup Nazi's recipe, but with madras curry, garam masala, chicken, rice, veggies and coconut milk I bet you'll find your self craving it just as Kramer did.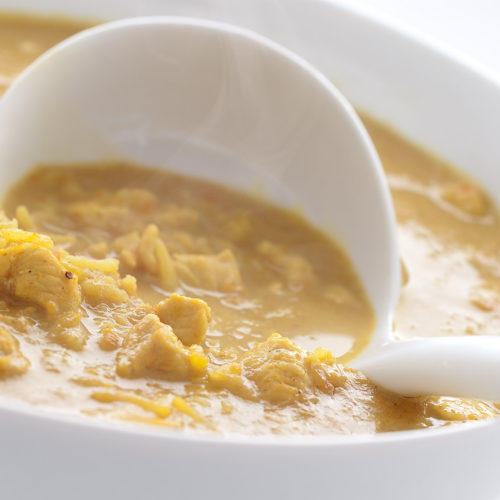 Mulligatawny Soup
Inspired by the 90s sitcom about nothing, this curry spiced soup with chicken and rice is sure to hit the spot on a cold winter's day.
Ingredients:
1

tablespoon

butter

1

tablespoon

olive oil

3/4

cup

chopped onion

1

cup

chopped celery

1

cup

chopped carrots

1/2

cup

chopped

peeled Granny Smith apple

1

tablespoon

all purpose flour

1

tablespoon

Madras curry powder

1/4

teaspoon

garam masala

1/4

teaspoon

turmeric

4

cups

chicken stock

1/2

cup

uncooked basmati or other white rice

2

cups

diced cooked chicken

1/4 - 1/2

cup

unsweetened coconut milk
Heat butter and olive oil in a large dutch oven or heavy pot over medium heat. Once butter has melted stir in onion, celery, carrots and apples. Cook until softened slightly, about 5 minutes, stirring occasionally.

Stir in flour, curry, garam masala and turmeric and cook one minute. Slowly stir in chicken stock. Bring to a boil and reduce heat to low. Simmer for 30 minutes.

Remove soup from heat and use an immersion blender, to puree the soup until smooth (there may still be a few veggie pieces and that is OK). Note: If you don't have an immersion blender, allow soup to cool and blend in batches in a blender or food processor.

Return soup to burner and heat over medium heat. Stir in rice and cooked chicken. Cook 20 - 25 minutes or until rice is cooked. Stir in 1/4 cup coconut milk. Season to taste with salt and pepper and add remaining coconut milk if desired.

Ladle into warm soup bowls and serve.
Keywords:
curry, indian food, turmeric