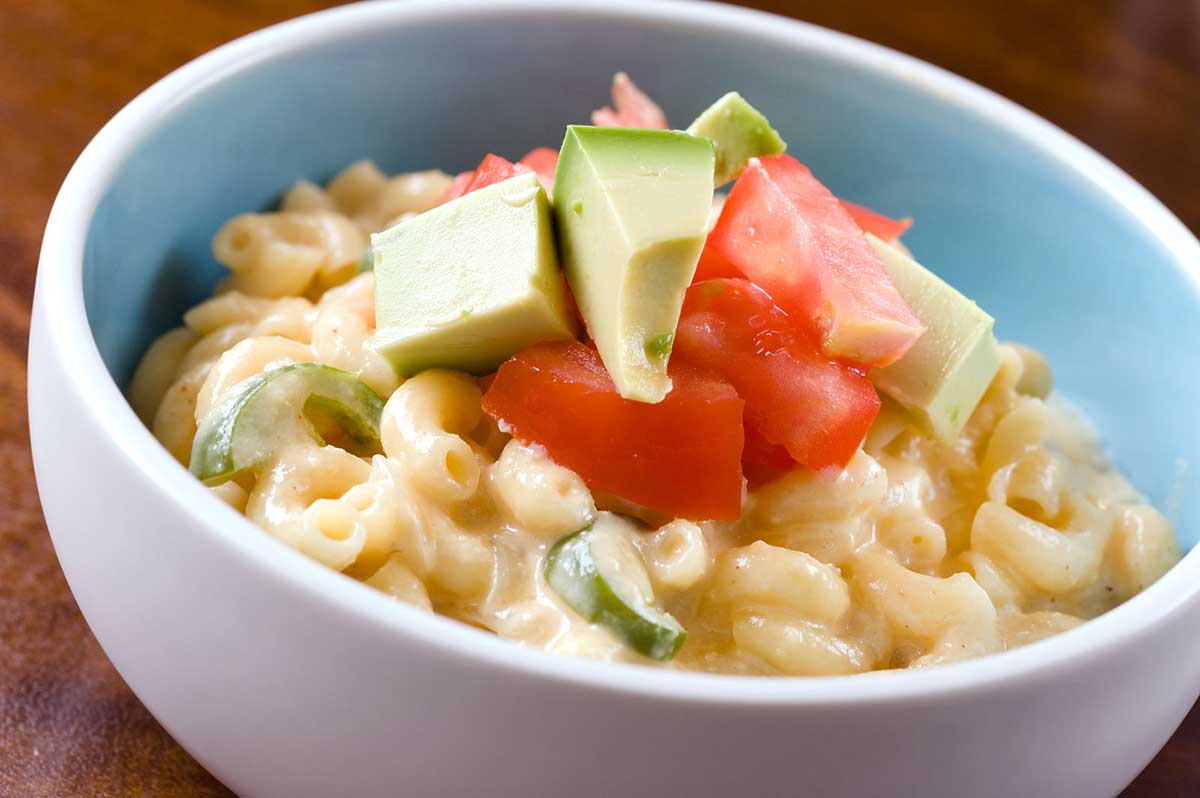 Nacho Mac N' Cheese
There are no if's, and's or but's about it, this recipe is 100% the result of a pregnancy craving. I wanted something creamy. Something a little spicy and to be honest, something completely loaded with cheese and avocados. In my pregnancy state of mind, Nacho Mac n' Cheese seemed like the most logical thing to make. I figured that I would load it with cheese, jalapenos, onions, tomatoes and avocados. And as I found out, while watching Ryan devour a couple of bowls, not all pregnancy cravings are only enjoyed by pregnant women.
Traditionally when I make mac n' cheese, I use the butter, flour, milk method. This is the first time that I used evaporated milk. I have to say, while all the mac n' cheese recipes I've tried that use the other method are equally as delicious, this was by far one of the creamiest I've ever had and the best part is it's all done on the stove top.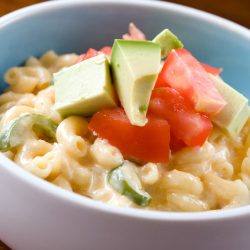 Nacho Mac N' Cheese
Creamy mac n' cheese loaded with avocados, cheese, tomatoes and jalapenos. A recipe 100% the result of a pregnancy craving
Ingredients:
2

cups

dried elbow macaroni

4

tablespoons

unsalted butter

½

medium yellow onion

diced

2

jalapenos

diced

1

12 ounce can evaporated milk

2

eggs

slightly beaten

2

cups

grated medium cheddar cheese

1

cup

grated jack cheese

½

teaspoon

kosher salt

½

teaspoon

ground cumin

¼

teaspoon

chili powder

2 to

matoes

diced

2

avocados

pit and skin removed, diced
Bring a large pot of water to boil and cook pasta 7 – 8 minutes. You want it a little under done at this point because it will continue to cook in the cheese sauce. Drain and rinse under cold running water to stop the cooking.

In the same pot that you cooked the pasta in, melt 2 tablespoons of butter over medium heat. Stir in onions and jalapenos. Cook just until softened, about 3 minutes.

Return the macaroni to the pan and reduce heat to medium low. Stir in the remaining butter. Once butter has melted stir in milk, eggs, cheddar and jack cheese, kosher salt, cumin and chili powder. Sauce will be very thin at this point. Cook for 10 – 15 minutes or until the sauce thickens, stirring frequently. Do not allow the sauce to boil or it will curdle. Remove from heat and let stand 5 minutes. Let stand a little longer if the sauce still appears a little thin. Stir and spoon into bowls. Top each bowl with diced tomatoes and avocados.
Keywords:
American, comfort food, dinner, Food, Macaroni and cheese, nacho macaroni and cheese, nachos, noodles, pasta, pregnancy, Recipe, Vegetarian