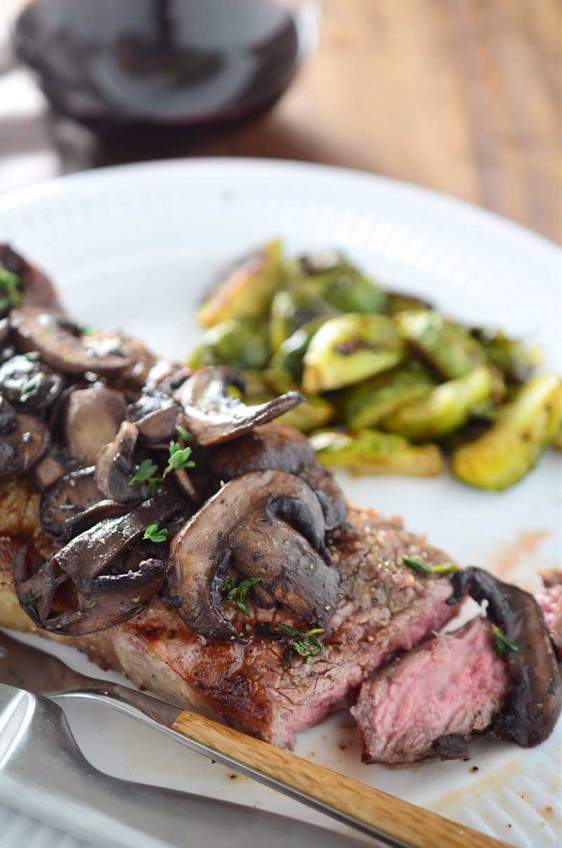 New York Steak with Red Wine Mushrooms
Perfectly grilled New York Strip steak smothered with red wine mushrooms. 
So let's talk date nights. Specifically date nights in. Ryan and I don't have a babysitter so date nights in are a much more common occurrence then a fancy dinner out. When it comes to date nights in, I always turn to steak as my go to dinner. We don't eat steak that often so it screams special occasion meal. This New York Strip Steak with Red Wine Mushrooms is just the latest date night in meal I made and it was a show stopper.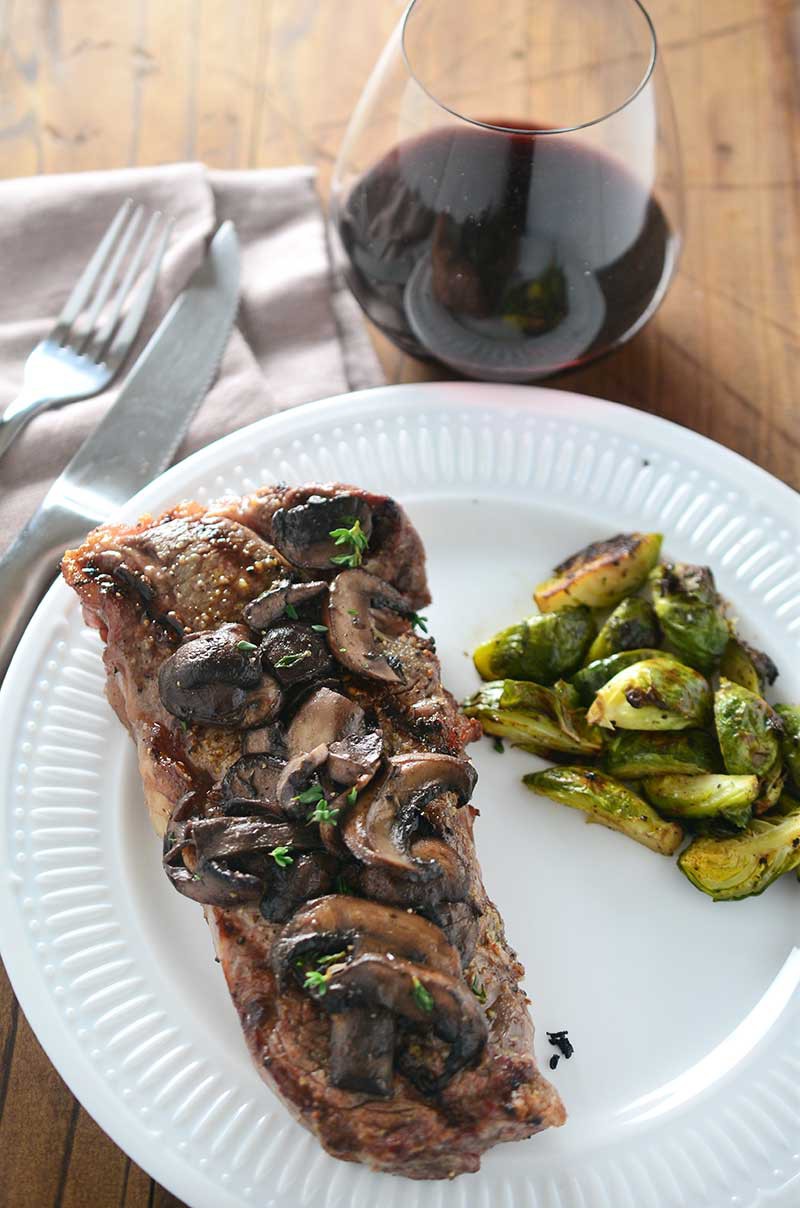 A perfectly cooked steak is pretty good just on it's own but every once in a while I like to make a topping to smother it with. Sautéed mushrooms are always one of my favorites. For this recipe, I decided to make red wine mushrooms. First I sautéed them in butter and oil then I tossed in some fresh thyme and red wine. Oh my gahhh, I could eat these mushrooms by themselves.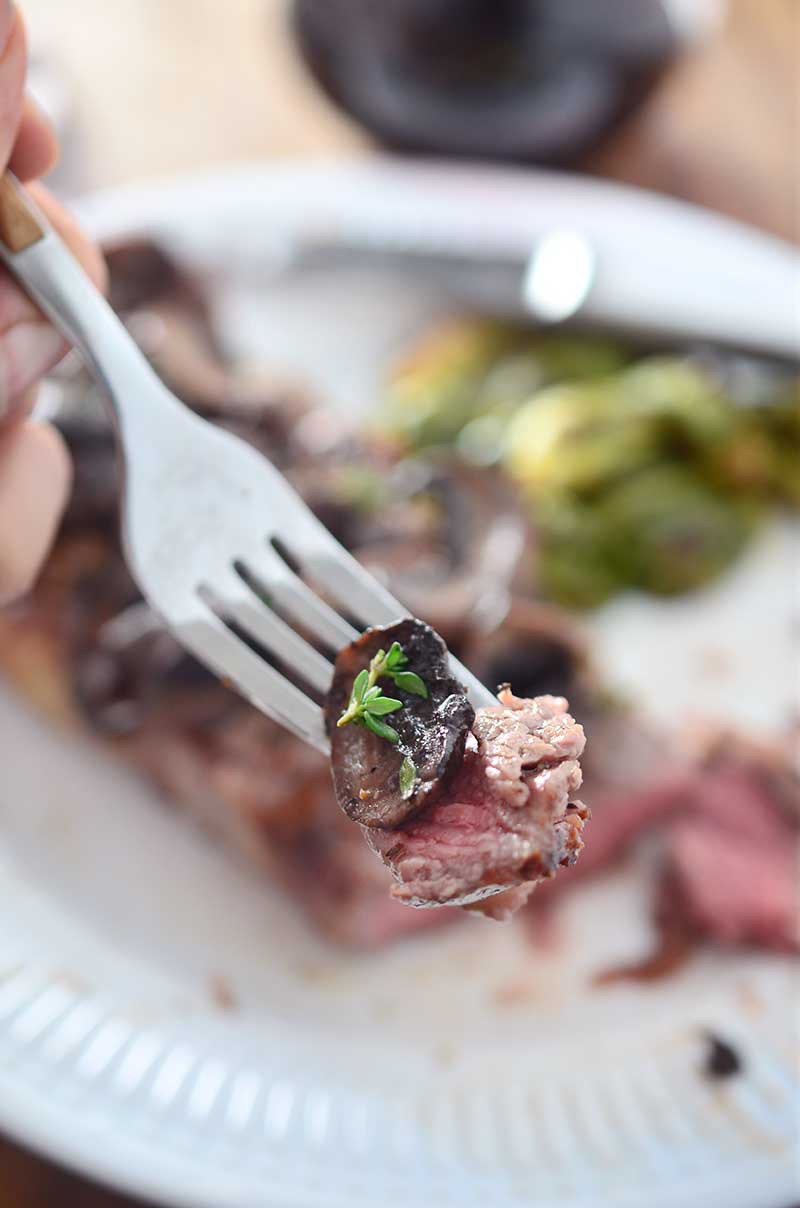 If you don't cook with wine that often, let me give you a little tip that I always use. If you are going to cook with wine, make sure it is a wine that you enjoy drinking. Don't pick something that you wouldn't sit down to drink out of a glass because when you cook with the wine, you concentrate the flavor of it. This doesn't mean that you have go spend a ton of money though! Just pick your favorite budget wine. For these red wine mushrooms I used my favorite budget wine Gnarly Head Old Vine Zin. I can usually find it for about $9 at the grocery store.
And then, of course, after adding it to the mushrooms, I sip on it too :)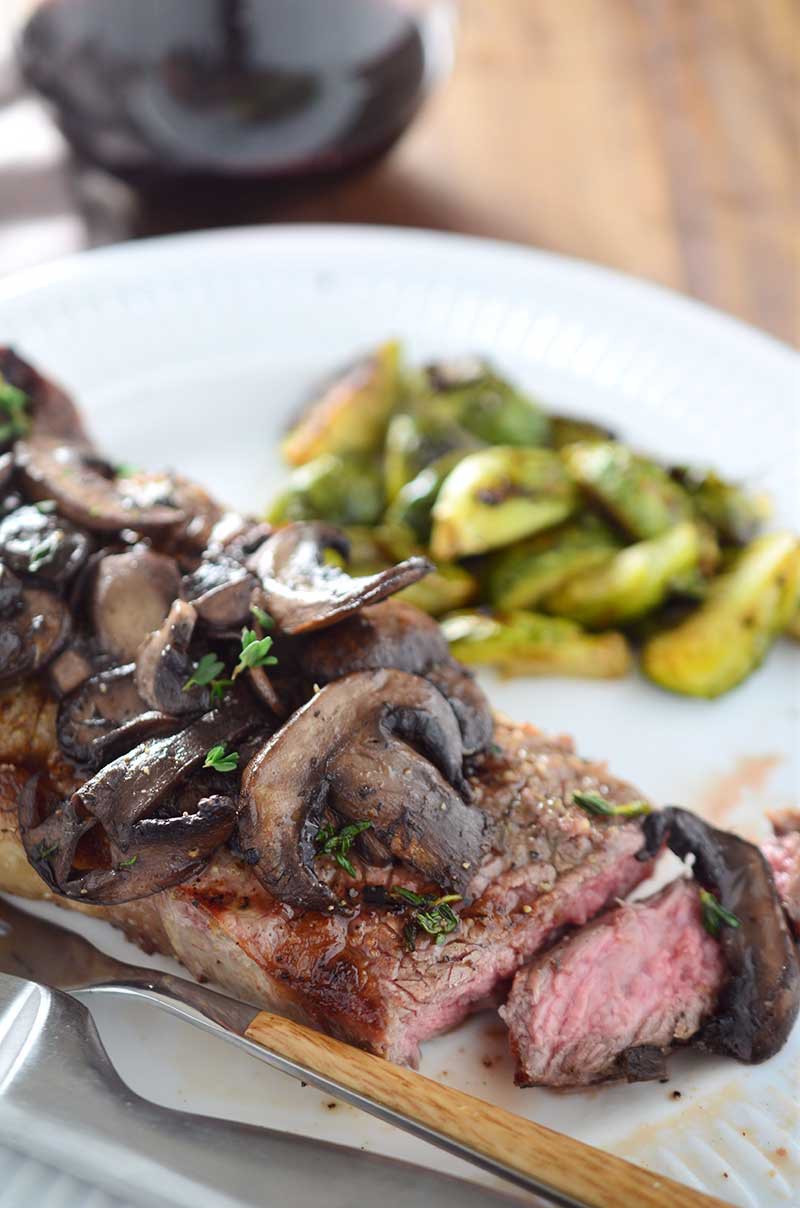 New York Steak with Red Wine Mushrooms Recipe
Ingredients:
4 (1 inch thick) New York Strip Steaks
salt and pepper
2 tablespoons unsalted butter, divided
1 teaspoon avocado oil
4 cups sliced crimini mushrooms
1 tablespoon fresh thyme leaves
1/3 cup red wine
Instructions
1
Season the steaks liberally with salt and pepper.

2
Preheat a grill to medium-high heat. Cook steaks 4 - 5 minutes per side for medium rare. Remove from heat and allow to rest 10 minutes.

3
While steak is cooking, heat 1 tablespoon butter and avocado oil in skillet over medium heat. Once butter has melted cook mushrooms until browned, about 10 minutes.

4
Add in wine, thyme leaves and remaining butter. Cook 5 more minutes. Season to taste with salt and pepper.

5
Transfer steaks to a serving platter and spoon mushrooms over the top. Serve immediately.