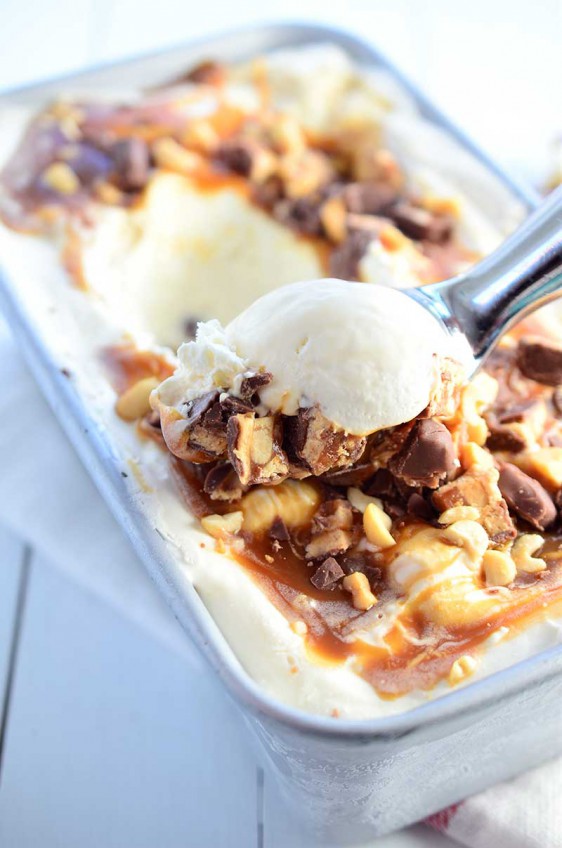 No Churn Snickers Ice Cream
No churn Snickers ice cream is one of the best no-churn ice cream recipes you'll ever make! This easy ice cream recipe is packed with Snickers candies and no ice cream machine is needed! Frozen dessert recipes don't get better than this one!
We have had record setting heat this week in Seattle. We hit the mid 80s. Twice. In April. It's crazy. And the air conditioning in our car is broken. Plus, I just really am a PNW girl at heart and don't do well in the heat. Not complaining at all about the sunshine, but I am always looking for a way to cool down when it hits 80. For this reason, this No Churn Snickers Ice Cream made it on the menu. And this easy Snickers ice cream is so good, that I just had to share it with you today.
It is dangerous how easy it is to make homemade ice cream. I have always, always done it in an ice cream maker. That is, until I tried this Chocolate Creme Egg No Churn Ice Cream last month. No churn ice cream is beyond easy to make. The only equipment you need is a stand or hand held mixer. And for your ice cream base, all you need is 3 ingredients: sweetened condensed milk, vanilla and heavy cream. Then you can add in all kinds of mix-ins. And guys, it is SO creamy and perfect. I swear,  I'm kind of obsessed with it.
I'm also obsessed with caramel right now.
The Nutella Rolo Blondies that I shared last week kicked off this caramel obsession and it continues with this No Churn Snickers Ice Cream.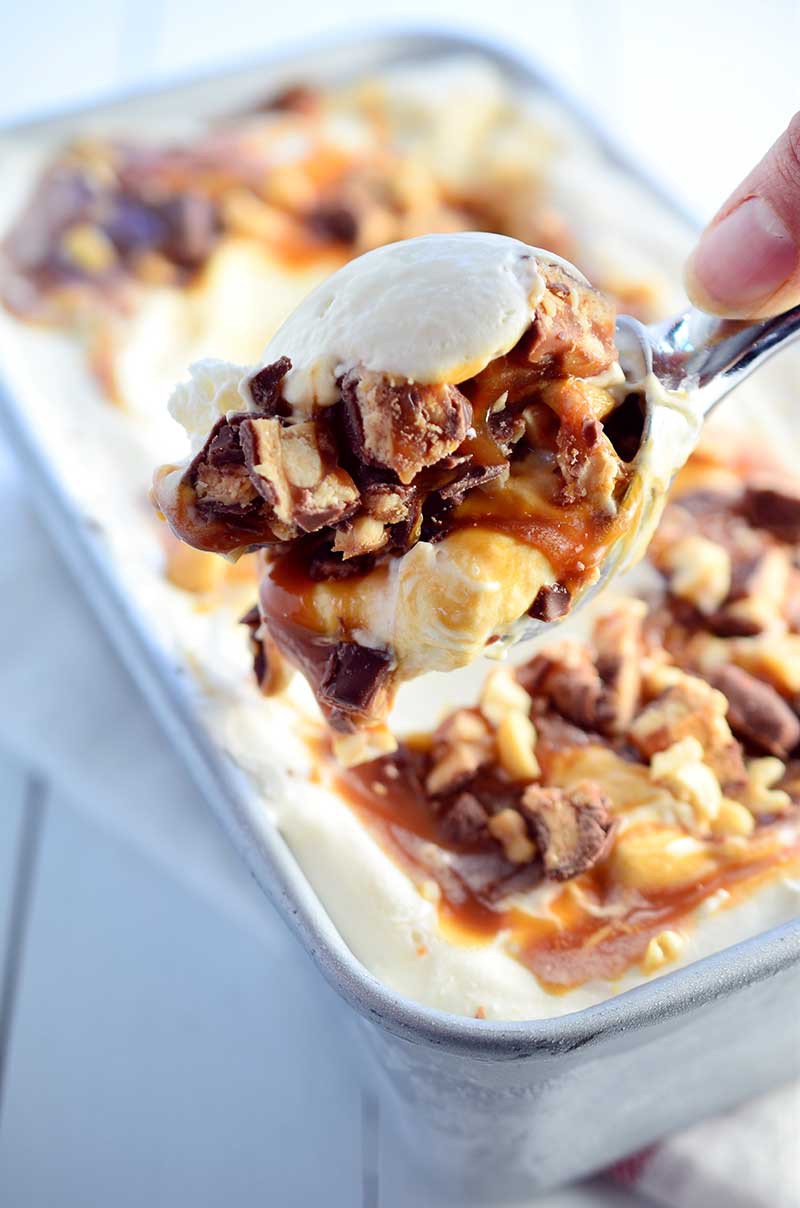 This no-churn ice cream is LOADED, and I mean LOADED, with diced Snickers candy bars.  So you get caramel that way. But that wasn't enough to satisfy this caramel obsession of mine, so I went ahead and added more caramel to the ice cream. And then I drizzled more caramel over the top.
I told you, I'm obsessed with caramel.
And I'm equally obsessed with this No Churn Snickers Ice Cream recipe, too.
One scoop and you'll know what I mean. The candies get a bit crunchy, the ice cream is creamy and the caramel is gooey and chewy. When it comes to ice cream this is the bees knees, friends. The bees knees.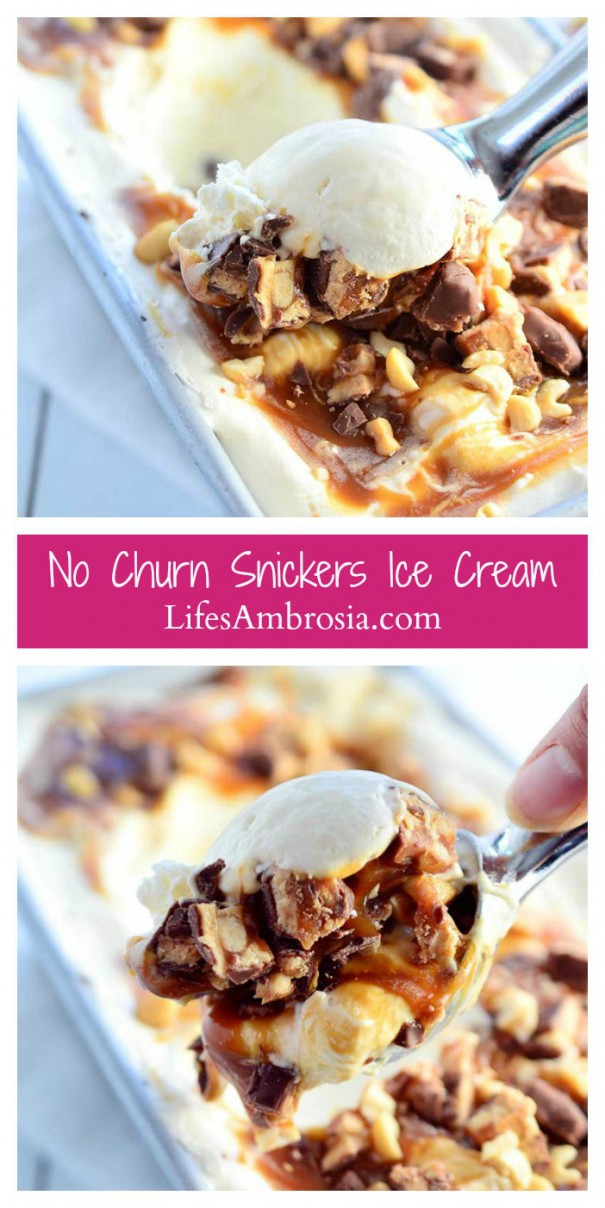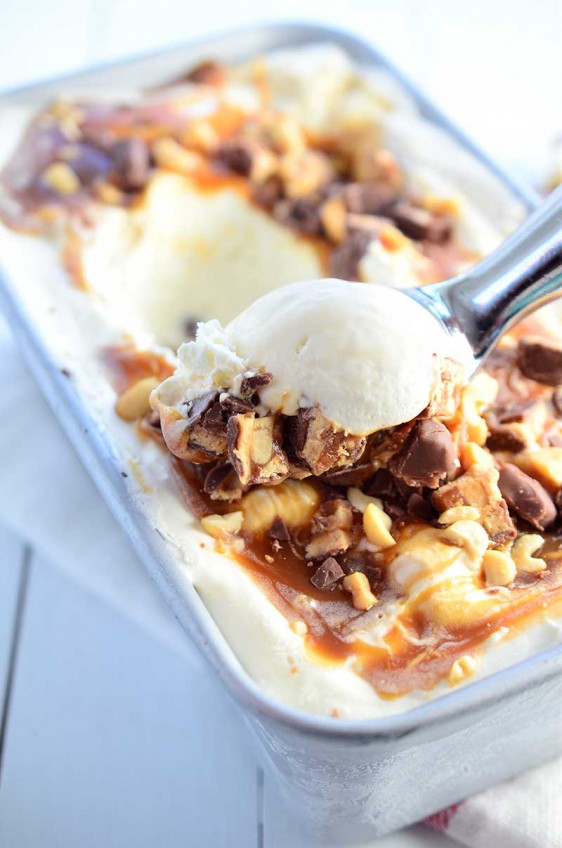 No Churn Snickers Ice Cream
No Churn Snickers Ice Cream is a rich decadent treat loaded with chopped Snickers candies, caramel sauce and chopped peanuts. And it is beyond easy to make!
Ingredients:
1

14 ounce can sweetened condensed milk

1

tablespoon

vanilla extract

2

cups

heavy cream

cold

1 1/4

cup

chopped mini Snickers candies

1/2

cup

caramel sauce

divided

2

tablespoons

chopped peanuts
In a large bowl whisk together sweetened condensed milk and vanilla extract. Set aside.

In the bowl of a stand mixer with the whisk attached (or you can use a hand mixer) whip heavy cream until stiff peaks form, 3 - 4 minutes.

Gently fold one scoop of the whipped cream into the sweetened condensed milk. Once mixed, gently fold in the remaining whipped cream. Mix just until combined, don't over mix.

Spoon half of the ice cream mixture into an 9x5 bread pan. Drizzle 1/4 cup of caramel sauce over top. Scatter 1 cup chopped Snickers candies over the caramel. Spoon remaining ice cream over the top. Spread evenly with a spatula. Drizzle with remaining 1/4 cup caramel sauce. Scatter remaining 1/4 cup Snickers candies and chopped peanuts over the top. Cover and freeze until frozen, at least 4 hours. If you would like a firmer ice cream freeze overnight. Scoop and serve.
Keywords:
ice cream, no churn ice cream, snickers