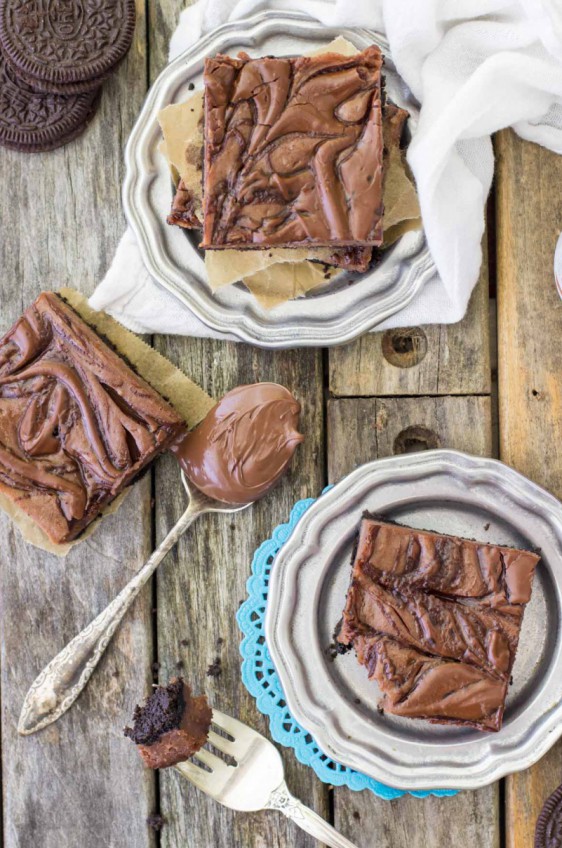 Nutella Cheesecake Bars
Hello again!  Sam here from Sugar Spun Run with another dessert recipe for you this week!  I hope you enjoy these Nutella Cheesecake Bars!
In my household, Nutella is a dangerous thing.  It's best kept heavily guarded under lock and key from my prying spoons, or bought only in small enough quantities that I have just enough to make a particular recipe.
But I made a bad decision — I bought a huuuuge jar of Nutella thinking this recipe may take a few times to perfect, and it actually turned out exactly right on the second try.  Leaving me with approximately one half of said huuuuge jar of Nutella right in the front of my pantry.
It's staring me down every time I reach for a box of pasta or a healthy snack and, honestly, it's a big problem.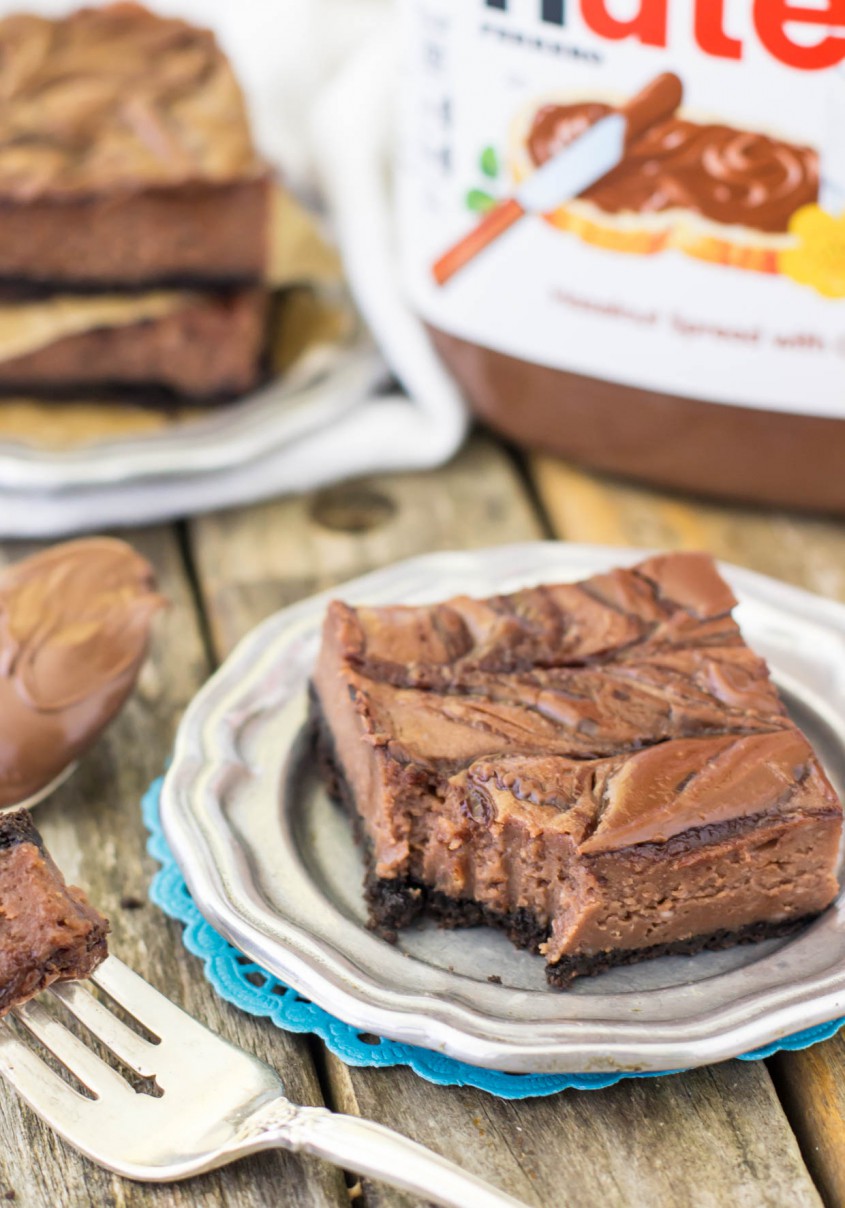 Nutella is delicious, addictive, and so tempting to just shovel in your mouth by the spoonful, but I've found a much better way to eat it than by itself (believe it or not).  The one thing that might just be better than plain Nutella is these Nutella Cheesecake Bars.  And now instead of spooning Nutella into my mouth, I'm binge-baking these cheesecake squares.
With a crunchy Oreo cookie crust, and a rich, thick Nutella layer generously swirled over the top of these creamy-delicious cheesecake bars, this dessert is cheesecake perfection.  No waterbath or any of that nonsense here, just a simple sweet recipe that can be oven-ready in less than 30 minutes.
Normally I love using sour cream in my cheesecake recipes, but I found here that the sour cream added too much tang (which I normally love) and took away a bit from the Nutella flavor, so it had to go.  Instead, 3 tablespoons of heavy cream are used, which makes this dessert wonderfully creamy and takes nothing from the chocolate/hazelnut flavors.
Enjoy!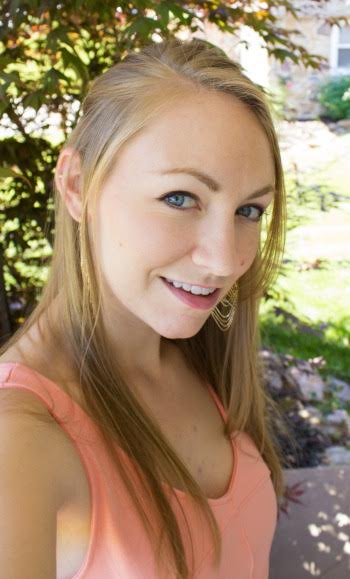 Connect with Sam ~ Blog ~ Facebook ~ Pinterest ~ Instagram ~ Twitter

Nutella Cheesecake Bars Recipe
Crust Ingredients:
Crust
18 Oreo cookies
3 Tbsp butter, melted
Cheesecake Ingredients
16 oz cream cheese

1/2 cup sugar

3/4 cup + 1/4 cup Nutella, divided

3 Tbsp heavy cream

2 eggs

1/2 tsp vanilla
Instructions
2
In food processor, pulse Oreo cookies until pulverized to fine crumbs.

3
Add melted butter and pulse until well-combined.

4
Press crumbs evenly into the bottom of a foil-lined 9x9 pan.

5
For the filling, beat together cream cheese, sugar, and Nutella until completely combined.

6
With mixer on low speed, add heavy cream. Gradually increase speed to high and beat for one minute.

7
Pause to scrape down the sides and bottom of the bowl and beat again until combined.

8
Stir in eggs, one at a time, until completely combined.

10
Pour cheesecake batter over your Oreo crust in 9x9 pan.

11
In a small, microwave-safe bowl, heat the remaining 1/4 cup Nutella for about 10 seconds in the microwave to soften.

12
Drizzle Nutella over the top of the cheesecake batter (use a toothpick to swirl, if desired).

13
Bake on 350F for 35 minutes.

14
Allow to cool for one hour at room temperature, then transfer to refrigerator to chill at least 6 hours before cutting and serving.