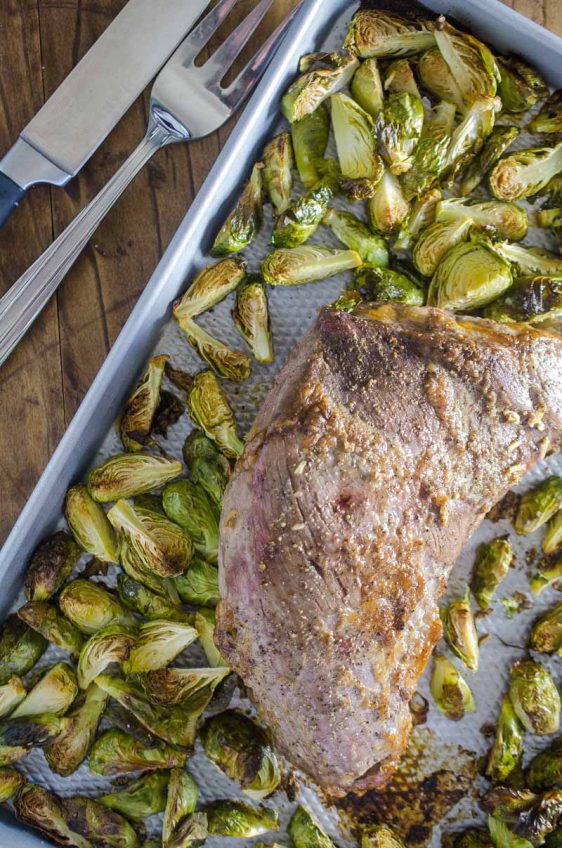 One Pan Roasted Beef Tri-Tip & Brussels Sprouts
Your whole family will love this easy and delicious One Pan Roasted Beef Tri-Tip & Brussels Sprouts!
 This post is sponsored by the Washington State Beef Commission. I am grateful for my sponsors as it allows me to bring you beautiful free content! 
You guys! I am so excited today! Why am I excited you ask? Well I am excited because this post marks the first in a series where I partner with the Washington State Beef Commission. For the next few months, I will be going through a journey where I learn more about beef, how it's raised, what the different cuts are and what health benefits it has.
I'll be sharing 6 recipes in all. Each recipe will be provided by the Washington State Beef Commission. The journey will culminate in me participating in the 2017 Beef Exploring Experience. I'll be sharing each step of the journey with you and through Instagram so be sure to follow along!
One thing I was surprised to learn , is that beef is loaded with 10 different nutrients and some cuts can be as lean as a skinless chicken thigh! Crazy right? I had no idea.
To start my beef journey, I am sharing a recipe that is both super easy and one that introduced me to  cut of meat that I don't use often. One Pan Roasted Beef Tri-Tip & Brussels Sprouts is exactly that.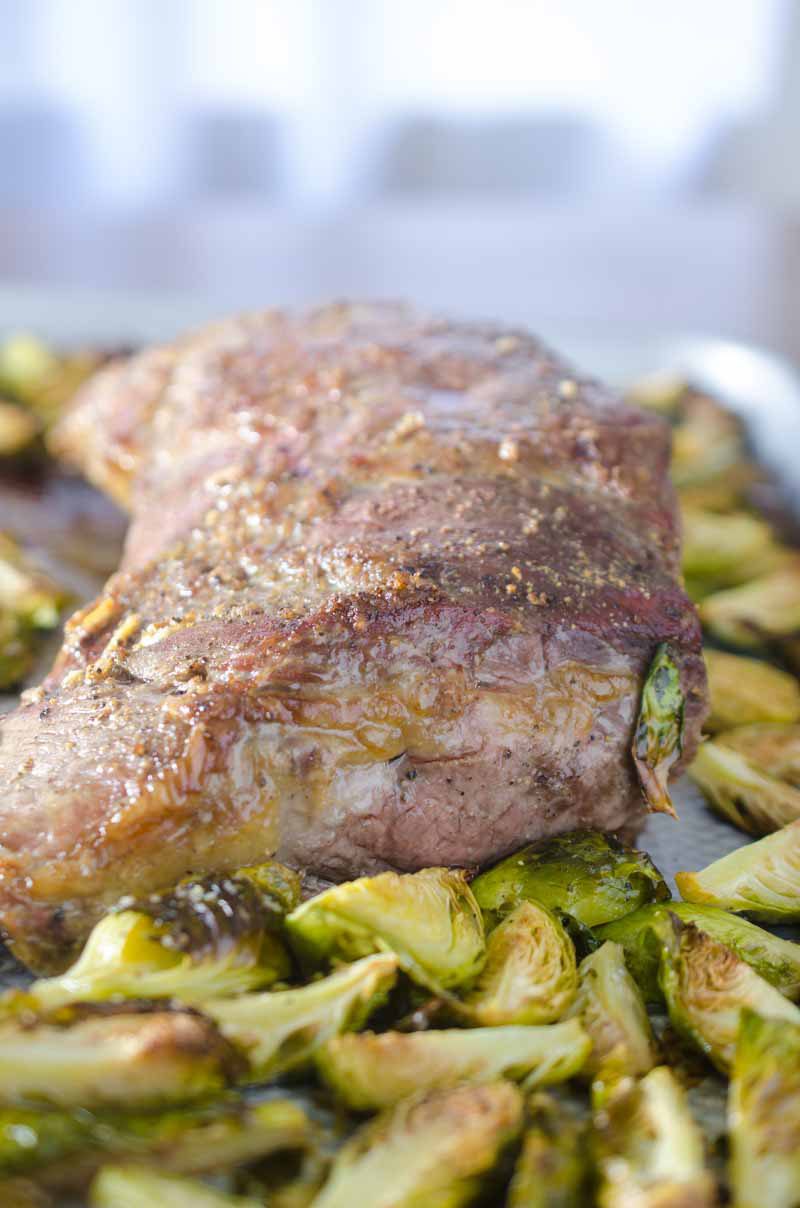 Tri-tip roast is a cut from the loin. It is lean, has little marbling but is full of beef flavor. I love that the beef in this recipe is so simply seasoned with salt, pepper and garlic. The simple seasoning let's the beef flavor really shine through.
I cooked this tri-tip roast to medium-rare. The important thing to remember when cooking steaks or roasts is that the meat needs time to rest. And, during the resting time, the meat will continue to cook. That is why it's important to take meat off of the heat when it is still about 5 degrees below the temperature that you want it.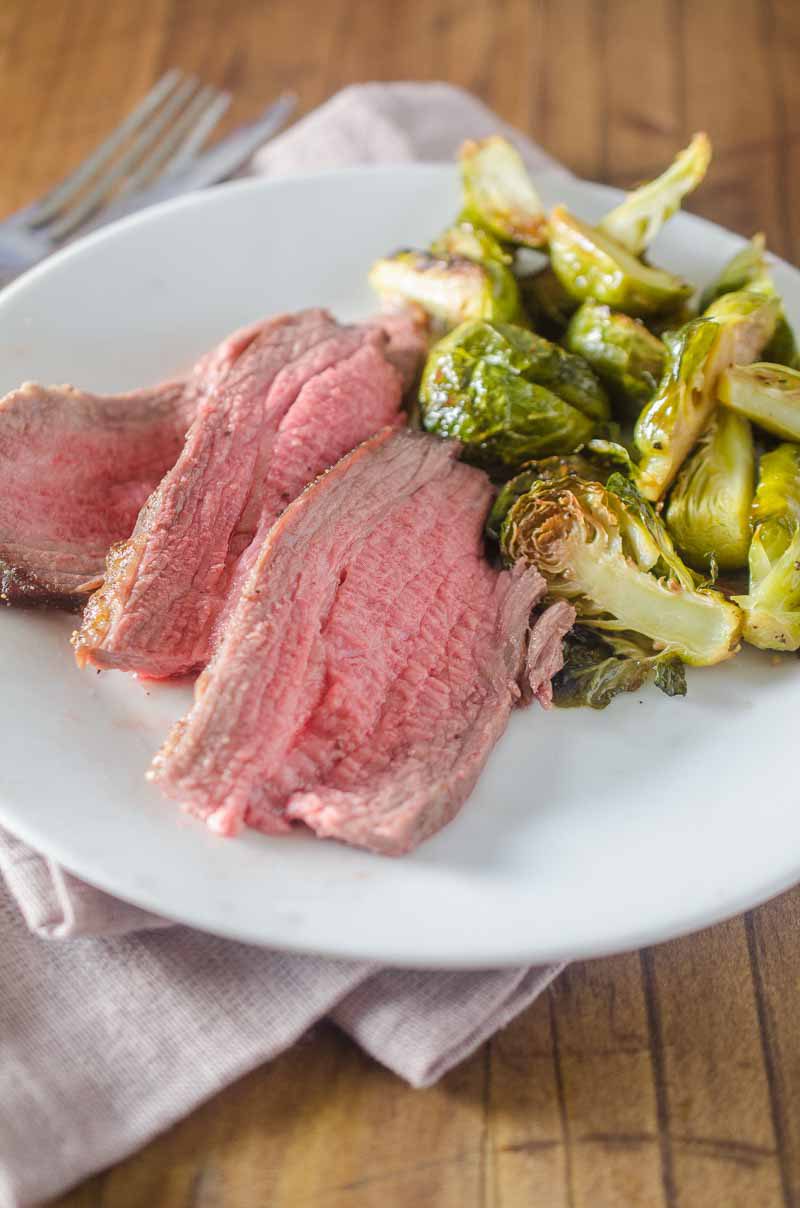 The other thing I loved about this One Pan Roasted Beef Tri-Tip is that it's roasted with brussels sprouts. This way you get your protein and veggies all done together at the same time. Totally makes dinner a breeze!
For more beef deliciousness be sure to checkout Beef- It's What's For Dinner.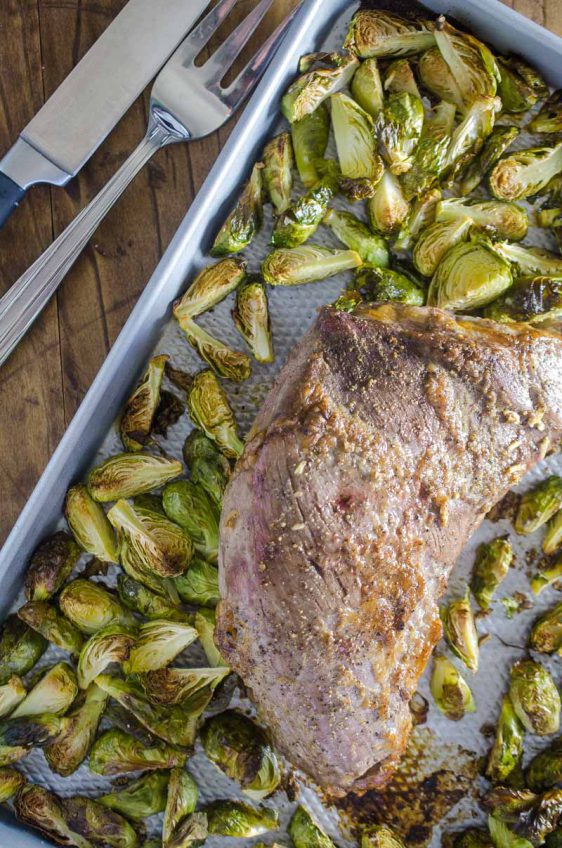 One Pan Roasted Beef Tri-Tip & Brussels Sprouts
Preheat oven to 425°F. Combine 1 teaspoon salt, 1 teaspoon pepper and garlic; press evenly onto all surfaces of beef roast. Place roast on rack in shallow roasting pan. Insert ovenproof meat thermometer so that tip is centered in thickest part of beef, not resting in fat. Do not add water or cover.

Lightly coat Brussels sprouts with nonstick cooking spray. Add remaining 1/2 teaspoon salt and remaining 1/2 teaspoon pepper; toss to coat. Arrange Brussels sprouts around roast in roasting pan.

Roast 425°F oven for 40 to 50 minutes for medium rare; 50 to 60 minutes for medium doneness. Remove roast when meat thermometer registers 135°F for medium rare, 150°F for medium. Transfer roast to carving board; tent loosely with aluminum foil. Let stand 15 to 20 minutes. (Temperature will continue to rise about 10°F to reach 145°F for medium rare, 160°F for medium.) Brussels sprouts should be crisp around the edges and tender. Carve roast into slices. Serve with Brussels sprouts.
Recipe courtesy of: The Beef Checkoff.
Keywords:
beef, one pan dinner, sponsored