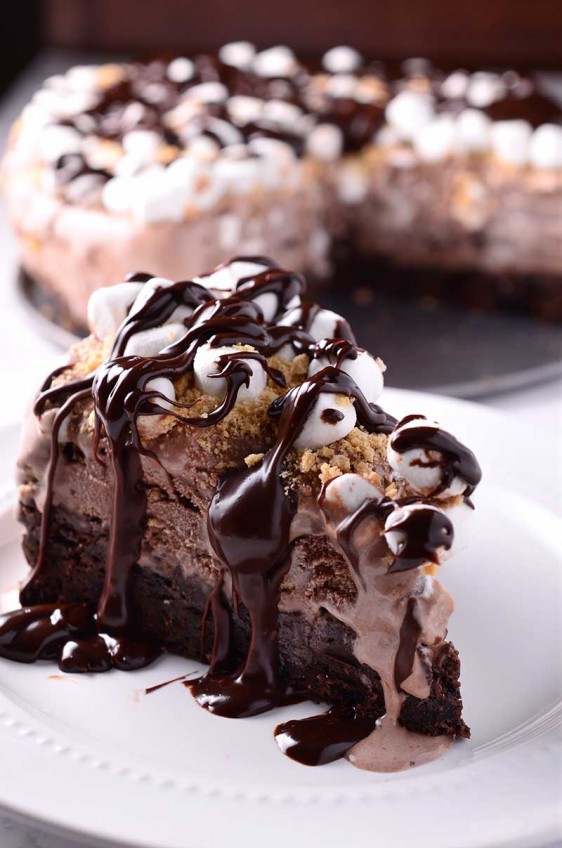 Oreo Brownie and S'mores Ice Cream Cake
This decadent Oreo Brownie & S'mores Ice Cream Cake has a brownie crust, s'mores ice cream, marshmallows, graham cracker crumbs & chocolate ganache.
Guys, I've gone all kinds of decadent on you today with this Oreo Brownie and S'mores Ice Cream Cake. First off you've got a layer of fudgy Oreo brownies. Next on top of that you have the most amazing ice cream ever, Tillamook Fireside S'mores. Then on top of that you've got a layer of mini marshmallows. Then some graham cracker crumbs. And then, if all that isn't enough, the whole darn thing is drizzled with chocolate ganache. Get ready friends, this will be your favorite dessert this summer.
When it comes to dessert I'm a brownie girl and an ice cream girl. If a brownie or ice cream is available I'll pass up pies. I'll pass up cakes, cupcakes and puddings. Brownies and ice cream are totally my jam. But put ice cream ON TOP of the brownie and it's a whole new ball game.
I chose to use my recipe for Oreo Brownies in this recipe because it is one of my favorites. Gooey and fudgy with just the right amount of crunch from the crushed oreos.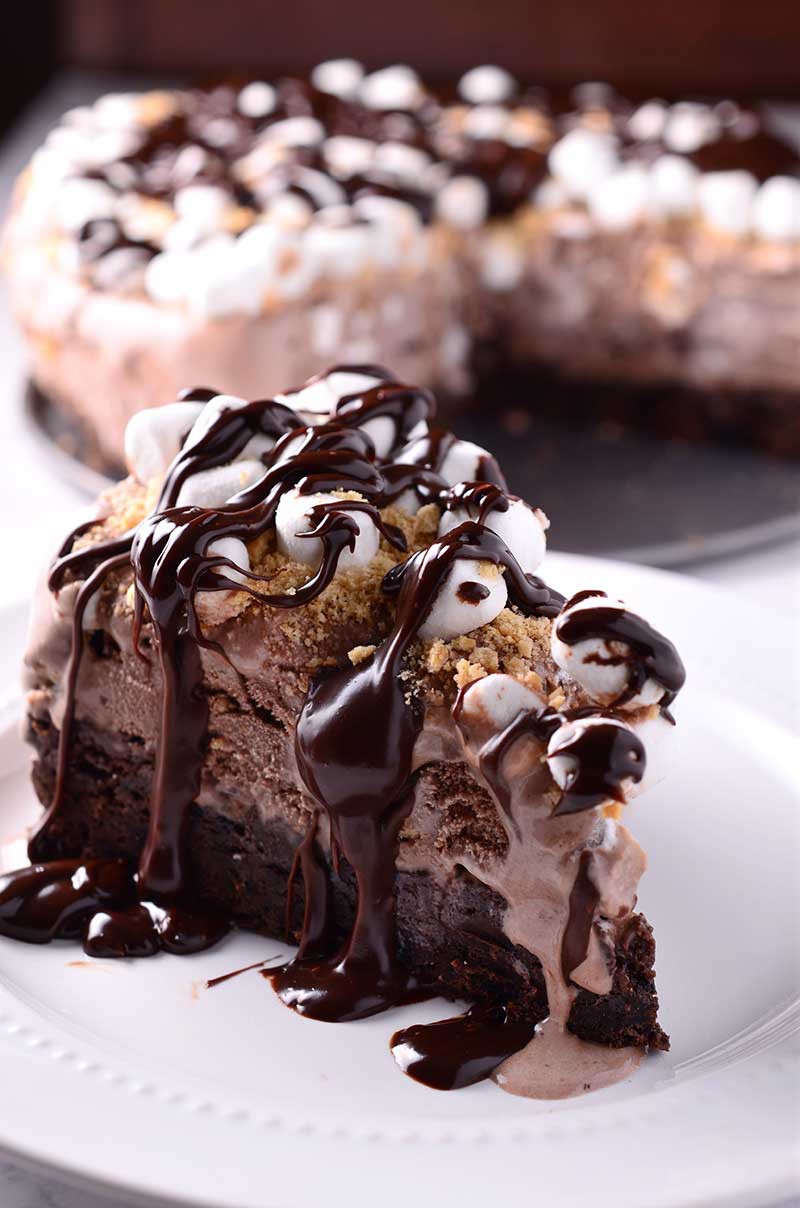 I chose to use Tillamook Fireside S'mores Ice Cream because it is all kinds of amazing. Sure, I could've made my own chocolate ice cream to go on top but Fireside S'mores is probably the best ice cream ever. It's loaded with marshmallow cream and these little tiny chewy bits of graham crackers. Seriously, if you have never had this ice cream you need to get yourself some. And I promise, the lovely folks at Tillamok aren't the ones asking me to talk to you about this ice cream, this is truly my favorite ice cream.
So if you're counting we've got the Oreo Brownies and we've got the s'mores ice cream. Next up are the mini marshmallows, the graham cracker crumbs and then comes the hard part: You've got to freeze it for at least 4 hours. I know, I know, but it has to be done. Keep yourself busy. Clean the house. Read a book. Catch up on some trashy TV. Just don't sit in front of the freezer counting down the time. It'll take forever that way.
Trust me.
Once it's been 4 hours, make the homemade chocolate ganache. It sounds fancy but takes literally less than 5 minutes to make. Then drizzle it over the top of the cake.
Bam: Oreo Brownie and S'mores Ice Cream Cake
There is just one more hard part: to share or not to share?

Oreo Brownie and S'mores Ice Cream Cake Recipe
Oreo Brownie Crust:
1/2 cup unsalted butter
1/2 cup unsweetened cocoa powder
1 cup granulated sugar
2 eggs
1 teaspoon vanilla extract
1/2 cup all purpose flour
1 teaspoon baking powder
1/4 teaspoon salt
1 cup crushed oreo cookies (or other chocolate cookies)
Ice Cream Layer:
1/2 gallon Tillamook Fireside S'mores Ice Cream

1 1/2 - 2 cups mini marshmallows

1/2 cup crushed graham crackers
Chocolate Ganache
1/4 cup heavy cream

1/2 cup semi-sweet chocolate chips
Instructions
1
Preheat oven to 350 degrees. Spray the bottom of a 9 inch springform pan with non-stick spray.

2
Melt butter in a skillet over medium-low heat. Once melted, mix in cocoa powder. Allow to cool 10 minutes.

3
Whisk sugar into cocoa mixture. Whisk in eggs one at a time. Whisk in vanilla.

4
In another bowl combine flour, baking powder and salt. Slowly whisk into the cocoa mixture. Fold in crushed cookies.

5
Spoon batter into prepared baking pan. Bake for 20 - 25 minutes or until a toothpick inserted comes out with just a few crumbs on it.

6
Remove from oven and allow to cool completely.

7
While cooling, place ice cream on the counter for 20 minutes to soften.

8
Spread softened ice cream over brownies. Top with marshmallows and graham crackers. Place in the freezer until frozen, at least 4 hours or overnight.

9
Carefully remove the outer ring of the springform pan.

10
To make the ganache, heat heavy cream in the microwave for 30 seconds or just until steaming. Stir in chocolate chips. Allow to set for 1 minutes. Begin stirring and stir until smooth and shiny.

11
Drizzle ganache over the cake, slice and serve.