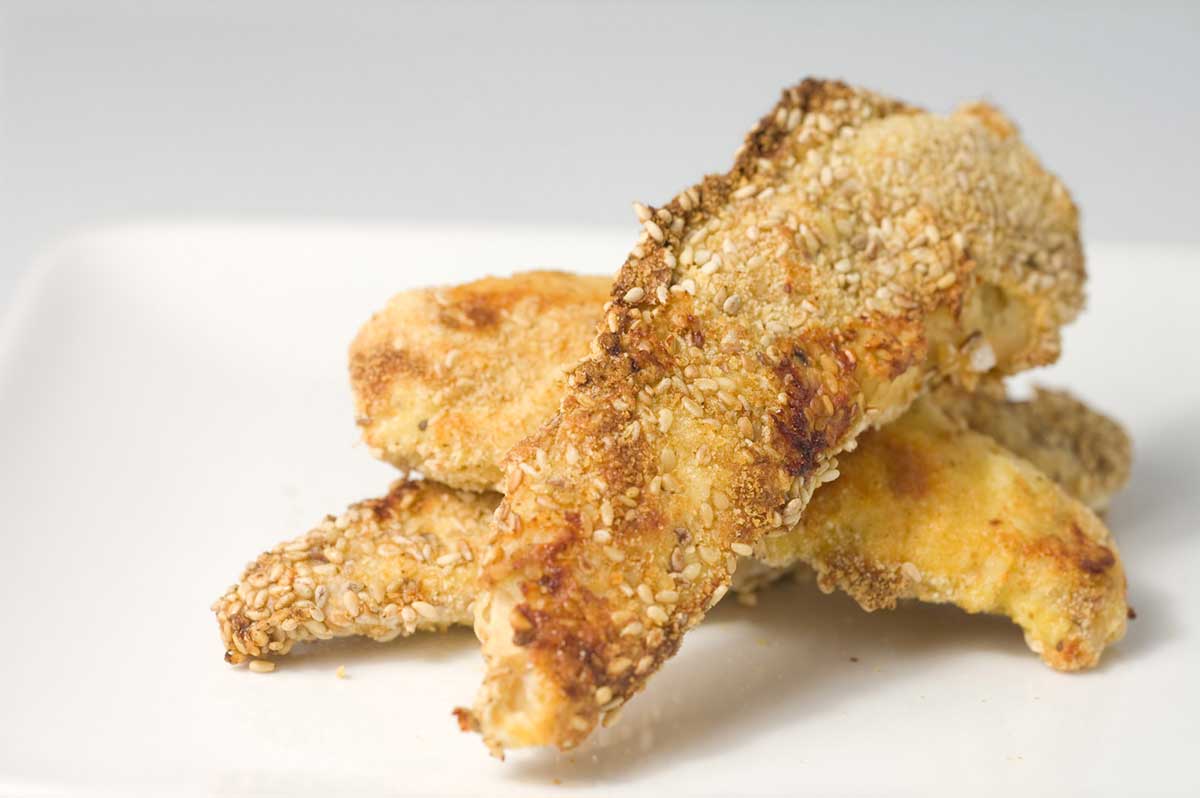 Oven Baked Sesame Chicken Strips
One of my favorite weeknight dinners to make is chicken strips because they are quick and usually a crowd pleaser. When the craving strikes, I usually turn to my recipe for Crunchy Cajun Chicken Tenders, but this week I wanted to try something a little different. I love the combination of sesame seeds and chicken and I happened to have a huge jar of sesame seeds in my pantry so I decide to make Sesame Chicken Strips. The best part about these is that the combination of the sesame seeds and bread crumbs crisp up nicely in the oven so you can bake these instead of frying them.
I usually use panko bread crumbs for recipes like this but I ran out this week. Instead I substituted plain bread crumbs for this recipe and they worked just fine. However, if you do have panko bread crumbs around the house, they would make these even crunchier.
Oven Baked Sesame Chicken Strips Recipe
Ingredients:
non-stick spray
1/2 cup flour
kosher salt
fresh cracked pepper
1/4 teaspoon granulated garlic
2 egg
1/2 cup plain dry bread crumbs or panko bread crumbs
1/2 cup sesame seeds
1.5 to 2 pounds chicken tenders
Instructions
1
Preheat oven to 350 degrees.

2
Place foil on a cookie sheet. Spray with non-stick spray and set aside.

3
In one bowl or a resealable plastic back combine flour, salt, pepper and granulated garlic.

4
In another bowl beat the eggs.

5
In a third bowl, combine bread crumbs and sesame seeds.

6
Dredge each strip in the flour (or shake in the bag to coat). Shake off any excess. Dip in the egg. Press into the bread crumb/sesame seed mixture. Repeat until all the chicken tenders are coated.

7
Place coated chicken tenders on prepared baking sheet. Bake for 15-20 minutes, turning after 10 minutes. Turn oven to broil setting, broil for 3-4 for minutes or until browned. Serve.
Notes
Ryan requested the same honey mustard I make for my cajun chicken tenders for dipping sauce, so I made that and it was the perfect dip. But I bet these would also be good dipped in teriyaki or sweet and sour sauce. Enjoy!