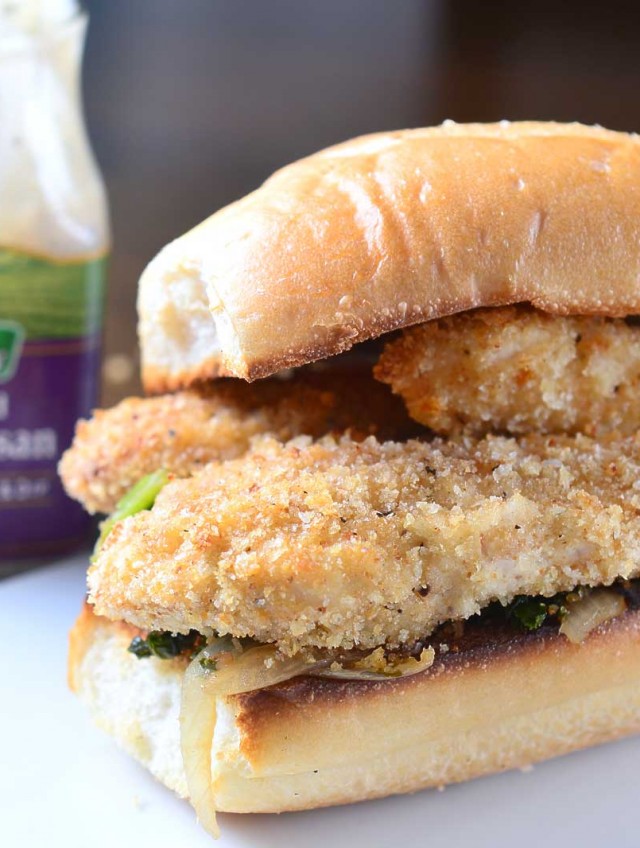 Oven Roasted Garlic Parmesan Crispy Chicken Sandwich
With Warm Kale Slaw. That's right, there is so much deliciousness in this sandwich that I couldn't fit it all in the title. But it's there. All of it. Chicken tenders marinated in Hidden Valley Oven Roasted Garlic Parmesan Spread then baked until golden and crispy. Warm kale slaw with kale, onions and a little more of the spread. All piled high onto a crispy roll. It is one heck of a sandwich, friends.
I have never really been a sandwich person. Maybe it's because for so long they were always so uninspired. Usually some kind of sandwich meat, mayo and bread and that was all she wrote. But Ryan loves sandwiches. Like loves them. We're talking he eats one almost every day. So over the years, I've done some more experimenting with them. Making them more than just meat and bread. One of my favorite ways to experiment is using different spreads to jazz things up a bit so when the nice folks at Hidden Valley contacted me and asked if I wanted to try their new line of sandwich spreads I was all over it.
They have created four new sandwich spreads: Spicy Chipotle Pepper, Smoked Bacon Ranch, Country Herb Ranch and Oven Roasted Garlic Parmesan. How awesome do all of those sound? Talk about a flavor boost for sandwiches. I have so many ideas floating around in my head for how I can use them.
For this recipe, I chose to use the Oven Roasted Garlic Parmesan spread for one simple fact, I adore roasted garlic. And I wasn't disappointed. The chicken, after being marinated in the spread, was flavorful and oh so tender. Then to get just a bit more of the roasted garlic Parmesan flavor, I added a bit to the warm kale slaw. The result was a delectable sandwich that made me realize maybe I am becoming a sandwich person after all.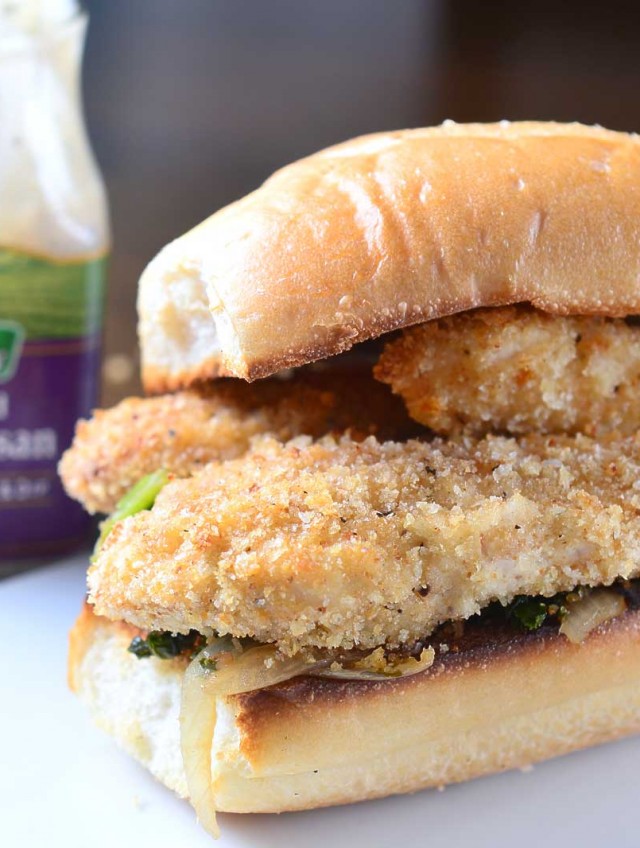 Oven Roasted Garlic Parmesan Crispy Chicken Sandwich
Crispy oven roasted garlic Parmesan chicken tenders, baked until golden and piled on a toasted bun with a warm kale slaw
Oven Roasted Garlic Parmesan Crispy Chicken Sandwich Ingredients:
Warm Kale Slaw Ingredients:
Place chicken tenders in a resealable plastic bag, add in sandwich spread. Seal the bag and shake to coat the chicken. Refrigerate for at least 2 hours.

Preheat oven to 400 degrees. Place a cooling rack on top of a baking sheet. (This help both sides get crispy while cooking)

In a bowl combine panko bread crumbs, plain bread crumbs, salt, pepper and olive oil. Mix just until the bread crumbs are lightly coated in the oil.

Dredge the marinated chicken tenders into the seasoned bread crumbs. Place on the cooling rack on top of baking sheet. Bake for 15 minutes. Turn, drizzle lightly with olive oil and bake for 10 more minutes or until chicken is cooked through and browned. Remove.

While chicken is cooking, prepare the slaw by heating the olive oil in a skillet over medium heat. Add in onions. Cook just until softened, about 3 minutes. Add in kale. Cook until wilted, about 2 minutes. Stir in Oven Roasted Garlic Parmesan Spread.

Turn on the oven broiler and toast the bread.

Place warm slaw on the bottom slice of bread. Top with 2 or 3 chicken tenders and top slice of bread. Repeat with remaining ingredients to make 4 sandwiches. Serve.
Enjoy!
Hidden Valley's line of new Sandwich Spreads & Dips will take your boring sandwich routine to another level. With new flavors like Spicy Chipotle Pepper and Oven Roasted Garlic Parmesan, your mouth will be thanking you and you'll be on your way to delivering sandwich-envy.
This is a sponsored conversation written by me on behalf of Hidden Valley Ranch. The opinions and text are all mine.
Keywords:
chicken, Food, Hidden Valley Sandwich Spread, kale slaw, Recipe, sandwich