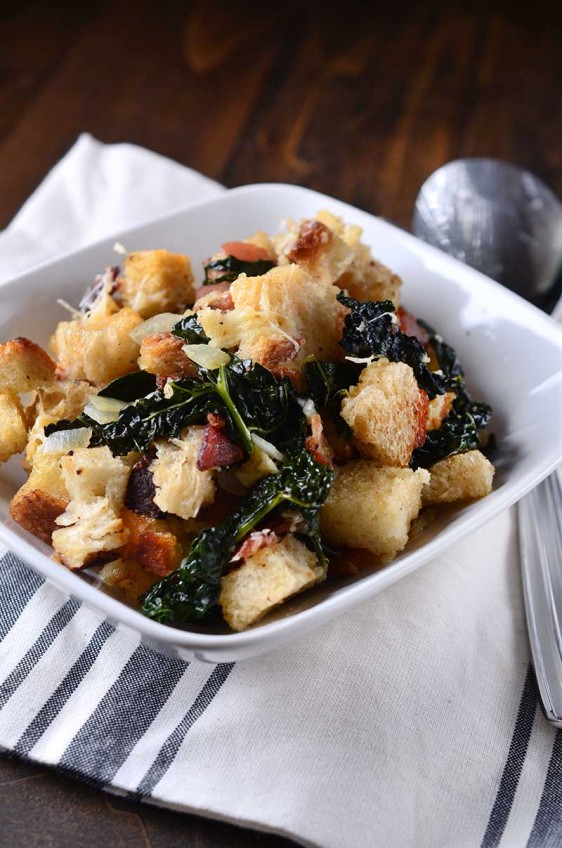 Parmesan, Bacon and Kale Stuffing
Thanksgiving is next week. Can you believe it? I can't. Are you ready? Have you planned your menu yet? I hope you still have room for one more side because this rustic stuffing will make the perfect addition to your table.
For me, mashed potatoes have always been the star of Thanksgiving, but lately, as I experiment more with a stuffings, I am becoming quite the fan. It turns out there is more then one way to make stuffing. You can add so many different things. Use different kinds of bread. Add different meats, veggies and cheeses. During my experimenting, I have learned that there are a few things that make a good stuffing in my book:
1. It cannot be soggy. I don't like soggy stuffing at all. I actually prefer the bread to still be slightly crunchy.
2. Meat makes stuffing extra hearty.
3.  Adding cheese is ALWAYS a win. (this goes for many things aside from stuffing)
This rustic Parmesan Bacon and Kale stuffing is all of these things. I used the rustic stuffing bread that you can buy in the package at Whole Foods only because I didn't have the time to dry out some of my own. If you have the time ,by all means, get yourself some rustic Italian bread, cube it and let it sit out for a day or so. It makes the perfect base for this stuffing.
I chose to use kale and parmesan in this recipe because I think they pair really well together and I love to sneak more greens into meals whenever I can. I used lacinato kale in this recipe. Lacinato kale is also known as Tuscan kale or dinosaur kale. It is actually my favorite variety of kale, it has a nice earthy flavor and I find it a little less bitter then the more common curly kale. You can find it in the produce section next to the curly kale. Look for dark blue-green leaves.
I also decided to add bacon to this stuffing because…bacon.
So if you still have room on your Thanksgiving menu and you're in the mood to try something a little different, this Parmesan, Bacon and Kale stuffing is just what you need.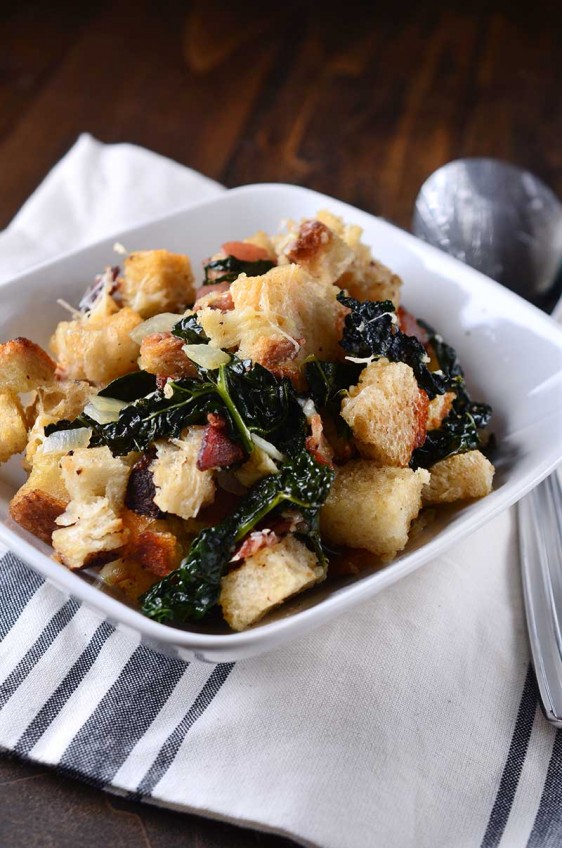 Parmesan, Bacon and Kale Stuffing
A rustic stuffing with crusty bread, kale, bacon and Parmesan cheese.
Ingredients:
10

slices

bacon

diced in 1 inch pieces

5

tablespoons

unsalted butter

1

tablespoon

olive oil

1

cup

diced yellow onion

2

cloves

garlic

minced

6

cups

chopped lacinato kale

12

ounces

rustic bread cubes

1 1/2 - 2

cups

chicken broth

salt and pepper to taste

1

cup

shredded Parmesan cheese
Preheat oven to 350 degrees. Butter a 9 x 13 inch baking dish.

Cook bacon until cooked through. Use a slotted spoon to transfer to a paper towel lined plate. Set aside.

Heat butter and olive oil together in a large pan until butter melts. Add in onions and garlic. Cook 2 minutes or until softened. Mix in kale and cook just until wilted, about 1 minute. Add in bread crumbs and toss until mixed well. Pour 1 1/2 cups of broth over the top and mix again. If mixture appears too dry add remaining 1/2 cup of chicken broth. Season to taste with salt and pepper.

Spoon stuffing into prepared baking dish. Cover loosely with aluminum foil and bake for 20 minutes. Uncover, sprinkle Parmesan over the top and bake for an addition 5 - 10 minutes or until cheese melts slightly. Serve hot.
Keywords:
bacon, dressing, side dish, stuffing, thanksgiving