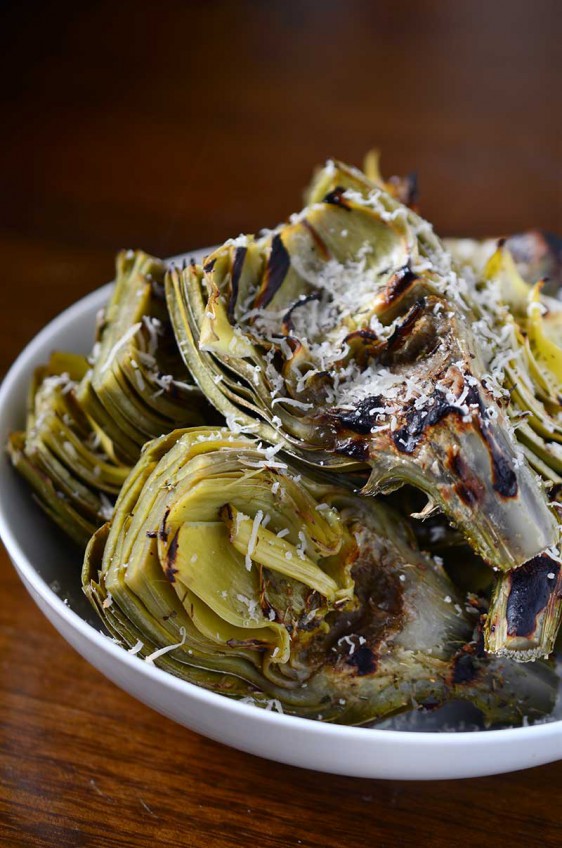 Parmesan Herb Grilled Artichokes
Artichokes are one of those vegetables that I love but we don't eat that often. One, they are usually pretty expensive and two they are quite a bit of work to prepare and I don't always have time for it. But a couple of weeks ago they were on sale and I was just craving a really good artichoke so I thought what the heck and bought them. Then I brought them home and made these Parmesan Herb Grilled Artichokes.
If you have never cut an artichoke before they can seem a bit daunting. After all, if you handle them wrong they will prick you. But once you get the hang of it, it is pretty easy to do. I found an awesome tutorial with step-by-step photos here that really makes the whole process seem a lot easier. She steams her artichokes, I boil mine but the method for prepping them for cooking is the same.
After you get them all prepped and boiled, then comes the fun part:
The grilling.
I've become a bit of a griller as of late. In the last year or so it has become one of my favorite ways to cook. I love getting that perfect char and the grill lines. With these artichokes I decided to brush them with a little oil (canola since it has a higher smoke point than olive oil) sprinkle them with my favorite herb ever, summer savory, and salt. Then I placed them on the grill to get those perfect char lines.
Finally, just to make things even more scrumptious, the moment I took these babies off the grill I sprinkled them with some freshly grated Parmesan cheese.
4 words: Out. Of. This. World.
Such a simple, rustic dish. I cannot wait to make it again and again this summer.
And while I love dipping artichokes in mayo, for these I had some leftover harissa aioli and OHMYGA it was a match made in heaven. You should totally try it. Like really. Tonight.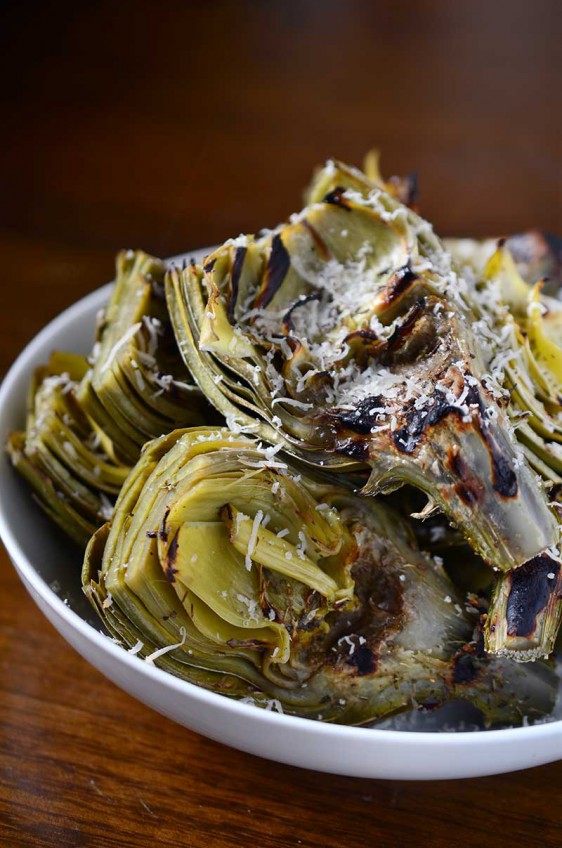 Parmesan Herb Grilled Artichokes
Artichokes sprinkled with herbs, grilled to perfection and topped with fresh Parmesan.
Ingredients:
1

lemon

2

large globe artichokes

2

tablespoons

canola oil

salt

1

teaspoon

dried summer savory

1/4

cup

grated fresh Parmesan
Squeeze the juice of one lemon into a large bowl of water.

Rinse artichokes thoroughly.

To trim an artichoke: cut the stem leaving only an inch. Use a knife to cut the top one inch of the artichoke. Use scissors to cut any remaining sharp tips. Cut the artichoke into quarters. Remove the choke and inner leaves. Place artichoke in lemon water to help keep the artichoke from oxidizing. Repeat with remaining artichokes.

Bring a large pot of water to boil. Add prepared artichokes to boiling water, cover and cook for 15 - 20 minutes or until tender. Use a slotted spoon to transfer them to a plate.

Heat a grill to medium high heat.

Brush the artichokes with canola oil. Sprinkle with summer savory and salt. Place cut side down on the grill and grill for 7 -8 minutes or until dark grill marks appear. Transfer to a serving platter, sprinkle with Parmesan cheese and serve immediately.