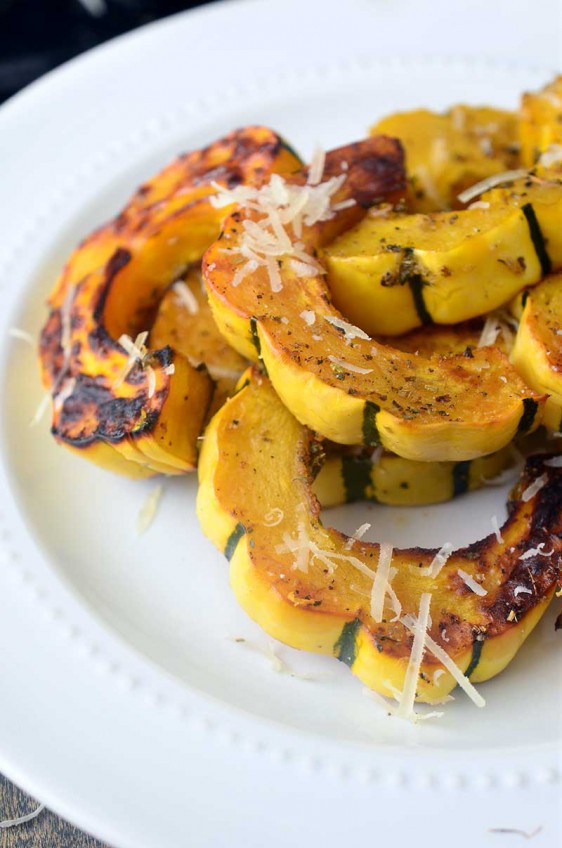 Parmesan Herb Roasted Delicata Squash
Guys, have you had delicata squash before? I am kind of in love. To be honest, aside from zucchini I don't make squash all that often. Sure, I make butternut squash maybe once during the fall but not nearly enough. But not this year, this year I found delicata squash and it is my new favorite thing.
I'll admit that one of the reasons I don't cook a lot of squash is that it's kind of a pain. Seriously, I tried to cut into a spaghetti squash a few weeks ago and had to try several different knives, several different times in order to get the dang thing open.
Delicata squash, on the other hand, is super easy. I sliced through one no problem. And then you don't even have to worry about peeling it. You can eat the skin. See. Easy Peasy.
And gorgeous right?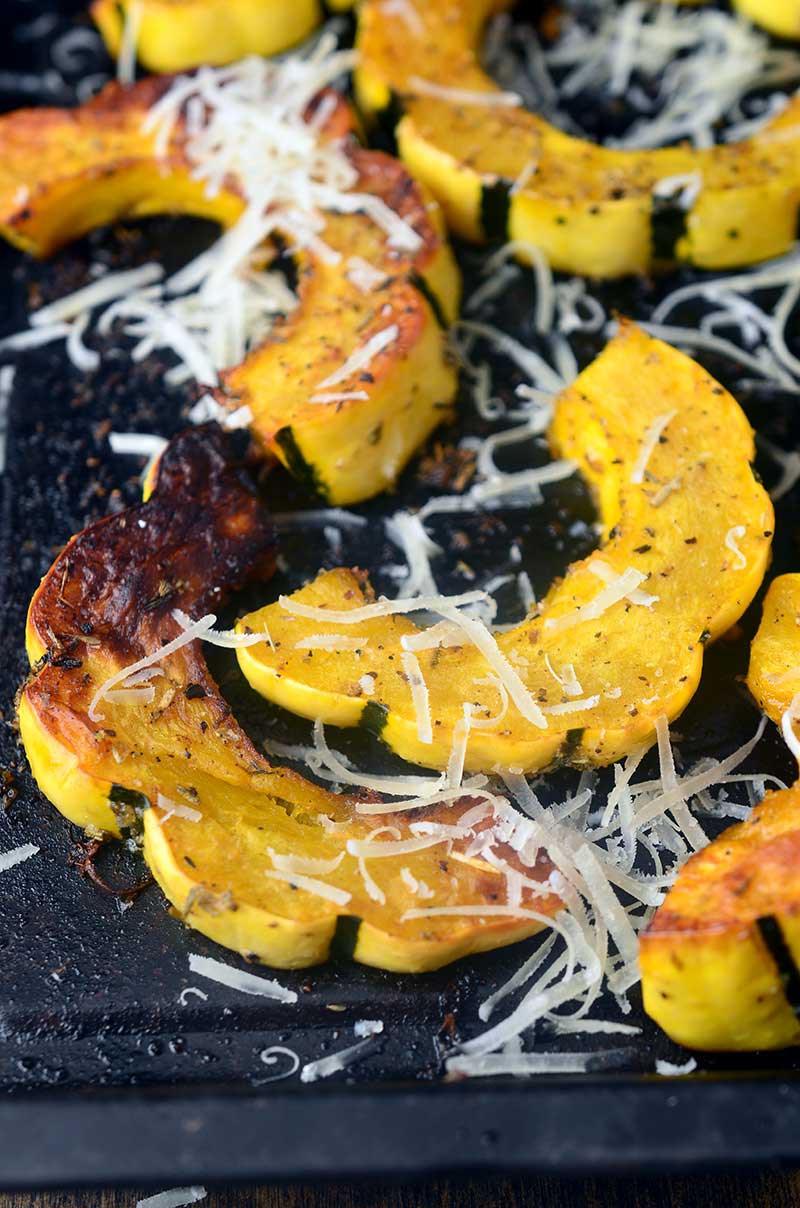 I actually picked up my first delicata squash after Kellan mentioned that he wanted to try it. Not really knowing how to prepare it, I turned to my handy Flavor Bible again and came up with this lovely version. It is so simple, guys. Slice the delicata squash, combine some Italian seasoning with olive oil, salt and pepper, brush it over the squash and then roast it until it's golden brown and tender. Finally, while the squash is still hot, sprinkle some freshly grated Parmesan over the the top. The squash is sweet, the herbs add an earthy flavor and the Parmesan a salty nuttiness. It's pretty much squash perfection.
With Halloween next week, it's not too early to start thinking Thanksgiving dinner and this Parmesan Herb Roasted Delicata Squash should totally have a place.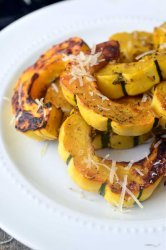 Parmesan Herb Roasted Delicata Squash
Sweet and tender roasted delicata squash with Parmesan, italian seasoning, salt, pepper and olive oil. Simple and delicious.
Ingredients:
1

2 1/2 - 3 pound delicata squash

2

tablespoons

plus 1 teaspoon extra virign olive oil

1

teaspoon

Italian seasoning

1/2

teaspoon

salt

1/4

teaspoon

black pepper

1/4

cup

freshly grated Parmesan cheese
Preheat oven to 350 degrees.

Cut squash in half lengthwise, then crosswise and scoop out the seeds and insides. Discard.

Cut squash into 1/2 inch slices.

Combine olive oil, Italian seasoning, salt and pepper together in a bowl.

Brush mixture over both sides of the squash.

Roast squash in preheated oven for 15 minutes, turn and roast for another 15 or until browned and tender.

Remove from oven and immediately sprinkle with Parmesan cheese. Serve.
Keywords:
Christmas, delicata, side dish, squash, thanksgiving