Parmesan Kale & Sausage Pasta
Happy Friday! Who's ready for a quick, easy and hearty bowl of comfort? If you are then you MUST try this Parmesan Kale & Sausage Pasta. It is loaded with kale, Italian sausage and of course, a favorite around here: Parmesan cheese.
Now that we have two little ones, Ryan and I are always trying to make time to spend some alone time with each of them. Before Preston came along, it was just Kellan and I all day together. He never had to share my attention with anyone else so this whole brother thing has been a little bit of an adjustment. That is why I love doing special things with the boys one on one. I think that it's really important so that each kiddo feels that they get a little bit of mommy and daddy all to themselves.
Last weekend, Kellan and I went on a mini date when we went to watch the Whole Foods "Crack Heard 'Round the World" event where they cracked open a 95 pound round of Parmesan cheese.
I may have mentioned before that my little Kellan loves his Parmesan cheese. I kid you not, when we go out to pizza parlors he sits there and shakes the Parmesan onto a plate and licks it off.
Seriously.
He won't eat cheddar though. Or string cheese. Or any other kind of cheese. Only Parmesan. Which is why I knew he would love checking out a round of it that weighs more than double what he does.
While we were watching, Kellan was in awe as they turned and cut into that huge chunk of his favorite cheese. Then when they finally cracked it open, the cheesemonger reached in and gave Kellan the very first piece.
He was in cheese heaven.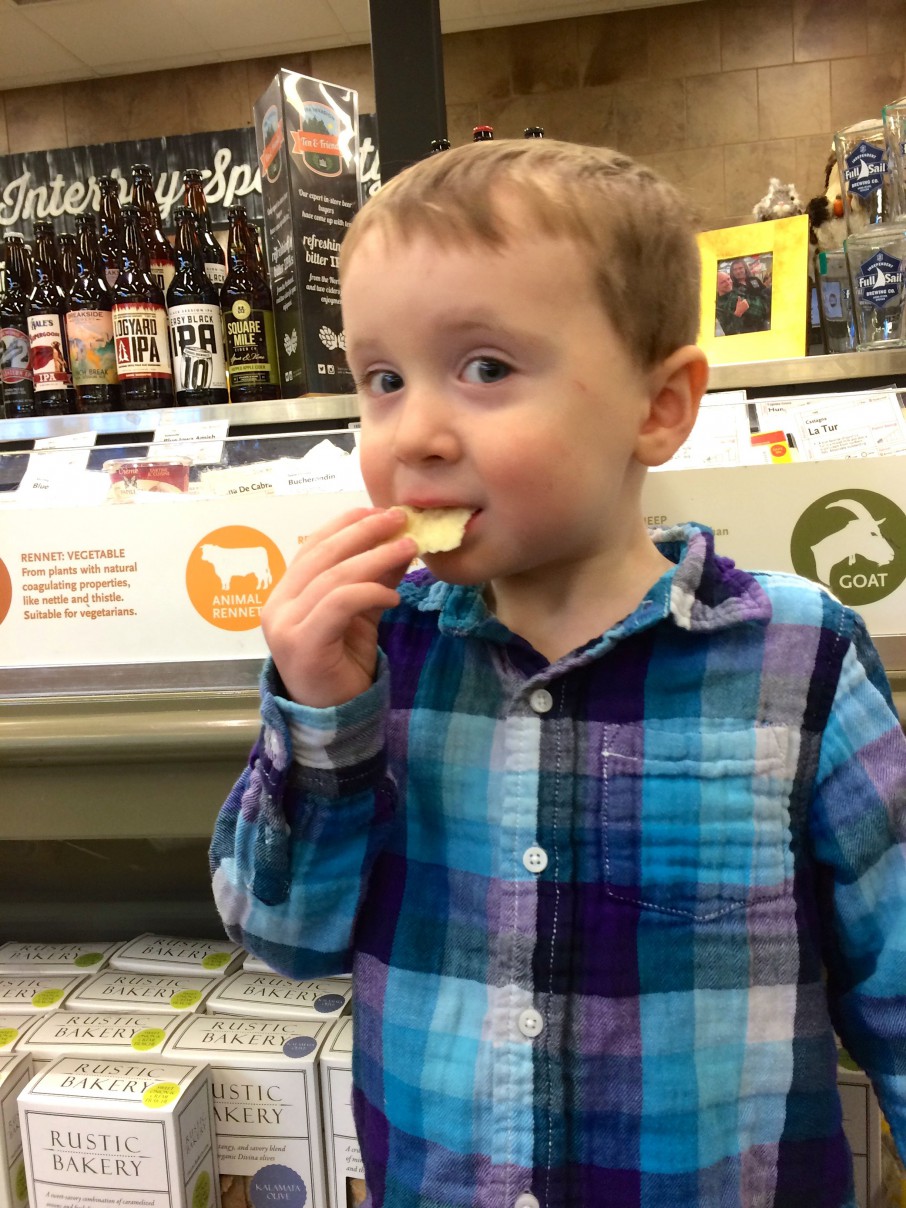 He wanted to bring some home so I bought a couple of wedges. I mean really, how can I resist my three year old asking for 24 month aged Parmesan cheese?
Once we got it home, I wanted to make a dish really highlighting the cheese we bought so I decided to make this quick and easy Parmesan Kale & Sausage Pasta.
While I'm usually a long pasta kind of girl, I used a new to me cut of pasta called casarecce which is a very narrow twisted tube of pasta. The whole family loved it. If you can't find it you can easily substitute elbow macaroni, penne or rotini.
But as for the cheese. Don't skimp here. Get the good stuff. No pre-grated stuff out of a jar. It won't give you the same texture as freshly grated Parmesan cheese. Freshly grated cheese doesn't really melt when added to the pasta so you get little bites of cheese here and there. It really made the dish.
Kellan thought so too. It was the first time he has eaten his entire plate of pasta in quite some time. Asking for more Parmesan cheese in between every other bite of course.
I can't wait to go on another date with my little dude. What should we do next?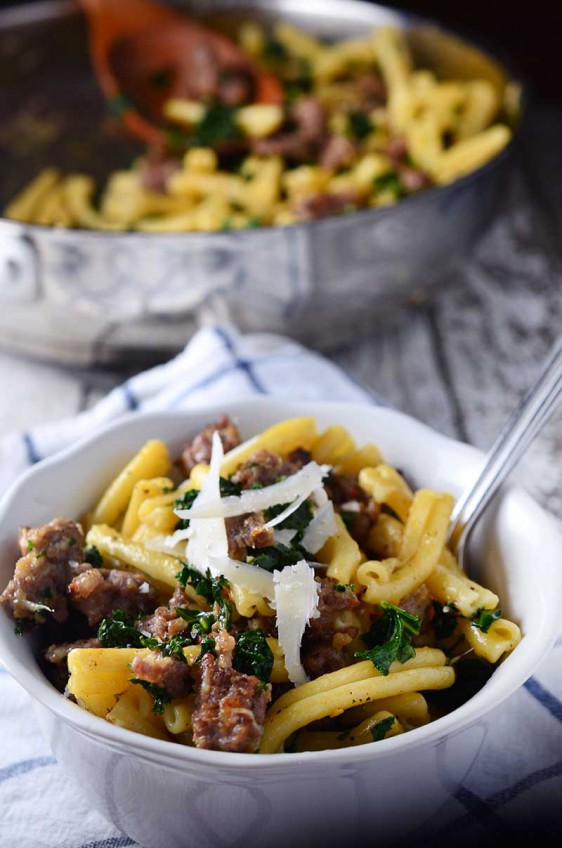 Parmesan Kale & Sausage Pasta
This Parmesan Kale & Sausage Pasta is loaded with goodies and comes together in about 15 minutes Perfect for busy weeknights!
Bring large pot of water to boil and cook pasta according to package directions. Reserve 1/4 cup of pasta water and drain.

While pasta is cooking, cook sausage until cooked through, about 5 - 6 minutes.

In a large skillet, heat olive oil in a skillet over medium heat. Add in kale, cook just until it starts to wilt, about 30 seconds. Add in garlic.

Stir in sausage, red pepper and pasta. Toss to combine.

If pasta seems dry add in reserved pasta water.

Remove from heat, sprinkle with Parmesan and toss. Season to taste with salt and pepper. Top with Parmesan shavings if desired. Serve immediately.
Keywords:
cheese, parmesan, pasta, sausage