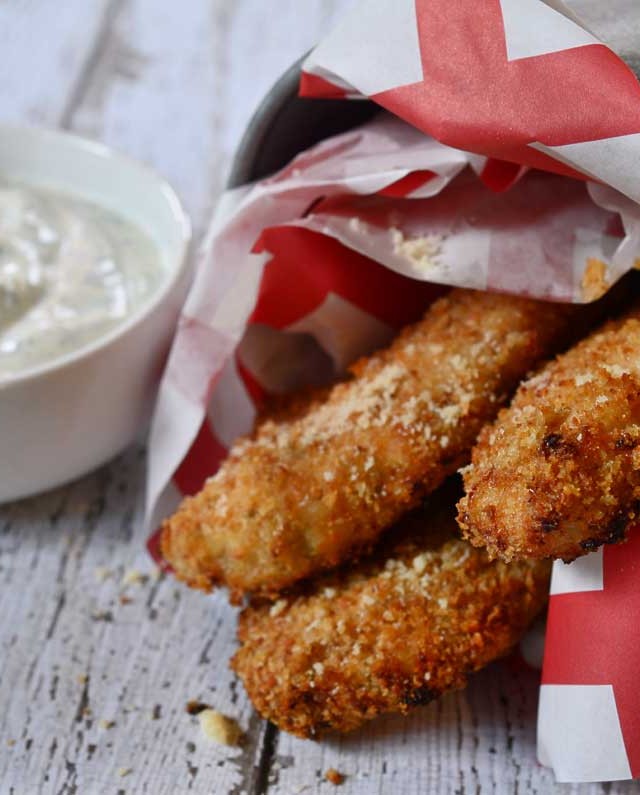 Parmesan Ranch Chicken Fingers
Kid friendly. Adult friendly. Perfect for weeknight meals. All of these things describe these Parmesan Ranch Chicken Fingers. Oh and delicious. These chicken fingers are delicious too. So in other words, there is no reason not to make them.
Plus there is ranch. Parmesan ranch. You can't really go wrong with that. Anyway you dip it. If everything was marinated in ranch and then dipped in MORE ranch, like these chicken fingers, the world would be a much happier place. Am I right?
What is it about ranch that is so good? When I was a server it was, hands down, the most popular dressing that guests would order. Adults love it. Kids love it. Every restaurant has their own version too. Some are spicy. Some are thick. Some are thin. The best are the thick versions with just the right amount of dill. The kind that you could also use for a dip for chips or pretzels or fries or pizza crust.
Oh pizza crust dipped in ranch…hold me.
Clearly, I have a slight obsession with ranch. And now that you know that about me, you can see why I love these chicken fingers so much. If you love ranch half as much as me, you are sure to love these chicken fingers too. Give them a try and tell me what you think :)

Parmesan Ranch Chicken Fingers
Chicken fingers marinated in Parmesan ranch dressing, dredged in Parmesan bread crumbs and baked until golden. Perfect for weeknight meals!
Combine sour cream, mayonnaise, 1 tablespoon Parmesan, dill, vinegar, and garlic powder together in a bowl. Mix well.

Place chicken in a resealable bag and pour ranch over the top. Seal and refrigerate for at least 4 hours or overnight.

Preheat oven to 400 degrees. Place a cooling rack on top of a baking sheet. Spray with cooking spray.

In a bowl combine remaining Parmesan cheese, panko bread crumbs, plain bread crumbs and olive oil. Mix well.

Remove chicken from marinade. Dredge in bread crumb mixture to coat completely. Place on prepared cooling rack. Bake in preheated oven for 10 minutes. Turn and bake for another 5 - 10 minutes or until chicken is cooked through and golden. You can turn on the broiler for a couple of minutes to crisp them up a bit if desired. Sprinkle with salt and more Parmesan. Serve with ranch for dipping..
Keywords:
chicken, entree, kid friendly